Epson L-500V Review
Features & Controls
The l-500V features a 3X (34-102mm in the 35mm format) f/2.8-4.9 all-glass aspherical zoom lens. When the camera is powered down the lens is retracted inside of the body and a built in shutter closes to completely protect the lens.
Its TTL contrast detection autofocus system has a focusing range of 20 in. to infinity (0.5m - infinity) in Normal mode and 1.97 in. to 19.69 in. (0.05m - 0.5m) in Macro mode.



The built-in flash offers Auto, flash off, red-eye reduction, fill-in flash, and slow synchronized modes. Flash range is 2.30 ft. - 12.14 ft. at wide angle and 1.64 ft. - 6.89 ft. at telephoto.



Controls on the top include the Power On/Off button and the Shutter Release with the Mode dial mounted around it.



The Mode dial is situated around the shutter release and has positions for: Auto, Manual, Continuous Shoot, Movie, Setup, and Playback.



Controls on the back are minimal but effective. Along the top of its large 2.5-inch LCD are the Print and P.I.F buttons. The Print button is used for direct printing when connected to Epson's PictureMate. The P.I.F (Print Image Framer) button is used to add frames around your images, before capturing. Next is the Zoom controls, which also function as the index and magnify options in playback mode.
The menu button calls up and dismisses the onscreen menu system. The 4-way "joystick" controller navigates menus, images and pressing it in the center accepts selections. Pushing it Up, Down, Left and Right gives you quick access to Outdoor mode (increases LCD brightness), Flash modes, Focus mode, and self-timer. The down button also acts as the image delete button in playback mode.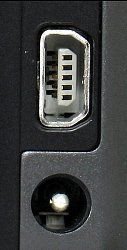 The USB "Full Speed/High Speed" port handles connecting to a computer for image download or Epson's PictureMate for Direct printing.




The DC IN port is used for connecting an external power supply.



Images and movies are stored on a Secure Digital (SD) memory card. Epson includes a 16MB card, but it can handle up to a 1GB size SD card.

Approximate Storage Capacity - 16MB (included) SD Card
2560x1920 pixels
Fine
7
Normal
13
1600 x 1200 pixels
Fine
21
Normal
35
640 x 480 pixels
Fine
112
Normal
179
The L-500V comes with an Epson EU-95 3.7V 1230mAh lithium-ion rechargeable battery pack. Epson claims a fully charged battery can record approx. 200 shots. It then takes under 2 hours to charge a dead pack in the included A341B lithium- ion battery charger.
Visitors of Steves can visit the stores below for real-time pricing and availability. You can also find hot, soon to expire online offers on a variety of cameras and accessories at our very own Camera Deals page.