Nikon Coolpix L1 Review
Features & Controls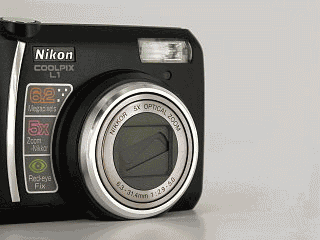 The Coolpix L1 is equipped with a 5x Nikkor optical zoom lens with a 38 - 190mm (in 35mm equivalent) focal length coverage. The maximum aperture is F2.9 to 5.0 and it has a dedicated macro mode. When powered down the lens retracts and is protected by a builtin shutter, no lens cap needed.
Auto focus is handled by a contrast detect TTL system and the focus range is 1 ft 8 in. (50cm) to infinity in normal, 1.6 in. (4cm) to infinity in Macro mode (wide angle). Auto focus can be single-AF or Continuous-AF with Auto (five-area selection) and Center-focus area selection available.



The built-in speedlight has a shooting range of approx. 1 ft 8 in - 11 ft 6 in / 0.5 - 3.5m (W), 1 ft 8 in - 6 ft 7 in / 0.5 - 2.0m (T), and can be set for Auto Flash, Red-Eye Reduction, Fill Flash, Slow Sync or Disabled.



The large 2.5-inch color LCD serves as the viewfinder as well as for reviewing your images and movies and accessing the menu screens. In lower light conditions the color LCD will "gain up" for better framing and provides 100% coverage.



On top is the power on/off switch, the shutter release and The Mode switch with positions for Record, Scene and Movie.



Controls on the back: Upper right are the zoom lens control buttons. In playback mode these buttons serve as the magnify and index buttons. When accessing menus the telephoto button can call up Help screens. The MENU button calls up and dismisses menu screens. The 4-way selector is for navigating menus and selecting pictures. In record mode pressing it "Up" selects the desired flash mode. Pressing it "Left" activates the 10-sec selftimer. Pressing it "Down" enables the macro focus mode. Pressing it "Right" to adjust exposure compensation. The center OK button accepts menu selections and enables image D-Lighting in playback. The "blue arrow" button puts the camera in Play mode. The "trashcan" button is for deleting images.



The interface connector is a combination device used to connect either the USB 1.1 cable for downloading images to the host computer or connect the Audio-Video Out cable to a TV set. The video signal is selectable for NTSC or PAL. The USB cable can be connected to any PictBridge compatible photo printer for computer-free printing.



The Coolpix L1 is equipped with 10MB of internal memory and a SD memory card slot, no card is supplied with the camera. Images and movies can be copied from internal memory to SD card or vice-versa. We recommend the purchase of at least a 256MB (or larger) SD card or your picture taking will be quite limited.


The camera is powered by two standard AA batteries; alkaline, NiMH or lithium type. Alkaline batteries will take approx. 100 shots, NiMH rechargeable 2500mAh batteries will take approx. 230 shots and one-use lithium batteries will take approx. 400 shots.
An optional power adapter allows the camera to be powered from an A/C wall outlet.



The battery type is selected in the Setup menu so that the amount of battery power remaining is calculated/displayed accurately.
Visitors of Steves can visit the stores below for real-time pricing and availability. You can also find hot, soon to expire online offers on a variety of cameras and accessories at our very own Camera Deals page.