Pentax *ist DS2 SLR Review
Pentax *ist DS2 SLR Review
Review posted 12/7/2005

Click on the *ist DS2 for a QuickTime VR tour



The Pentax *ist DS2 is one of the smallest and lightest digital SLR cameras available. Measuring just 4.9 x 3.6 x 2.6 inches and weighing under 18 ounces, it has a durable stainless-steel chassis, multi-layered electronic circuit boards and delivers superior image quality in a very compact design. Despite its size, the *ist DS2 offers 6.1 million effective pixels of resolution and PENTAX original image processing technology. The camera is compatible with most existing PENTAX interchangeable lenses to meet a wide range of applications and visual creativity.
The *ist DS2 hosts an array of advanced, user-friendly features including a high-magnification viewfinder, a 2.5 inch color LCD monitor, a generous LCD data panel, and an innovative Auto picture mode for automatic selection of the proper exposure program. Offering quick, effortless operation and easy portability, the *ist DS2 is the ideal digital SLR for all levels of photographers, including first-timer digital SLR users and families. The *ist DS2 is equipped with a true glass pentaprism viewfinder offering a 95% field of view and a 0.95X magnification. The camera features a large, bright viewfinder image equal in size, clarity and brightness to viewfinders incorporated in conventional 35mm-format SLRs.
The *ist DS2 is equipped to make camera operations simple and effortless for the user. From the multi-function four-way controller to the responsive electronic select dial and the large, easy-to-use mode dial, all switches and dials are efficiently and functionally laid out around the *ist DS2's compact body to assure smooth, fingertip control. Its innovative Auto picture mode automatically and instantly selects the optimum combination of exposure settings for a given subject or situation, including shutter speed, aperture, white balance, saturation, contrast, and intensity of edges. The built-in auto flash automatically pops up in dimly lit or backlit situations. The *ist DS2 records up to 8 images consecutively at a speed of approximately 2.8 frames per second, allowing the user to capture a series of the subject's action or movement.
A wide range of compatible PENTAX lenses are available for use with the *ist DS2 including K, KA, KAF, and KAF2 mount lenses; screw mount lenses, 645, and 67 series lenses (adapter required). Some functions may not activate depending on the choice of lens.



Pentax *ist DS2 Features:
One of the smallest and lightest dSLR cameras, stainless steel chassis
High resolution, large-area 6.1-Megapixel CCD image sensor
Image sizes are: 6M 3000x2008, 4M 2400x1600 or 1.5M 1536x1024
Choice of JPEG with 3 quality levels or RAW recording formats
Software included to manipulate RAW format image data
Compatible with Pentax K, KA, KAF, and KAF2 mount lenses; screw mount lenses, 645, and 67 series lenses (adapter required)
2.5-inch, 210,000-pixel LCD monitor for easy, high-precision viewing
Pentaprism viewfinder with 95% field of view, superimposed AF points
16-segment metering with Multi-Segment, Spot and Center-weighted options
11-point AF sensor (SAFOX VIII) fast and precise focusing
Shutter speeds from 1/4000 to 30 seconds plus Bulb
Auto pop-up flash with red-eye reduction, external flash units can be used with P-TTL hot shoe
High-speed flash sync at 1/180 sec.
Auto Picture, Standard, Program AE, Shutter-Priority AE, Aperture-Priority AE, Manual, Portrait, Landscape, Macro, Action, Night Scene and Flash Off exposure modes.
2.8fps Continuous sequential capture up to 8 frames
19 Custom Settings to customize camera operations
Noise reduction function activates for long exposures
Playback functions; histogram, nine-image thumbnail and 12X zoom display
Uses removable Secure Digital flash memory cards
High-speed USB 2.0 connectivity, PictBridge and Print Image Matching III compatible
Powered by 4 AA batteries or 2 CR-V3 Li-ion batteries
Optional wireless remote controller and wired cable release

The Pentax *ist DS2 will be available as a kit bundled with the Pentax-DA Zoom 18-55mm F3.5-F5.6 AL lens for around $899 or in a body-only configuration for about $799 and is available now.

Physical Views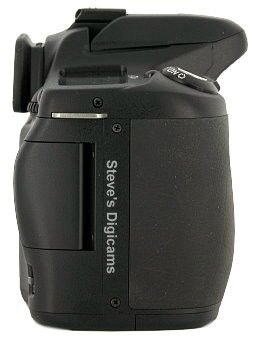 Compare the *ist DS2 (and its bigger LCD) to last year's *ist DS
*ist DS2 Specifications
Type
Interchangeable lens Single-Lens-Reflex type digital still camera with TTL auto exposure,autofocus and built-in TTL auto flash.
Lens Mount
PENTAX K AF mount
Compatible Lenses
PENTAX K, KA, KAF, and KAF2 mount lenses; screw mount lenses, 645, and 67 series lenses (adapter required). Some functions may not activate depending on the choice of lens.
Image Sensor
Interline interlace CCD.
Size: 23.5mm x 15.7mm (diagonal line: 28.40mm).
Total pixels: 6.31 megapixels
Effective Pixels
6.1 megapixels.
Recorded Pixels
Large: 3008 x 2008 pixels.
Middle: 2400 x 1600 pixels.
Small: 1536 x 1024 pixels.
Sensitivity
Equivalent to ISO 200, 400, 800, 1600, 3200
File Formats
Exif 2.21, RAW, DCF, DPOF, PRINT Image Matching III
Quality Levels
Compressed: 8-bit JPEG-baseline with compressibility rates of 1/3, 1/6 and 1/12
and 12-bit RAW.
Storage Media
SD (Secure Digital)
White Balance
Auto: TTL control using image sensor.
Preset: Daylight, Cloudy, Shade, Tungsten light, Fluorescent light, Flash and Manual.
LCD Monitor
2.5 inch, 210,000 pixel low-reflection TFT color LCD with histogram display
LCD Function
Single frame, zoom in/out up to 12X, nine-image, slide show, image rotation, shooting data indication (including date and histogram), quick view (instant display of image after shooting)
Delete Function
Single-frame-deletion, All-frame deletion, card format, protect
Video Output
NTSC/PAL switchable
Interfaces
USB 2.0 High Speed
Exposure Modes
Auto Picture, Standard, Portrait, Night-scene Portrait, Landscape, Macro, Action, Flash Off, Program AE, Shutter Priority AE, Aperture Priority AE, Metered Manual, Bulb
Digital Filter
Playback: Black & White, Sepia, Soft Slim, Wide (3 levels)
Drive Modes
Single-shot, Continuous (2.8fps), Self-timer (12sec, 2sec), Auto bracketing, Remote Control (0sec, 3sec)
Shutter
Electronically controlled vertical-run focal-plane shutter with electronic release.
Speeds: 1/4000 sec. to 30 sec. and Bulb
Viewfinder
Pentaprism with Natural-Bright-Matte focusing screen
Viewfinder Coverage - 95%
Viewfinder Magnification - 0.95x (with 50mm f1.4 lens, -1-1)
Diopter Adjustment - -2.5m-1 to +1.5m-1
Viewfinder Indication
AF frame; Spot AF frame; Focus point indication (high lighted in red) Flash information; Picture mode (Standard, Portrait, Landscape, Macro, Action, Night scene portrait); In-focus; Shutter speed; Aperture value; Exposure compensation factor; Manual white balance; Manual focus; ISO sensitivity warning; Auto exposure lock signal
Exposure Metering
TTL open-aperture 16-segment metering.
Spot metering and center-weighted metering selectable.
Metering range (at ISO200 with 50mm F1.4 lens): EV1 to EV21.5
Exposure compensation
±2EV (in 1/3 or 1/2EV steps)
Auto Bracketing
3 frames (proper/over/under) within range of ±1.5EV (1/2EV steps) or ±1.0EV (1/3EV steps)
Simultaneous use with exposure compensation possible.
Drive Modes
Single-shot, Continuous Advance, self-timer (2 or 12 sec.), Auto Bracketing, Remote Control (0 or 3 sec.)
Autofocus
AF-Single, AF-Continuous, Manual
TTL phase-matching 11-point autofocus system (SAFOX VIII) with selectable Wide/Spot AF
Applicable illumination range: EV0 to EV19 (at ISO200 w/50mm f1.4 lens)
Built-in Flash (P-TTL)
Guide number: 15.6 (at ISO200/m)
Angle of view coverage: 28mm
Synchronization speed: 1/180 sec.
Flash Exposure Compensation: +1 to -2 (1/2 steps)
Auto, Flash-Off, flash-on and Auto+red-eye reduction functions available.
Flash Synch
Via hot shoe (with X-contact for dedicated flash unit).
Standard PC flash sync connector
Sensitivity range: ISO200 to ISO1600.
Flash synchronization: up to 1/180 sec.
Self-timer
Electronically controlled type with 12- or 2-second delay.
Mirror lock-up mechanism available.
Mid-operation cancellation possible.
Remote Control
Infrared wireless remote control with optional remote controller.
Effective range: 5m (16.6 ft.) from front side of camera.
Instant release or 3-second-delay release switchable.
Power Source
2 CR-V3 batteries or 4 AA-sized batteries (lithium, Ni-MH, alkaline).
Optional AC adapter available.
Battery Life
CR-V3: Approx. 850 frames no flash, Approx. 750 frames with flash used 50% of the time
Dimensions
125mm x 92.5mm x 67mm (4.9 x 3.6 x 2.6 inches)
Weight
470g (17.8 oz.) (w/out batteries and memory card)
600g (21.3 oz.) loaded and ready
(Specifications as represented by the manufacturer, subject to change)
Visitors of Steves can visit the stores below for real-time pricing and availability. You can also find hot, soon to expire online offers on a variety of cameras and accessories at our very own Camera Deals page.