Fujifilm FinePix Z1 Review
Fujifilm FinePix Z1 Review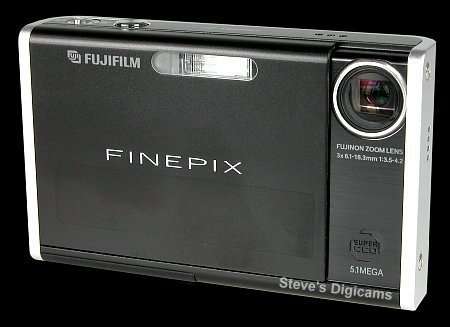 Review posted 08/19/2005

Click on the FinePix Z1 to take a QuickTime VR tour



The 5.1 MegaPixel FinePix Z1 is a slim and stylish digital camera that is the perfect accessory for a night out on the town. The FinePix Z1's sleek and strong all-metal body is sure to draw attention. Available in two colors -- sophisticated black and a stunning brushed silver -- the Z1 is as trim as they come in the world of digicams, measuring a mere 18.6 millimeters thick - thinner than a deck of cards. This slenderness, which is possible thanks to a non-extending, refractive 3x optical zoom lens, allows the camera to stow easily in a pocket or small handbag for quick access when those special moments with friends occur.
Taking pictures when out dancing or at dinner does present challenges to a digital camera, as many of these picture-worthy moments occur in very low light. Low light calls for higher, more light-sensitive ISO settings, which can lead to "noisy", grainy pictures or blurriness when a camera's shutter stays open in order to bring in more light. The FinePix Z1 is up to the low light challenge thanks to a new technology developed by Fujifilm called Real Photo Technology, this breakthrough links the camera's 5th generation Super CCD HR sensor with a new, advanced RP Processor. The results are pictures taken at ISO settings as high as 800 (in full resolution) with reduced noise and extra sharpness. This higher sensitivity also enables higher shutter speeds, which helps minimizes blur.

Another benefit to the Real Photo Technology is speed of operation. The Fujifilm FinePix Z1, with its smooth and curvy bodylines, looks fast and it performs to type, going from off to on in an incredibly fast 0.6 second. Shutter lag, the time it takes for the camera to fire after depressing the shutter button, has been reduced to an almost negligible 1/100th of a second. The camera also has a high-speed shooting mode that speeds up the exposure and focusing processes, automating the capture of moving subjects and ensuring that even the most unexpected moments can be captured in famous Fujifilm color.
The FinePix Z1 has a large 2.5" LCD that is great for sharing just-taken pictures with friends or family. LCDs were designed chiefly for the review of photos, but they have increasingly become the primary scene-framing tool of many consumers -- even though many lament over their performance in low-light situations. To combat this and improve low-light performance, the Z1 has a gain-up function that improves the brightness and quality of the image in the LCD. With this feature picture-takers can preserve the mood of any scene, such as keeping the lights off when the birthday boy or girl blows out the candles. Fujifilm also improved the toughness of the LCD by giving it a reinforced glass coating that is 35 times more resistant to scratches than previous models.
The Z1 is powered by a rechargeable Li-ion battery that is good for up to 200 shots per charge. The camera is recharged whenever it is placed in the included Picture Cradle which also provides a USB 2.0 hi-speed port for data transfer and an A-V Port for connection to a TV set for slideshow playback.


FinePix Z1 Features:
5.1 million pixel 5th Generation Super CCD HR image sensor
3x non-extending zoom lens (36-108mm equiv)
Compact, lightweight and super-slim design
Movie Mode; 640x480 30fps w/sound AVI format
Program AE and 5 Scene modes: Sports, Night, Portrait, Landscape, Natural Light
Large 2.5" LCD color monitor with Gain-up
Real Photo Technology for low noise at ISOs as high as 800; fast shutter speeds prevent blur in low or natural light scenes
0.6-second boot-up time; shutter lag down to 1/100th second after AE/AF locked
High-Speed Shooting mode provides quicker auto exposure and focus lock for even faster operation
Uses removable xD-Picture cards (16MB included)
Powered by rechargeable Li-ion battery
USB 2.0 connectivity and PictBridge direct-print
Picture Cradle/Charger base is included
Physical Views
The FinePix Z1 and a standard CD for size comparison.
The 5-megapixel FinePix A350 and the super-slim FinePix Z1.
FinePix Z1 Specifications
Image Sensor
Fujifilm Super CCD HR
Total Pixels: 5.04 Million
Effective Pixels: 5.1 Million
Aspect Ratios: 4:3, 3:2
Image Processing Type
Fuifilm RP Processor - Real Photo Technology
File formats
Still: JPEG (Exif Ver. 2.2), Sound: WAV, Movie: AVI (Motion JPEG), Design rule for camera file system compliant / DPOF-compatible
Recording capacity with one 16MB xD-Picture Card (included)
Still images
Movie

| | | | | |
| --- | --- | --- | --- | --- |
| 5MP(F) | 5MP(N) | 3.1MP | 1.9MP | 0.3MP |

Lens
10 elements in 8 groups with prism ( 2 asphericals)
Lens Focal Length (Rated) / (35mm Equiv.)
Equivalent to 36-108mm on a 35mm camera
Aperture Range
F3.5 - F4.2
Optical Zoom
3.0x Refractive Optical Compact Non Extending Zoom
Digital Zoom
5.7X
Lens Adapters Available
None
Focus System
Auto Focus (Contrast Type)
Focus Range
Normal: approx. 60 cm / 2.0 ft. to infinity
Macro - Closeup: 8cm/3.1 in. (W) / 45 CM/1.5 ft. (T) - 80cm/2.6ft.
Super Macro - Closeup: None

Focusing Operation
Auto Focus (Contrast Type)
Low Light AF Focusing Assist Lamp
None
Viewfinder
LCD Monitor Only
Exposure Control
Programmed AE 5 Preprogrammed Scene Types (SP) Sports, Night, Portrait, Landscape, Natural Light
Light Metering (Photometery)
64- zone TTL metering
Color Control Modes
Standard, Chrome (Vivid), B&W
Sensitivity
Auto/Equivalent to ISO 64/100/200/400/800
Shutter Release Control
Press half way to set focus, all the way to release the shutter.
Shutter Speed
4 sec. - 1/1000 sec.
White balance
Automatic, Manual (Fine, Shade, Fluorescent light (Daylight), Fluorescent light (Warm White), Fluorescent light (Cool White), Incandescent light)
Flash
Auto Flash (using CCD as control sensor)
Flash mode: Auto, Red-eye Reduction, Forced Flash, Suppressed Flash, Slow Synchro, Red-eye Reduction + Slow Synchro
Effective range: 0.3~3.0m/1.0ft - 9.8ft (W), 0.6~2.3M/2.0ft - 7.5ft (T)

LCD monitor
2.5-inch TFT with reinforced glass, Approx. 100% coverage
LCD Low Light Viewability Gain-up Brightness Mode
Low light button plus Auto gain-up feature
Auto Rotation Playback Mode
Metadata rotation mode available from FinePix Viewer Software.
Camera Terminals
Multi Function Cradle Terminal with Optional Terminal Adapter functions as USB 1.1 & 2.0 compatible interface (2.0 speed), 5 volt power-input socket, Video-out (NTSC/PAL)
Printing Interface
PictBridge, DPOF, and EXIF Print 2.2 Compatible
Power source
NP-40 Li-ion rechargeable battery, NP-40 Charger/Cradle (included), Fujifilm AC-5V AC adapter (included)
Pictures / Batt Charge (CIPA Standard)
Approx. 200 Pic per NP-40 Charge
Start-up Speed
0.6 Sec.
Shutter Lag Time
Approx 0.01 Sec.
Shooting modes
Auto, Preprogrammed Scene Position (SP), Manual, Macro, Movie
Preprogrammed Scene Modes (SP)
Sports, Portrait, Night Scene, Landscape, Natural Light
Continuous Shooting Modes
None
Image Management Modes
Day sorting display, image rotation, last 3 frame post shot preview assist window.
Frame to Frame Intervals
Without Flash Frame to Frame Speeds 1.1 Sec.
Movie Recording
640 x 480 pixels continuous, 30 fps with sound
30 fps, AVI (Motion JPEG) with sound
Audio Recording Mode
30 Sec Audio Voice Memo
Video Out
NTSC and PAL Switchable
Playback
Single frame (With max. 4.05 x playback zoom), 9 multi frame
Histogram
None
Cradle Technology
Yes ( Included with Camera)
Memory Type
xD Picture Card
Other Features
Self-timer: approx 2/10 sec., Slide Show Playback,
World Time, 7 Language menu interface
(English/French/German/Spain/Italian/Chinese/Korea),
Tripod socket. High speed shooting mode available
Dimensions
90 x 55 x 18.6mm
Weight
4.63 oz
Optional Accessories
AC-5v AC Adapter
xD-Picture Card (16MB to 1GB)
PCMCIA PC Card Adapter DPC-AD
Compact Flash™ Card Adapter DPC-CF
Image Memory Card Reader DPC-R1
xD - Picture CardTM USB Drive DPC-UD1
NP-40 rechargeable battery
Fitted soft case SC-FXZ1B (Black Leather)
Fitted soft case SC-FXZ1H (White Leather)
Portable Terminal Adapter for AC/Video/USB Cable
(Specifications as provided by the manufacturer)

Visitors of Steves can visit the stores below for real-time pricing and availability. You can also find hot, soon to expire online offers on a variety of cameras and accessories at our very own Camera Deals page.