Casio EX-Z120 Review
First Look posted 11/17/2005
Full review posted 01/24/2006

Click on the EX-Z120 to take a QTVR tour



The EX-Z120 is the latest offering in Casio's EXILIM ZOOM line up and is designed to be user-friendly, fun, and convenient. It features CASIO's renowned EXILIM Engine with Anti Shake DSP, a high resolution 7.2 megapixel imager, 3x optical zoom lens and a 2.0-inch color LCD monitor. Housed in a compact, durable and lightweight aluminum body.
The Anti Shake DSP reduces blurring caused by shaky hands or moving subjects, while the Auto Macro and Quick Shutter functions ensure that photos are properly focused. High Sensitivity Mode produces clear shots with a bright background without the flash, even when lighting is dim.
The mode dial gives you quick access to the Easy, Program, Aperture priority, Shutter speed priority, Manual, Movie and 32 Best Shot scene modes. The Easy mode and menu use simple icons to make picture taking a snap for inexperienced users. The EX-Z120 features quick start-up and easily accessible direct buttons to switch between the capture and review modes.
The EX-Z120 runs on two AA batteries and captures up to 170 shots using "off the shelf" alkaline type cells - even more with rechargeable NiMH batteries. It has an Audio-Video port allowing quick and convenient image viewing on televisions. And features quick startup and a short release time lag which allows pictures to be taken almost instantaneously, so you never miss the important moments.
In addition to high resolution still images you can also capture VGA (640x480 pixels) motion video with audio at 28 frames per second. Using the "MOTION PRINT" function, movies can be converted into a series of nine images or just one snapshot for printing. Movies can be zoomed-in during replay. The "Movie Editing" operation offers three ways (beginning, middle, end) to cut unwanted scenes from a movie.
The camera has approx. 9.3 MB of built-in memory that is easily expanded using any size SD or MMC type memory cards. An easy operation copies images between a memory card and the built-in memory. You can customize key operations to assign recording mode, exposure compensation, white balance, ISO sensitivity or self-timer functions to the left/right controller buttons. These settings may be changed by simply pressing the left or right control button.
Today's digital photographers want to be able to print their photos easily and with no worries about the colors coming out right. The EX-Z120 is PictBridge compatible, just plug it directly into any Pictbridge-enabled photo printer and makes prints without the need of a computer. For those using a computer, the images are industry standard ExifPrint (Exif 2.2) and PRINT Image Matching III compliant.



Exilim EX-Z120 Features:
7.2-Megapixel effective CCD imager
Compact, durable and lightweight aluminum body
3x optical zoom (38-114mm in 35mm equiv)
2.0-inch TFT color LCD with 85,000 pixels
Audio recording and voice memos attached to images
Record movies at 640x480 (28fps w/sound), length limited only by available memory
Focus modes: Auto, Pan, Macro, Infinity, Manual focus, Focus lock
Easy, Program AE, Aperture priority, Shutter speed priority, Manual modes
32 Best Shot scene modes
ISO sensitivity 50-400 with ISO 800 in Anti-Shake mode
Built-in flash with Red Eye Reduction and Flash-assist function
USB 1.1 data transfer to PC or Mac computers
Powered by two AA batteries: alkaline, NiMH or litihum
9.3 Megabytes of internal memory
Secure Digital/MMC card slot for memory expansion
DPOF, ExifPrint (Exif 2.2), USB Direct-Print, and PictBridge compatible
The Casio EX-Z120 has a suggested retail of about $299.99 and is available now, see our PriceGrabber buy box below for current pricing and online dealers.

Physical Views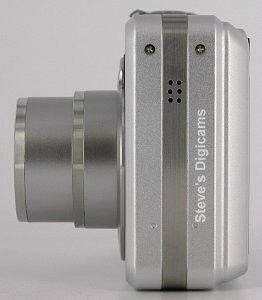 The EX-Z120 compared to a standard Compact Disc.
The Exilim EX-Z120 and the EX-Z750 for size comparison.
Casio EX-Z120 Specifications
Imaging
Element
1/1.8-inch square pixel color CCD
(Total pixels; 7.41 million, Effective pixels; 7.2 million)
Recording
Formats
Snapshots; JPEG (Exif Ver.2.2), DCF 1.0 standard, DPOF compliant
Movies; AVI (Motion JPEG)
Audio; WAV
Recording Media
8.3MB Built-in flash memory, SD Memory Card, MultimediaCard
Image Size
(Pixels)

| | |
| --- | --- |
| Snapshots: | Still Images: 3072×2304, 3072×2048(3:2), 2560×1920, 2048×1536, 1600×1200, 640×480 |
| Movies : | 640×480(HQ), 640×480(Normal), 320×240(LP) |

Number of Images/
Recording Time

Snapshots
Image Size
(Pixels)
Resolution
Approx. File Size
Approx. Number of Images

Built-in Memory
(8.3MB)

SD Memory Card*1
(256MB)

3072
x
2304

Fine
4.32 MB
1
55
Normal
2.88 MB
2
81
Economy
1.44 MB
5
158

640
x
480

Fine
360 KB
21
625
Normal
240 KB
32
938
Economy
120 KB
59
1742
Movies
Image Size (Pixels)
Recording Time
Approx.
File Size
Approx. Maximum Recording Time
Built-in Memory
(8.3MB)

SD Memory Card*1
(256MB)
640 x 480
(HQ)
Until
memory full
*2
10.2 Mbits/sec.
(28 frames/sec.)
6sec.
3 min.
16 sec.
640 x 480 (Normal)
6.1 Mbits/sec.
(28 frames/sec.)
11sec.
5 min.
27 sec.
320 x 240
2.45 kbits/sec.
(14 frames/sec.)
27sec.
13 min.
34 sec.

*1 when using a Matsushita Electric Industrial Co. Ltd 256MB card
*2 limited only by the battery life and the available memory

Lens
F2.8(W) to 5.1(T), f=7.9 to 23.7mm (equivalent to approx 38 to 114mm for 35mm film), 7 lenses in 5 groups, with aspherical lens
Zoom
3X optical zoom, 4X digital zoom
(12X in combination with optical zoom)
Focusing
Contrast Detection Auto Focus, Focus Mode...Auto Focus, Macro mode, Pan Focus (movie only), Infinity mode, manual focus), AF Area...spot, multi,
Approximate
Focus Range
Auto Focus-40cm to inf., Macro-10cm to 50cm, Infinity Mode-∞,
Manual-10cm to inf.


* Using optical zoom causes the above ranges to change

Exposure
Control
Light metering...Multi-pattern, center-weighted, spot by CCD
Exposure...Program AE, Aperture priority AE, Shutter speed priority AE, Manual AE
Exposure Compensation ±2EV (1/3EV units)
Shutter
CCD electronic shutter, mechanical shutter, Snapshot mode: 1/1600 to 1/8 second, Shutter speed priority mode: 1/1600 to 60 seconds and Manual mode: 1/1000 to 60 seconds.
Aperture
F2.8/F4.0, auto switching
* Using optical zoom causes the aperture to change
White Balance
Auto WB/ fixed (6 modes) / manual switching
Sensitivity
Snapshots; Auto* /ISO50/ISO100/ISO200/ISO400, Movies; Auto
* Max ISO sensitivity is 800 when taking pictures with Anti-Shake or High Sensitivity
Recording
Functions
Snapshot / audio snapshot; continuous shutter, self-timer; macro; BEST SHOT; movie with audio; Voice Recording
Self-timer
10 sec. or 2 sec., Triple Self-timer
Built-in Flash
Flash Modes; Auto Flash, On, Off, Red eye reduction
Flash Range; 1.31' to 7.55' (W); 1.31' to 3.94 (T)
Viewfinder
Monitor screen and optical viewfinder
Monitor Screen
2.0-inch TFT color LCD, 84,960 pixels (354×240)
Timekeeping
Functions
Date and time recorded with image data; auto calendar up to 2049
World Time
162 cities (32 time zones); city names, date and time, summer time
Other features
USB: USB 2.0 (Full-Size) compatiblie
Audio: microphone (mono); speaker (mono)
Input/Output
Terminals
AC adaptor connector(DC IN 3V), USB/AV port (NTSC/PAL)
Power
Requirements
Two AA-size alkaline batteries, Two AA-size rechargeable nickel-metal hydride batteries, Two AA-size lithium batteries, AC adaptor (AD-C30)

Approximate
Battery Life*

* Based on Alkaline
(LR6 Matsushita
Battery Industrial
CO., LTD.)


Approximate
Number of Shots
Approx. 170 snapshots (CIPA standards)
Approximate
Continuous Recording
(Shots)
Approx. 500 snapshots (approx 1 hr. 40 min.)*
* LCD monitor ON, Flash disabled, alternating between wide-zoom and telephoto-zoom every 12 seconds
Approximate
Continuous Playback
Approx 5 hr. 45 min. (snapshots)
Approximate
continuous
movie recording time
Approx 1 hr. 30 min. (movie)
Approximate
Continuous
audio recording time
Approx 3 hr. 50 min. (voice recording)

Dimensions
90 (W) x 60 (H) x 29 (D) mm
3.54"(W) x 2.36"(H) x 1.07"(D) inches
Weight
Approx. 4.87oz (without batteries and accessories)
Bundled
Accessories
Alkaline batteries (LR6), USB cable, AV cable, Strap, CD-ROM


Technical Specifications Subject to Change without Notice
NOTE: These Specifications are as represented by the manufacturer.
































Visitors of Steves can visit the stores below for real-time pricing and availability. You can also find hot, soon to expire online offers on a variety of cameras and accessories at our very own Camera Deals page.