Canon Powershot S70 Review
Canon Powershot S70 Review
Review posted 09/12/04

Click to take a QTVR tour of the S70



The Powershot S70 is the "big brother" of the 5.0 megapixel PowerShot S60 and is aimed at the advanced user who wants full photographic control in a compact digital camera with very high resolution. The S70 combines a 7.1-megapixel imager with the same Canon 3.6x wide angle zoom lens used on the S60, it covers a 35mm equivalent of 28-100mm. This is a very high quality aspherical glass lens that produces image quality the equal of that found in the much larger professional cameras. And all of this state of the art imaging power is housed in a very compact, stylish and durable, two-toned dark metallic and black body.
The 3.6x lens features Canon's exclusive Ultra High Refractive Index Aspherical technology, called UA Lens technology for short, which produces outstanding sharpness and clarity while at the same time allowing the camera body to be even thinner and more compact than previous models with smaller zoom ratios. The 28mm zoom setting makes real estate photography, group photos and travel photography much easier, while the UA technology produces crystal clear image quality at all focal lengths.
The S70's macro focus setting captures objects as close as 4 cm from the lens. The shutter speeds from 15 to 1/2000 second can be selected. When shooting photos in the RAW format, you can now select the resolution of the JPEG preview image that is simultaneously saved in the RAW image data. The Tv and Av modes have added the Safety Shift function, which automatically adjusts settings for an appropriate exposure when shooting.
Additional noteworthy enhancements of the PowerShot S70 digital camera include: Faster start-up, faster continuous shooting at 2.0 frames per second, 13 shooting modes including enhanced VGA Movie Mode, RAW+JPEG recording with user-selectable JPEG resolution, optional teleconverter, wireless controller and an underwater housing. The PowerShot S70 includes a new "underwater" preset for the white balance. This feature automatically sets the camera to the correct white balance for underwater shooting so photographers do not have to worry about the difficulty of operating manually.
In order to increase the amount of photographs users can capture, Canon developed a new rechargeable lithium-ion battery pack, the NB-2LH model, which delivers approximately 26% higher capacity than the previous NB-2L.
Software for transferring your pictures to a computer, organizing pictures, laying out pictures for printing and editing still pictures and movies is included. This software is available for both the Windows and Mac OS X platforms. The S70 can print directly to Canon CP series card printers and Bubblejet Direct printers and any PictBridge compatible printer.


Powershot S70 Features:
7.1-megapixel CCD with RGB primary color filters
Image sizes of 7MP, 5MP, 3MP, 2MP, VGA
JPEG compressed, Canon raw and JPEG+RAW image capture
Canon 3.6x f/2.8-5.3 wide angle zoom (28-100mm in 35mm format)
1.8-inch color LCD viewfinder/monitor
ISO settings of Auto, 50, 100, 200 or 400
Shutter speeds from 15 secs to 1/2000
Noise reduction for 1.3 sec or longer time exposures
Continuous image capture at 2 frames per second
Program AE (with Program Shift), Shutter-priority, Aperture-priority and Manual.
Image Zone modes: Portrait, Landscape, Night Scene, Fast Shutter, Slow Shutter, Stitch Assist and Movie.
Movie capture with sound, 640x480 (30 secs.), 320x240 or 160x120 (3 mins.)
Exposure Metering: Center-Weighted Average, Spot, and Evaluative
Manual focus with distance readout and the portion of the image covered by the active focusing point is enlarged while focusing.
9-point AF with focus-assist illuminator
User-selectable exposure compensation, flash exposure compensation, auto exposure bracketing and white balance
Playback histogram function with over-exposure warning
CompactFlash Type II slot compatible with Microdrives
Canon NB-2LH lithium rechargeable battery pack
The Canon PowerShot S70 digital camera comes bundled with battery pack NB-2LH and charger CB-2LT, USB cable and 32 MB Compact Flash card. Optional accessories include the new waterproof case WP-DC40, Conversion Lens Adapter LA-DC10, 2.0x Tele-converter TC-DC10, which extends the focal length to 200mm and Wireless Controller WL-DC100. The PowerShot S70 digital camera will be available in September for an estimated street price of $599.99.
Physical Views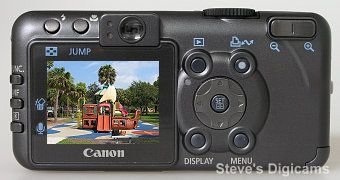 The Powershot S70 compared in size to a CD.


The 7-megapixel duo, the Powershot S70 and Powershot G6.
Canon Powershot S70 Specifications
Camera Effective Pixels
Approx. 7.1 million
Image Sensor
1/1.8-inch CCD (Total number of pixels: Approx 7.4 million)
Lens

5.8 (W) - 20.7 (T) mm (35mm film equivalent: 28 - 100 mm)
f/2.8 (W) - f/5.3 (T)

Digital Zoom
Approx. 4.1x (Up to approx. 15x in combination with the optical zoom)
Optical Viewfinder
Real-image zoom viewfinder
Picture coverage approx. 80%
LCD Monitor
1.8-inch, low-temperature polycrystalline silicon TFT color LCD, approx. 118,000 pixels (Picture coverage 100%)
AF System
TTL autofocus
AF lock and Manual focus are available
9-point (AiAF)/1-point (AF)
1-point AF: Any position is available
Shooting Distance
(from the front of the lens)

Normal AF:
44 cm (1.4 ft.) - infinity (W/T)
Macro AF:
4 cm (1.6 in.) - 44 cm (1.4 ft.) (W)/
30 cm (1.0 ft.) - 44 cm (1.4 ft.) (T)
Manual focus:
4 cm (1.6 in.) - infinity (W)/
30 cm (1.0 ft.) - infinity (T)

Shutter
Mechanical shutter + electronic shutter
Shutter Speeds
15 - 1/2000 sec.
1.3 sec. or slower shutter speeds are available in Shutter-speed priority mode or Manual mode. Slow shutter speeds of 1.3 sec. or slower operate with noise reduction.
Light Metering System
Evaluative, Center-weighted average or Spot (Center or AF-point)
Exposure Control System
Program AE, Shutter-speed priority AE, Aperture-priority AE or Manual exposure control.
AE lock and Safety Shift are available.
Exposure Compensation
± 2.0 stops in 1/3-stop increments.
Auto exposure bracketing (AEB) is available.
Sensitivity
Auto, ISO 50/100/200/400 equivalent
White Balance
TTL auto, pre-set (available settings: Daylight, Cloudy, Tungsten, Fluorescent, Fluorescent H, Flash or Underwater) or custom
Built-in Flash
Auto*, on*, off
* Red-eye reduction is available.
Flash Range

55 cm to 4.2 m (1.8 ft. to 14 ft.) (W),
55 cm to 2.0 m (1.8 ft. to 6.6 ft.) (T)
(When sensitivity is set to ISO 100 equivalent.)

Flash Exposure Compensation
± 2.0 stops in 1/3-stop increments, FE lock, Slow synchro and 1st-curtain/2nd-curtain flash are available.
Shooting Modes

| | |
| --- | --- |
| Auto | |
| Creative zone: | Program, Shutter-speed priority, Aperture priority, Manual, Custom |
| Image zone: | Portrait, Landscape, Night scene, Fast shutter, Slow shutter. Stitch assist and Movie |

Continuous Shooting
High-Speed continuous shooting: Approx. 2.0 shots/sec.
Standard continuous shooting: Approx. 1.2 shots/sec.
(Large/Fine mode with LCD monitor off)
Interval Shooting
Shooting interval: approx. 1 - 60 min. (1-min. increments)
Number of shots: 2 - 100 shots (Maximum number of shots varies according to CF card capacity.)
Self-timer
Activates shutter after an approx. 10-sec./approx. 2-sec. delay
Wireless Control
Shooting and playback are available (wireless controller is sold separately).
When shooting, image is captured instantly/approx. 2-sec./approx. 10-sec. after shutter button is pressed.
PC-controlled Shooting
Available (USB connection only. Exclusive software program is included in the camera kit.)
Recording Media
CompactFlashTM (CF) card (Type I and Type II)
File Format
Design rule for camera file system and DPOF compliant
Image Recording Format

| | |
| --- | --- |
| Still images: | JPEG (Exif 2.2)*1/RAW |
| Movies: | AVI (Image data: Motion JPEG; Audio data: WAVE (monaural)) |

Compression
Superfine, Fine, Normal
Number of Recording Pixels

Still images:

| | |
| --- | --- |
| Large: | 3072 x 2304 pixels |
| Medium 1: | 2592 x 1944 pixels |
| Medium 2: | 2048 x 1536 pixels |
| Medium 3: | 1600 x 1200 pixels |
| Small: | 640 x 480 pixels |

Movies:

640 x 480 pixels (30 sec.)*
320 x 240 pixels (3 min.)*
160 x 120 pixels (3 min.)*

* The data in parentheses refer to the maximum movie length per shooting.

Playback Modes
Single (histogram displayable), Index (9 thumbnail images), Magnified (approx. 10x (max.) in LCD monitor), Sound memos (recording/playback up to 60 sec.) or Slide show
Direct Print
Canon Direct Print and Bubble Jet Direct compatible, and PictBridge compliant
My Camera Settings
The start-up image, start-up sound, shutter sound, operation sound and self-timer sound can be customized using the following methods:

| | |
| --- | --- |
| 1. | Using the images and sounds recorded on the camera. |
| 2. | Using downloaded data from your computer using the supplied software. |

Interface
USB (mini-B, PTP [Picture Transfer Protocol])
Audio/Video output (NTSC or PAL selectable, monaural audio)
Power Source

| | |
| --- | --- |
| 1. | Rechargeable lithium-ion battery (type: NB-2LH) (included in the camera kit) |
| 2. | AC Adapter Kit ACK 700 (sold separately) |
| 3. | Car Battery Charger Kit CBC-NB2 (sold separately) |

Operating Temperature
0 - 40 °C (32 - 104 °F)
Operating Humidity
10 - 90 %
Dimensions
114.0 x 56.5 x 38.8 mm (4.5 x 2.2 x 1.5 in.) (excluding protrusions)
Weight
Approx. 230 g (8.1 oz.) (camera body only)
(W): Wide angle end, (T): Telephoto end
*1:
This digital camera supports Exif 2.2 (also called "Exif Print"). Exif Print is a standard for enhancing the communication between digital cameras and printers. By connecting to an Exif Print-compliant printer, the camera's image data at the time of shooting is used and optimized, yielding extremely high quality prints.
All data is based on Canon's testing standard. Subject to change without notice.

The Canon Powershot S70 kit includes:
Powershot S70 camera
Wrist Strap WS-300
Battery Pack NB-2LH (with Terminal Cover)
Battery Charger CB-2LT
CompactFlash Card FC-32M (32MB, with Case)
AV Cable AVC-DC300
USB Interface Cable IFC-400PCU
Canon Digital Camera Solution Disk (CD-ROM)
ArcSoft Camera Suite Disk (CD-ROM)
User Guides
Visitors of Steves can visit the stores below for real-time pricing and availability. You can also find hot, soon to expire online offers on a variety of cameras and accessories at our very own Camera Deals page.