Fujifilm FinePix S20 Pro Review
Fujifilm FinePix S20 Pro Review
Review posted 3/29/04
Conclusion updated 6/8/04

Click to take a QTVR tour of the S20 Pro



Fujifilm has taken the Finepix S7000 and coupled it with their latest Super CCD SR technology to produce the FinePix S20 Pro. This compact SLR-like camera employs an ultra-sharp Super EBC Fujinon 6x optical zoom lens with an 35mm equivalent focal range of 35-210mm.
Fujifilm's proprietary 6.2 megapixel (S-pixel: 3.1 million, R-pixel: 3.1 million) Super CCD SR (Super Dynamic Range) sensor technology yields pictures with 2,832 x 2,128 (6.03 million) recorded pixels and increased dynamic range. Images can be captured and stored in popular JPEG format or for the best possible image quality you can record the raw data directly from the imager using the CCD-RAW mode. Software is included to post-process these RAW images into standard TIFF or JPEG format.
The S20 Pro can be easily connected to external flash units with its builtin flash hot shoe and standard PC-Sync port. The camera's high-speed flash sync fires at up to 1/1000 a second. To transfer image data from the camera to your computer the S20 Pro offers two of the fastest image transfer protocols: IEEE 1394 (FireWire) and USB 2.0. The transfer of high-resolution images has never been easier or faster.
In addition to still images, the S20 Pro can also capture high quality motion video at 30 frames per second with audio in 640 x 480 (VGA) or 320 x 240 resolution. To store images and movies there are two media slots available, an xD-Picture Card and a CompactFlash Type II slot. Fujifilm xD-Picture Cards are available in 16MB to 512MB capacity or you can use the Hitachi 1GB Microdrive to store thousands of images or up to 15 minutes of VGA-quality video.
The S20 Pro offers a wide range of exposure modes including full AUTOmatic, Program AE, Shutter-speed priority, Aperture priority and Manual plus four Scene Program modes. The ISO sensitivity is selectable from 200 through 800 in all resolutions and can be further extended to 1600 in 1M resolution. The Top-10 and Final-10 continuous modes capture 10 frames at a blazing 4.5 frames per second and you can capture up to 40 frames in the lesser 1M, 2M and 3M resolutions.
Fujifilm includes the Hyper-Utility2 image management software for professionals, giving the photographer the power to change camera settings -- even release the shutter -- from a computer. Also included is the ImageMixer VCD2 for Finepix and the RAW File Converter EX and LE.

Finepix S20 Pro Features:
6x zoom F2.8 (35-210mm equivalent) with zoom/focus ring
Fuji SuperCCD SR 6.2-Megapixel (S-pixel: 3.1 million, R-pixel: 3.1 million) resolution
High-resolution EVF viewfinder with 235,000 pixels
1.8-inch color LCD monitor with 118,000 pixels
RAW, JPEG and AVI movie formats
Program AE, Shutter-speed priority, Aperture priority, Manual and Scene modes
Continuous shooting at 4.5fps for 10 frames at full resolution
640x480 or 320x240 movies with sound at 30fps
Auto TTL white balance with 6 presets and manual
64-zone Multi, Center-weighted averaging or Spot metering
Super Macro focus mode, from 0.4" to 7.9"
ISO Auto, 200, 400, 600, 800 (1600 for 1M only)
Adjustable image sharpness, contrast and saturation
xD Picture Card and Microdrive (2GB max) storage
Flash hot shoe and PC sync for external flash
FireWire IEEE 1394 and USB 2.0 connectivity
Uses four standard AA type batteries
Exif Print and PictBridge compatible
The FinePix S20 Pro comes bundled with a 16MB xD-Picture Card, four AA alkaline batteries, shoulder strap, USB cable, AV cable, Hyper-Utility2, and ImageMixer VCD for FinePix. The camera will be available with a suggested list price of $999.
Physical Views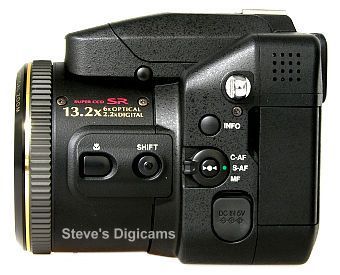 The S20 Pro compared in size to a standard CompactDisc
The Olympus C-8080 and the S20 Pro for size comparison.
FinePix S20 Pro Specifications
Number of Effective Pixels

6.2 million (S-pixel: 3.1 million, R-pixel: 3.1 million) pixels

CCD Sensor

1/1.7-inch Super CCD SR
Number of Total Pixels: 6.7 million (S-pixel: 3.35 million, R-pixel 3.35 million) pixels

Number of Recorded Pixels
2,832 x 2,128 (6.03 million)
File Formats

Still image: CCD RAW / JPEG (Exif Ver 2.2)
Movie: AVI (Motion JPEG)
(Design rule for Camera File system compliant / DPOF-compatible)

Storage Media

Slot No. 1: xD-Picture Card (16MB to 512MB)
Slot No. 2: Microdrive (340MB to 2GB)

Lens
Super EBC Fujinon 6x zoom lens, F 2.8 - 3.1
Lens Focal Length
Equivalent to 35-210mm on a 35mm camera
Focus
Auto Focus: Area / Center / Multi, Manual Focus
Focus Range

Normal: 50cm / 1.6 ft. to infinity
Telephoto: Approx. 90cm / 2.9 ft. to infinity
Macro: Approx. 10cm - 80cm / 3.9 in. - 2.6 ft.
Super Macro: 1cm - 20cm / 0.4 in. - 7.9 in.

Shutter Speed

AUTO / SP: 1/4 sec. to 1/1000 sec. SP (Night scene mode only): 3 sec. to 1/250 sec.
P/S/A: 3 sec. to 1/1000 sec. M: 30 sec. to 1/10000, Bulb (up to 30 sec.)

Aperture
F2.8 - F11 (13 levels in 1/3 EV step)
Sensitivity

Auto: Equivalent to ISO 160 - 800
Manual: Equivalent to ISO 200/400/800/1600 (resolution is set at 1M for shots taken at ISO 1600)

Exposure Control
64-zone TTL metering-multi, spot, average
Exposure Modes
Programmed AE, Aperture Priority AE, Shutter Priority, AE, Manual
White Balance
Automatic, Manual (Fine, Shade, Fluorescent light (Daylight), Fluorescent light (Warm White), Fluorescent light (Cool White), Incandescent light, Custom1, Custom2
Viewfinder
0.44-inch Approx. 235,000 pixels electronic viewfinder, built-in diopter adjust
LCD monitor
1.8-inch low temperature poly-silicon TFT (approx. 118,000 pixels)
Flash

Auto flash using flash control sensor
Effective range: Wide angle / 0.3m - 8.5m / 1.0ft - 27.9ft, Telephoto / 0.9m - 7.9m / 3.0ft - 25.9ft
Flash mode: Auto, Red-eye Reduction, Forced Flash, Suppressed Flash, Slow Synchro, Red-eye Reduction + Slow Synchro

Self Timer
Approx. 2/10 sec. Delay
Video Output
NTSC / PAL selectable
Digital Interface
USB 2.0, IEEE1394
Sync. Contact
X-contact flash synchronization
Power Source
4 AA alkaline batteries (included), 4 AA type Ni-MH batteries, or AC power adapter AC-5VH / AC-5VHS (optional)
Digital Zoom
2.2X (1,280 x 960 pixels), 1.8X (1600 x 1200 pixels), 1.4X (2,048 x 1,536 pixels)
Shooting Modes

Normal: Auto, Scene Position (Portrait, Landscape, Sports, Night Scene), Programmed AE, Aperture Priority AE, Shutter Priority AE, Manual

Continuous:

Top-10 (Max. 4.5 frames / sec., up to 10 frames)
Final-10 (Max. 4.5 frames / sec., up to 10 frames)
Long-period (Max. 1 frame / sec., up to 40 frames. Only 1M/2M/3M mode.)

Color Modes
B&W / Chrome / Standard
Movie Recording
640 x 480 pixels, 30 frames/sec.; 320 x 240 pixels, 30 frames / sec. With sound, AVI format (Motion JPEG)
Voice Memo
Up to 30 sec. WAVE format
Playback
Single frame (with max. 18X Playback zoom), 9 Multi-frame
Dimensions
121.0 (W) X 81.5 (H) X 97.0 (D) mm / 4.8(W) X 3.2(H) X 3.8(D) in
Weight
Approx. 500g / 17.6 oz. (excluding battery)
Accessories Included

16MB xD-Picture Card, 4 AA type alkaline batteries, Shoulder strap, Lens cap, Lens cap holder, USB Cable, IEEE 1394 Cable, A/V Cable, CD-ROM, USB driver, FinePixViewer, ImageMixer VCD2 for FinePix, RAW File Converter LE

Optional Accessories

xD-Picture Card: DPC-16, DPC-32, DPC-64, DPC-128, DPC-256, DPC-512, PC Card Adapter DPC-AD, CompactFlash Card Adapter DPC-CF, Image Memory Card Reader DPC-R1, xD-Picture Card USB Drive DPC-UD1, AC Power Adapter AC-5VH / 5VHS, Battery Charger with Battery BK-NH / BK-NH2, Rechargeable Battery 2HR-3UF (2 AA Type Ni-MH), Tele Conversion Lens TL-FX9* /FX9B*, Wide Conversion Lens WL-FX9*/FX9B*, *: Built-in Flash cannot be used with these lens adapters, Hyper-Utility Software HS-V2 Ver 2.0, Soft case SC-FX 602
(Specifications as represented by the manufacturer)

Visitors of Steves can visit the stores below for real-time pricing and availability. You can also find hot, soon to expire online offers on a variety of cameras and accessories at our very own Camera Deals page.