Canon Powershot S1 IS Review
Canon Powershot S1 IS Review
Features & Controls (cont.)
On top you'll find the Shutter Release with the zoom lens control ring around it. The Mode Dial has positions for AUTO (point-n-shoot mode), Program (user adjusts most all parameters, camera sets shutter speed and aperture), Tv (shutter speed-priority), Av (aperture-priority), Manual, Custom (user-configurable with your own settings), Portrait, Landscape, Night Scene, Stitch Assist and Movie. Amd the combination Power / Record/ Playback dial.
On the left side of the top is the Flash mode button and the Drive Mode button (Single, Sequential, Self-timer/Remote).


On the back you'll find the Movie mode shutter button (chrome with a red dot), the Function button gives you access to an on-screen menu for ISO speed, White Balance, Image Effects, Flash Compensation, Exposure and Focus Bracketing, Image Size and Quality. The Function button also serves as the Delete button in playback. Below that is the Metering mode button (Audio Memo button in playback). The "S"hortcut button can be programmed to quickly change image size, ISO, white balance, effects, AE or AF lock or display-off time. The DISPLAY button selects the EVF or LCD and controls the amount of info displayed on the screen.
The 4-way selector is used for changing settings, navigating menus and selecting images in playback mode. In record mode you press "up" to set Exposure Compensation or press "down" to quickly change the White Balance. The SET button accepts menu selections and in record mode it lets you move the AF focus point. The MENU button calls up and dismisses the menu system.



On the back are the I/O ports: DC INput for optional AC adapter, USB 1.1 data port, A/V output, video is selectable for NTSC or PAL, the audio is monaural.



The S1 stores images on CompactFlash Type I or II cards, including Microdrives. Note that Canon claims compatibility with FAT16 file system only so they only guarantee it working with capacities up to 2GB. We had no problems getting it to work with the OEM Hitachi 4GB Microdrive shown here but your mileage may vary. Also note that Canon recently released a firmware upgrade for better CF compatibility.
Canon includes a 32MB CF card but you'll be happier with at least a 256MB sized card.
Image File Sizes (approx.)
Resolution
Compression
SuperFine
Fine
Normal
L
2048 x 1536
1602 KB
893 KB
445 KB
M1
1600 x 1200
1002 KB
558 KB
278 KB
M2
1024 x 768
570 KB
320 KB
170 KB
S
640 x 480
249 KB
150 KB
84 KB
The S1 is powered by four standard AA type batteries, Canon supplies alkalines but we recommend high-capacity NiMH rechargeble AA batteries.
Canon estimates that the approx. battery life with alkalines is 120 shots with LCD on, 125 shots using the EVF and 5 hours and 30 minutes of playback time. Using 2300mAh NiMH batteries you can expect approx. 550 shots with LCD on, 570 shots using the EVF and 7 hours and 30 minutes of playback time.



An optional WP-DC20 waterproof case allows the PowerShot S1 IS to be taken to a depth of 40m for digital stills and movie footage capture while surfing, diving, snorkelling or skiing. This case also allows the S1 to be used safely in even the worst weather conditions.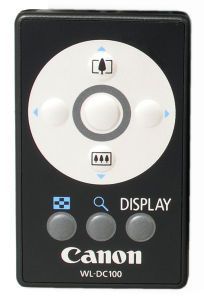 One of my favorite accessories, an infrared remote control - it's not included in the package but it is available as an option. The WL-DC100 allows you to trip the shutter and control the zoom in record mode, it also lets you to control the camera from across the room during playback on your TV screen.
Visitors of Steves can visit the stores below for real-time pricing and availability. You can also find hot, soon to expire online offers on a variety of cameras and accessories at our very own Camera Deals page.