Canon Powershot S1 IS Review
Canon Powershot S1 IS Review
First Look posted 2/28/04
Full review posted 3/23/04

Click to take a QTVR tour of the S1 IS



The PowerShot S1 IS combines a a 3.2 megapixel CCD imaging sensor, exclusive DIGIC image processor and a fast f/2.8-3.1 image stabilized 10x zoom lens (38-380mm equivalent) into a very compact and lightweight SLR-styled camera.
Renowned for the high quality of its "glass," Canon designed the PowerShot S1 IS digital camera's lens with 11 elements including one aspherical element to reduce size and weight and ensure image sharpness, particularly at wide-angle settings. Thanks to Canon's optical Image Stabilization technology your images will be tack sharp even when shooting at long focal lengths. It also allows you to shoot at shutter speeds two stops lower than would otherwise be possible.
The PowerShot S1 IS offers the flexibility of a full array of exposure control settings including Auto, Program AE, Shutter-priority, Aperture-priority, Manual Mode and pre-programmed Portrait, Landscape, Night scene, Fast shutter, Slow shutter and Stitch assist modes. In Movie mode you can record 640x480 VGA resolution full motion video with audio at 30 frames/sec or 15 frames/sec and capture up to 1GB of action.
The PowerShot S1 IS also features high-speed and variable speed, virtually silent zooming thanks to its Canon Ultrasonic Motor (USM), a feature it shares with the new, top-of-the-line PowerShot Pro1 digital camera. The silence of the USM is particularly beneficial in the S1's movie mode to preserve and enhance the quality of the audio recording.
With the use of Canon's new optional Conversion Lens Adapter, the PowerShot S1 IS accepts an optional Tele-Converter that increases the optical range of the lens to a maximum equivalent of 608mm and an optional Wide Converter that yields a 24.5mm equivalent at the widest zoom setting. There is also an optional underwater housing rated for use at depths as low as 130 feet.


Powershot S1 IS features:
3-Megapixel CCD for images up to 2048 x 1536
Canon 10x optical zoom with Image Stabilization
Close focus to 3.9 inches
Articulated 1.5-inch color LCD flips forward and rotates 270°
Program AE, Shutter-priority, Aperture-priority, full Manual
Image zone modes: Portrait, Landscape, Night scene and Stitch assist
Interval shooting and Exposure and Focus Bracketing
Movie mode w/sound, 640x480Fine, 640x480 or 320x240, 30fps or 15fps
Shutter speeds from 15 secs to 1/2000 sec in Manual mode.
Evaluative, Center-weighted average or Spot (Center or AF-point)
High-speed 1.7 frames per second continuous shooting
Up to 60-second sound memos for still images
Sharpness, Contrast and Saturation is adjustable
ISO sensitivity: 50, 100, 200, 400 or AUTO
Built-in flash with Auto, Fill, Red-eye reduction and Slow-sync modes
CompactFlash Type II slot, Microdrive compatible 32-bit FAT support
Powered by four AA type batteries
PictBridge and Canon Direct Print compatible

Available in April, the Canon PowerShot S1 IS digital camera kit includes two dedicated software CDs, four AA Alkaline batteries, a neckstrap, a lens cap, USB and AV cables and a 32MB CompactFlash card as well as printed manuals and a Canon USA limited warranty card. The estimated street price will be $499.00.

Physical Views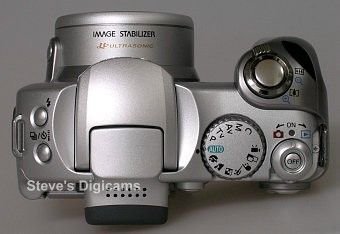 The Powershot S1 IS and a standard CD for size comparison
The Powershot S1 IS and the 8-megapixel Powershot Pro1
Powershot S1 IS Specifications
Image Sensor
1/2.7-inch CCD
RGB color filter array
Total number of pixels: Approx 3.34 million
Effective number of pixels: Approx. 3.2 million
Lens
Canon 10x optical 5.8 - 58 mm with Image Stabilization
(35mm film equivalent: 38 - 380 mm)
Construction: 11 elements in 9 groups, 1 aspheric element
Aperture: f/2.8 (Wide) - f/3.1 (Tele)
Multi-speed USM (ultrasonic motor) zoom mechanism
Optional 1.8x Tele-Converter lens available
Digital Zoom
Approx. 3.2x (Up to approx. 32x in combination with the optical zoom)
Viewfinder
Color LCD viewfinder with dioptric adjustment
114,000 pixel resolution
Picture coverage 100 %
LCD Monitor
1.5-inch, low-temp polycrystalline silicon TFT color LCD
114,000 pixel resolution
180° tilt and 270° swivel
Picture coverage 100%
AF System
TTL autofocus
Focus lock and Manual focus are available
Focusing frame: 1-point AF
Shooting Distance
Normal AF: 10 cm (3.9 in.) - infinity (W)/ 93 cm (3.0 ft.) - infinity (T)

Manual focus: 10 cm (3.9 in.) - infinity (W)/93 cm (3.0 ft.) - infinity (T)
Shutter
Mechanical shutter + electronic shutter
Shutter Speeds
15 - 1/2000 sec.
1.3 sec. or slower shutter speeds are available in Shutter-priority mode or Manual mode. Slow shutter speeds of 15 to 1.3 sec. or slower operate with noise reduction.
Light Metering System
Evaluative, Center-weighted average or Spot (Center or AF-point)
Exposure Control System
Program AE, Shutter-priority AE, Aperture-priority AE or Manual exposure control AE lock is available.
Exposure Compensation
± 2.0 stops in 1/3-stop increments
Auto exposure bracketing (AEB) is available.
Sensitivity
Auto, ISO 50/100/200/400 equivalent
White Balance
TTL auto, pre-set (available settings: Daylight, Cloudy, Tungsten, Fluorescent, Fluorescent H or Flash) or Custom
Built-in Flash
Auto*, on*, off, Slow synchro and 1st-curtain/2nd-curtain flash are available.
* Red-eye reduction is available.
Flash Range
1.0 - 4.2 m (3.3 - 14 ft.) (W), 1.0 - 3.8 m (3.3 - 12 ft.) (T)
(When sensitivity is set to ISO 100 equivalent.)
Flash Exposure
Compensation
± 2.0 stops in 1/3-stop increments, FE lock
Shooting Modes
Auto
Creative zone: Program, Shutter-speed priority, Aperture priority, Manual, Custom
Image zone: Portrait, Landscape, Night scene, Fast shutter, Slow shutter. Stitch assist and Movie
Continuous Shooting
Approx. 1.7 fps up to 24 frames (Large/Fine mode)
Interval Shooting
Shooting interval: approx. 1 - 60 min. (1-min. increments)
Number of shots: 2 - 100 shots (Maximum number of shots varies according to CF card capacity.)
Self-timer
Activates shutter after an approx. 10-sec./approx. 2-sec. delay
Wireless Control
Shooting and playback are available (wireless controller WL-DC100 is sold separately). When shooting, image is captured instantly/approx. 2-sec./approx. 10-sec. after shutter button is pressed.
PC-controlled Shooting
Available (USB connection only. Exclusive software program is included in the camera kit.)
Recording Media
CompactFlash (CF) card (Type I and Type II)
32-bit FAT and Microdrive compatible
32MB CF card included
File Format
Design rule for camera file system and DPOF compliant
Image Recording Format
Still images:JPEG (Exif 2.2)*1 Movies: AVI (Image data: Motion JPEG; Audio data: WAVE (monaural))
Compression
Super Fine, Fine, Normal
Number of
Recording Pixels
Still images:
Large: 2048 x 1536 pixels
Medium 1: 1600 x1200 pixels
Medium 2: 1024 x 768 pixels
Small: 640 x 480 pixels

Movies:
640 x 480 pixels Fine (max. 9:09 at 30fps)
640 x 480 pixels (max. 12:23 at 30fps)
320 x 240 pixels (max. 26:41 at 30fps)
A maximum file size of 1 GB and a maximum of 1-hour recording are available in one movie shooting session.
Frame Rate 15 frames/sec. or 30 frames/sec.

Audio Data
Sampling frequency:
Approx. 22 kHz Quantization bit: 16 bit
Playback Modes
Single (histogram displayable), Index (9 thumbnail images), Magnified (approx. 10x (max.) in LCD monitor/viewfinder), Sound memos (recording/playback up to 60 sec.) or Slide show
Direct Print
Canon Direct Print and Bubble Jet Direct compatible, and PictBridge compliant
Display Languages
12 languages available for menus and messages (English, German, French, Dutch, Danish, Finnish, Italian, Norwegian, Swedish, Spanish, Chinese and Japanese)
My Camera Settings
The start-up image, start-up sound, shutter sound, operation sound and self-timer sound can be customized using the following methods:
1. Using the images and sounds recorded on a camera.
2. Using downloaded data from your computer using the supplied software.
Interface
USB (mini-B, PTP [Picture Transfer Protocol])
Audio/Video output
(NTSC or PAL selectable, monaural audio)
Power Source
1. Four AA-size alkaline batteries (included in the camera kit)
2. Four AA-size rechargeable NiMH batteries (NB4-200) (sold separately)
3. Compact Power Adapter (CA-PS700) (sold separately)
Battery Performance
Alkaline: 120 shots w/LCD, 125 shots w/EVF, 5 hrs 30 min playback
NiMH: 550 shots w/LCD, 570 shots w/EVF, 7 hrs 30 min playback
Operating Temperature
0 - 40 °C (32 - 104 °F)
Operating Humidity
10 - 90 %
Dimensions
111 x 78.0 x 66.1 mm
(4.4 x 3.1 x 2.6 in.) (excluding protrusions)
Weight
Approx. 370 g (13.1 oz.) (camera body only)
(Specifications as represented by the manufacturer)































Visitors of Steves can visit the stores below for real-time pricing and availability. You can also find hot, soon to expire online offers on a variety of cameras and accessories at our very own Camera Deals page.