Nikon D70 SLR Review

Features & Controls (cont.)
Looking down on the grip side we see the large monochrome data LCD which displays all of the most important camera settings at a glance. The
button to the right turns on the LCD's backlight when needed. Out on the front is the shutter release with the main power switch mounted around it. The
button is for setting the exposure compensation and the
button is for selecting the desired metering mode. These buttons are held down while rotating the command dial.


The data LCD displays the battery status, ISO Auto, shutter speed, aperture, flash mode, icons for Program-Shift, exposure compensation, flash compensation, Bracketing, clock battery low, image quality, image size, flash mode, focus mode, metering mode, remote controller mode, self-timer, drive mode, number of shots remaining and frame number at playback, and white balance.



The mode dial has the usual positions for AUTO, "P"rogram AE, "S"hutter speed priority, "A"perture priority and "M"anual exposure modes as well as the Digital Vari-Program modes for Portrait, Landscape, Closeup, Sports, Night Landscape and Night Portrait.
Digital Vari-Program mode automatically optimizes white balance, sharpening, tone (contrast), color, saturation and hue for optimal results according to the type of picture you're taking. For example, select Portrait mode and the camera will automatically enhance the image with beautiful skin tones, complimentary edge sharpening and soft background focus that highlights your subject.

Located on the front below the shutter release is the sub command dial, it's mostly used to change the aperture value and its function can be swapped with the main command dial on the back by using a Custom function setting.

| | |
| --- | --- |
| | Enable Bracketing mode, can be AE only, Flash only or AE + Flash |
| | Select Shooting Mode: Single frame, Continuous, Self-timer, Delayed remote, Quick response remote |
| | Auto Exposure / Auto Focus Lock |
| | Main Command Dial, changes settings when used with other buttons, selects shutter speed (its function can be swapped with the sub command dial by changing a Custom setting) |
| | Monitor button turns color LCD on/off, displays last image captured, works like the Play/Review button on other cameras |
| | Calls up and dismisses the onscreen menu system |
| | In review mode display 4 or 9 thumbnail images, is also used to change zoom ratio when in zoom review, in record mode it is used to change ISO speed in conjunction with command dial |
| | Help in Custom menu mode, Protect/unprotect images in review mode |
| | ENTER button accepts menu selections, in playback it enables the zoomed (magnified) playback option |
| | 4-way selector is used to select images and display image data in review mode and change the active focus area in capture mode |
| | Locks the 4-way selector against accidental changes |
| | Delete images while in review mode |
The D70 is equipped with a CompactFlash Type II slot and is compatible with any capacity CompactFlash Type I or II solid state card and is also fully IBM/Hitachi Microdrive compatible. There's no problem with devices >2GB as it recognizes both FAT-16 and FAT-32 file systems.
6/29/2004 - Nikon issues a firmware update that guarantees the D70 will now work with devices larger than 4GB. Update your camera today.


The new SanDisk 8GB Ultra II card in the D70 lets you capture 2,300 Large/Fine JPEGs! Now that is one heck of a vacation card for sure ...
Approximate Storage Capacity of 256MB Card
Behind two rubber covers are the D70's I/O ports. On top is the DC-IN port for the optional EH-5 AC Adapter. The V-OUT port has a user-selectable video (NTSC or PAL) signal for a TV or video monitor. On the bottom is a USB 2.0 port for transferring image data to the host computer. (Note: The USB port does not operate at full USB 2.0 speed.)

The D70 uses the Nikon EN-EL3 7.4V 1400mAh Li-ion rechargeable battery pack and comes with the MH-18 Quick Charger. This is the same battery pack used by the D100. This is a very powerful battery pack and it's no wonder so many different manufacturers are making use of similar Li-ion battery packs.
The big question is why Nikon is -not- offering an optional battery grip for the D70 like the MB-D100 for the D100. Your guess is as good as mine ... The good news? Just look a little farther down this page because Harbortronics is now making their VG-D70 battery grip !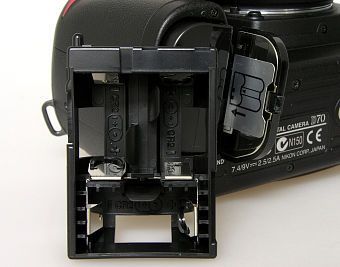 Included in the D70 kit is the MS-D70 battery holder. It allows you to use three CR2 type one-use lithium batteries. These batteries keep well over long periods of time so it makes a great "emergency" backup for your rechargeable battery.

---
Non-Nikon D70 Accessories
Harbortronics VG-D70 Vertical Grip
Are you upset that Nikon didn't made a battery pack / vertical grip for the D70 ?
No worries my friends, Harbortronics does!
The Harbortronics VG-D70 is a $165 aftermarket grip that:
provides a means of holding the camera in a vertical orientation without changing the orientation of the hand,
allows for a second battery, essentially doubling the number of shots on a charge,
adds a second shutter release button, used in portrait orientation.
provides additional length to the camera body when held horizontally (landscape), particularly useful with larger hands,
increases the mass of the camera, helping to damp handheld movement,
provides a standard connector for use with remote release cables, stereo camera connections, and other remote control equipment,
provides an alternate connection for external power, using an industry standard connector,
includes a place to store the camera's battery door,
retains a tripod mounting thread (metal).
Included with the VG-D70 is a fiber optic cable that lets the grip's shutter release fire the camera's shutter via the infrared remote drive mode. The jack on the side lets you use an inexpensive wired remote release like the Canon RS60-E3. This also lets you fire the shutters of two VG-D70 equipped D70's for stereo image capture.
For complete information download the VG-D70 User's Manual (pdf).

Harbortronics DigiSnap 2100
Harbortronics is excited to announce a very simple method of performing time-lapse, and manual remote shutter release with the Nikon D70. The DigiSnap 2100 now includes an "IR Output" feature, which includes signalling particular to the D70. The 2100-IR cable is also now available, providing a tough, lightweight plastic fiber optic cable which can be taped to the front of the D70, or simply placed near the front of the camera.
The standard DigiSnap 2100, compatible with a wide range of cameras, is priced at $150. The new IR Output feature is available for $30, and is compatible with every DigiSnap 2100 ever built! The 2100-IR cable is priced at $30, and is normally 3 ft long, but can be provided in essentially any length for an additional $0.50 per foot.

Ikelite D70 Underwater Housing
Ikelite has just announced their new D70 Underwater Housing with availability starting in May 2004. The clear molded compact housing features full capabilities and operates safely to 200 feet depth. The housing size and weight provides neutral buoyancy and superb handling underwater. Camera installation is quick and simple. The dependable controls are conveniently placed at your fingertips, and kept water tight with Ikelite pioneered Quad-Ring seal glands proven to be the most reliable method for sealing controls.

Fantasea FD-70 Underwater Housing


(click to see a larger picture)
Fantasea Line announces the release of the FD-70, an underwater camera housing, designed exclusively for the Digital SLR Nikon D-70. The Fantasea FD-70 is a compact, lightweight, injection molded polycarbonate housing with ergonomically designed handles, making it easy to hold and use. The FD-70's interchangeable port system accommodates a wide variety of SLR lenses, allowing photographers to capture the widest variety of superior underwater images.
The Fantasea FD-70 is more than just an underwater camera housing since it provides protection for the D-70 against damage from rain, snow, dust, sand and dirt. It is a valuable tool for many commercial, industrial, and medical applications, because it is resistant to most liquids and sprays.
The FD-70 housing features a unique o-ring and gasket seal and is rated to a depth of 200 feet (60m). The D-70 "slides" into the FD-70 housing on a specially designed tray. Once inside the housing the latching buckles on the back door are snapped shut sealing the system with a sound watertight seal.
The suggested retail price of the FD-70: US $999, it includes standard port (18-70 mm zoom lens) and pre-paid flood insurance policy from D.E.P.P. for one year.
Check out the


FD-70 Underwater Gallery
Visitors of Steves can visit the stores below for real-time pricing and availability. You can also find hot, soon to expire online offers on a variety of cameras and accessories at our very own Camera Deals page.