Nikon Coolpix 8700 Review
Nikon Coolpix 8700 Review
First Look posted 1/28/04
Full Review posted 3/11/04
Introduction & Physical Views

Click on the Coolpix 8700 to take a QuickTime VR tour



The Nikon Coolpix 8700 is for serious photographers who demand the highest level of quality and control from their compact digital camera. It features an 8.0 effective megapixel CCD (3,264 x 2,448-pixels) and an 8x Optical (35-280 mm) Zoom-Nikkor lens, with Nikon's Extra-low Dispersion (ED) glass elements. It has a high resolution (238,000 pixel) electronic viewfinder (EVF) for through-the-lens viewing and a 1.8" vari-angle color LCD monitor. The Coolpix 8700 is constructed with a compact, lightweight magnesium alloy body that has been designed for durability and portability.
The Coolpix 8700 digital has four exposure modes to give the photographer ultimate creative control over their image capture. These modes include Programmed Auto [P], Shutter-Priority Auto [S], Aperture-Priority Auto [A] and Manual [M]. The camera also offers an automatic mode, which makes the Coolpix 8700 an ideal tool in situations where operation needs to be 'point-and-shoot simple.'
For added convenience, the Coolpix 8700 now incorporates 12 preset Scene Modes taken from the existing line of award- winning Coolpix digital cameras. Scene Modes allow for striking images in practically any shooting situation. Simply select the mode appropriate to the lighting conditions, and the camera will automatically adjust focus, flash, contrast, sensitivity and white balance. The camera has ability to capture images in RAW recording mode (NEF format) for maximum image control and manipulation after the picture is taken using Nikon Capture software.
The Nikon Coolpix 8700 supports a complete series of affordable accessory lenses, which expand the camera's zoom range from 7mm-420mm. The Coolpix 8700 is compatible with Coolpix accessory lenses including the 1.5x ED glass teleconverter (TC-E15ED)(420mm), the 0.8x Wide Angle Adapter (WC-E80)(28mm) and the new Fisheye converter lens (FC-E9)(7mm).

Coolpix 8700 Features:
8-Megapixel resolution CCD imager (3,264 x 2,448-pixels)
Nikkor 8x zoom (35-280mm in 35mm equivalent) with ED glass
Macro focus with AF as close as 1.2"
Fully articulating 270°, 1.8" color LCD monitor
Electronic viewfinder (EVF) with 238,000 pixels
CompactFlash Type II card slot (Microdrive compatible)
Record images in TIFF-RGB (uncompressed), JPEG or NEF raw
Programmed Auto (with Shift), Shutter-Priority, Aperture-Priority and Full Manual
Drive modes: Single, Continuous H, Continuous L, Ultra High Speed Continuous, 16-Shot Multi (Continuous shooting of up to 5 full-size images at 2.5 fps)
12 preset Scene Modes, including the new Panorama Assist Mode
Shutter speeds from 1/4000 sec. to 8 secs (Bulb to 5 minutes!)
Movie 640 x 480 pixels; 30 fps) with audio, Small movie (320 x 240 pixels; 15 fps) with audio, or Sepia movie (320 x 240 pixels; 5 fps) with audio, or Time-lapse movie (640 x 480 pixels; 30 fps) without audio
7-bladed lens diaphram for true depth of field control
Five-area multifocus system, user-selectable and Spot-AF
256-segment Matrix Metering, Center-weighted or Spot
Noise Reduction for long exposures
ISO sensitivity of Auto, 50, 100, 200, 400
Matrix Auto White Balance plus Fine, Incandescent, Fluorescent, Cloudy, Speedlight and Custom Preset.
Built-in flash with auto, fill, slow sync, and red-eye reduction.
Hotshoe for external Nikon Speedlights
PictBridge and Epson PRINT Image Matching Technology compatible
USB 1.1 port for image download/remote control
EN-EL1 Li-ion battery and charger included

The Nikon Coolpix 8700 is available now with an MSRP of $999.95.



Physical Views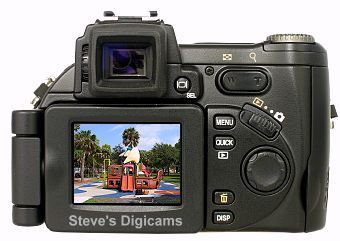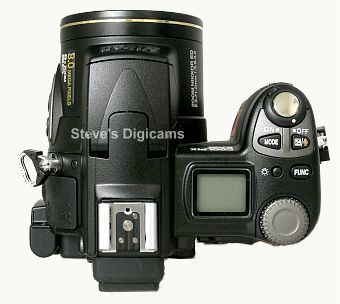 The Coolpix 8700 compared in size to a standard CD
The 8-Megapixel Canon Powershot Pro1 and the Coolpix 8700
Coolpix 8700 Specifications
CCD
2/3-in. high-density CCD; total pixels: 8.31 million
8.0 million effective pixels
Image sizes
8M (3264 x 2448)
3:2 (3264 x 2176)
5M (2592 x 1944)
3M (2048 x 1536)
2M (1600 x 1200)
1M (1280 x 960)
PC (1024 x 768)
TV (640 x 480)
Lens
8x Zoom-Nikkor lens
f = 8.9-71.2mm (equivalent to 35-280mm) F2.8-4.2 with macro; 14 elements in 10 groups; all glass, Nikon Super Integrated Coating (SIC) applied; two glass-molded ED lens elements included
Digital Zoom
Up to 4x stepless digital zoom
Autofocus
Contrast-detect TTL AF with AF-assist illuminator
7,123-step autofocus control including macro range
5-area Multi AF or Spot AF selectable
Focus modes
1) Continuous AF mode (when using LCD monitor)
2) Single AF mode (when not using LCD monitor and/or selectable from shooting menu)
3) Manual from 1.2 in. to infinity with focus confirmation indication
Shooting distance
19.7 in. to infinity
1.2 in. to infinity in Macro mode
Viewfinder
235,000-dot Electronic viewfinder (EVF)
0.44-inch high temp polysilicon TFT LCD with LED backlight
Mgnification 0.27 - 2.1x, frame coverage: approx. 97% (100% in play)
diopter adjustment: -4~+1m-1
LCD monitor
Fully articulating, 270°, 1.8", 134,000-dot, low-temp. polysilicon TFT LCD
LED backlight w/adjustable brightness (5 levels)/hue adjustment (11 steps)
Frame coverage: approx. 97% capture / 100% play
Auto OFF mode
30 sec.; can be set manually (1/5/30 min.)
Image Storage
System: EXIF 2.2 file (uncompressed TIFF or compressed JPEG) Design rule for Camera File system (DFC), Digital Print Order Format (DPOF), NEF raw mode, QuickTime Motion JPEG (Movie). Note that NEF and TIFF modes are only available at FULL image size.
Media
CompactFlash (CF) Card Type I or II
Microdrive compatible
Shooting modes
AUTO, SCENE, Custom 1, Custom 2
Scene modes
Portrait, Party/Indoor, Night portrait, Beach/Snow, Landscape, Sunset, Night landscape, Fireworks show, Close up, Copy, Close up, Copy, Back light, and Panorama assist
User setting
1) Single, 2) Continuous H (2.5 fps; up to 5 frames), 3) Continuous L (1.2 fps; up to 12 frames), 4) Multi-shot 16 (consecutive 16 frames at 1.5 fps), 5) Ultra HS (high-speed) (640 x 480 pixels; 30 fps, up to 100 frames), 6) 5 shot buffer (1 fps), 7) Interval Timer Shooting, 8) Movie: TV movie (640 x 480 pixels) with audio at 30 fps; up to 35 seconds, or Small movie (320 x 240 pixels) with audio at 15 fps; up to 180 seconds, Time-lapse movie (640 x 480 pixels) at 30 fps; up to 35 seconds, or Sepia movie (320 x 240 pixels) with audio at 5 fps; up to 180 seconds are selectable
Exposure metering
4-mode TTL metering:
1) 256-segment Matrix
2) Center-Weighted
3) Spot and
4) Spot AF Area
Shutter
Mechanical and charge-coupled electronic shutter; 1/4,000 (with minimum aperture) to 2 s in AUTO mode and Programmed Auto [P]; 1/4,000 to 8 s in Shutter-Priority Auto [S] and Aperture-Priority Auto [A], 1/4,000 to 8 s and Bulb/Time (up to 10 minutes) in Manual [M], 1/8,000 to 1/30 s in Ultra HS (high-speed) mode. At some apertures, maximum shutter speed is 1/2,000 s.
Aperture
7-blade iris diaphragm
10 steps in 1/3EV increments to f/8
Exposure control
1) Programmed Auto with Flexible Program
2) Shutter-Priority Auto
3) Aperture-Priority Auto
4) Manual; Exposure Compensation (±2 EV in 1/3 EV steps)
5) Auto Bracketing (3 or 5 steps within ±2 EV)
6) AE-BSS (3 modes: Highlight, Shadow, Histogram)
Exposure range
EV -1.0~+19.0 (W), EV +0.5~+19.0 (T) (ISO 100 equivalent)
Best-Shot Selector (BSS)
Camera takes up to 10 shots (at approx 2fps) and records the most detailed image of the 10 using anti-jitter logic which is effective for telephoto and macro shooting. Not available when the speedlight is on.
ISO Sensitivity
50, 100, 200, 400, or Auto;
can be controlled in Custom 1 and Custom 2 shooting modes
White balance
1) Matrix Auto White Balance with TTL control
2) 6-mode Manual with fine tuning (Daylight/Incandescent/Fluorescent/ Cloudy/Speedlight/Shade)
3) Custom Preset
4) White balance bracketing
Self-timer
10 sec. or 3 sec. duration
Built-in Speedlight
Shooting range: approx. 1.6 - 13.5 ft. (0.5 - 4.1m) (W), approx. 1.6 - 8.9 ft. (0.5 - 2.7m) (T) Flash modes: 1) Auto Flash, 2) Flash Cancel, 3) Red-Eye Reduction, 4) Anytime Flash, 5) Night Portrait (Slow Sync Flash)
External Speedlight
Connects to builtin hotshoe. Nikon Speedlight SB-800/50DX/30/22s; built-in Speedlight can be cancelled when using external Speedlight(s)
Playback options
1) Full-frame, 2) Thumbnail (4/9 segments), 3) Slide show, 4) Movie with audio, 5) Playback zoom (up to 6x); File information; Shooting information; Histogram indication and highlight point display; Hide and protect attributes can be set to each image; Focus confirmation indication; RAW image playback
Delete function
Deletes all frames or selected frames
Interface
USB 1.1 interface
Supported Platforms
Windows 98SE/Me/2000/XP
Mac OS 9 - 9.x, OS X (10.1.3 or later)
Video output
NTSC or PAL (selectable)
I/O terminal
Power input
Video output
Digital output terminal (USB)
Hot shoe for external Speedlight
Included Accessories
Lens Cap, Camera Strap, AV Cable, UC-E1 USB Cable, EN-EL1 Rechargeable Li-ion Battery, MH-53 Battery Charger, NikonView 6 CD-ROM
Optional Accessories
FC-E9 Fisheye Converter, WC-E80 Wideangle Converter, TC-E15ED Telephoto Converter, UR-E8 Lens Adapter, UR-E12 Step-Down Ring Lens Adapter, HN-CP11 Lens Hood, EH-53 AC Adapter, MH-53C Car Battery Charger (12V DC in), MC-EU1 Remote Cord, Case, Various size CompactFlash™ cards
Power requirements
Nikon EN-EL1 lithium rechargeable (supplied)
or 2CR5/DL245 one-use lithium. Optional Nikon MB-E5700 battery pack/handgrip with 6 x 1.5v (AA) batteries. Optional Nikon EH-21 AC adapter.
Battery life
210 images (EN-EL1)/240 images (2CR5). Measured at 20°C [68°F] with fully-charged batteries under standard Nikon test conditions; monitor on, zoom adjusted with each shot, flash used about once every three shots, image quality set to Normal.
Dimensions
(W x H x D)
Approx. 4.4 x 4.1 x 3.1 in. (113 x 105 x 78 mm)
Weight
(without battery)
Approx. 17 oz. (480 g)
Specifications as represented by the manufacturer

Visitors of Steves can visit the stores below for real-time pricing and availability. You can also find hot, soon to expire online offers on a variety of cameras and accessories at our very own Camera Deals page.