Pentax *ist DS SLR Review
Pentax *ist DS SLR Review
Camera Controls, Storage, I/O, & Power
The controls on the grip side of the camera: the Power switch / DOF preview and Shutter Release button, the +/- exposure compensation button which is used in Manual mode to change the aperture value. The data LCD is not illuminated but current settings can be seen on the color LCD using the Info button (see next page).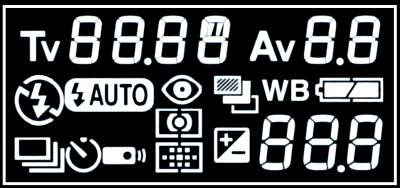 The data LCD display indicates: Shutter speed, Aperture value, Flash Information (Auto, Flash-On, Flash-Off, Red-eye reduction), Single frame/Continuous advance/Bracketing, Self-timer, Remote control, Metering Information, Focus point indicator, Auto bracketing, Preset/Manual white balance information, Battery information, Exposure compensation factor and Exposure frame number.
The Mode Dial has positions for: Flash Off, Night Portrait, Action, Macro, Landscape, Portrait, Standard, Auto Picture, Program AE, Aperture-Priority AE, Shutter-Priority AE, Manual and Bulb.



On the back is the e-dial which is used to change shutter speed, aperture and other settings. In playback it functions as the Index-Zoom dial (see next page for digital controls). The AE-L is used to lock the Auto Exposure to allow you to reframe without changing the exposure value.



Below the Mode Dial is the Flash Release button to open the pop-up flash when in any mode other than No Flash or Auto Picture.



Images are stored on Secure Digital (SD) flash memory cards. The *ist DS can use any capacity SD card up to 1GB, shown here is the spacious and speedy Delkin 1GB SD card. Pentax states that if you use a SD card larger than 1GB, the camera will format it -only- for 1GB.
4/15/05: Pentax has released *ist DS firmware v1.02 which now adds support for SD cards over 1GB.



Approximate storage

Input/Output ports are on the left side, on top is for the CS-205 optional wired release button


Combination USB 2.0 (high speed) and Video Out (selectable NTSC or PAL format)



Bottom is jack for DC IN from optional D-AC10 power supply.



The Pentax *ist DS can powered by either four AA type (lithium, alkaline, nickel-metal hydride) or two CR-V3 lithium batteries. CR-V3 one-use batteries will yield 850 pictures with no flash, 750 if flash used 50% of the time, 650 if flash used 100% of the time, and 700 minutes of playback time. High-capacity NiMH AA cells will yield 750 pictures, 650 flash 50%, 550 flash 100%, 470 minutes of playback time.
CR-V3 lithium type provide the best performance for one-use batteries and offer the greatest "shelf life" and low temperature usability. Li-ion batteries provide more power, retain their charge longer and are physically lighter than equivalent NiMH rechargeables. However, rechargeable NiMH AA's are more economical and ecologically sound than batteries that end up in the landfill after just one use.
Pentax recommends against the use of rechargeable CR-V3 (aka RCR-V3) type batteries because some manufacturer's batteries put out too much voltage, i.e. 3.7v versus the 3v delivered by one-use CR-V3 lithium cells.


Visitors of Steves can visit the stores below for real-time pricing and availability. You can also find hot, soon to expire online offers on a variety of cameras and accessories at our very own Camera Deals page.