Pentax *ist DS SLR Review
Pentax *ist DS SLR Review
Camera Features:
Flash and Viewfinder
The camera's built-in P-TTL popup flash unit makes taking pictures with well-balanced foreground and background exposures simple. It has a Guide number of 15.6 (at ISO 200/m) with an 28mm angle of view coverage. Flash synch speed is 1/180 second. Flash-On, Red-Eye Reduction and Flash-Off modes. When shooting the Auto Picture mode, the flash will open automatically when needed, in other modes the user needs to press a release button when flash is desired.
The *ist DS has an ISO hot shoe (but lacks a standard PC flash sync port) for connection to external flash equipment.



The *ist DS functions in full TTL with the Pentax AF-360 FGZ Power Zoom Flash. When used in the advanced P-TTL mode a preflash allows for multi-segment flash metering for more accurate strobe photography. High speed on camera and wireless flash capabilities with the *ist DS. Includes an AF-assist beam for focusing in low light or low contrast situations, its working range is 3.3 to 23 feet.
Effective flash range is from 2.3 to 17.8 feet. Power zoom head covers from 20mm (with wide angle panel) to 85mm. Vertical bounce possible, click stops provided (-10°, 0°, 45°, 60°, 75°, 90°), lock provided at 0°. Compatible film speeds are from ISO 25 to ISO 1600. Recycle time with NiMH batteries is approx. 6 seconds. Auto power-off after approx. 3 minutes of non-operation.
(AF-360 FGZ flash shown mounted on *ist D camera)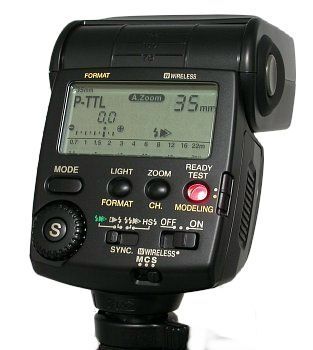 Flash exposure compensation (-3.0 to + 1.0 in 0.5 steps) is controlled through a simple control dial. LCD display shows the effective range of the flash in P-TTL, TTL and AUTO modes. Modeling light features strobes the flash so you can check for unwanted shadows or highlights. Manual mode power selections in six steps from 1/1 to 1/32. Leading shutter curtain sync, trailing shutter curtain sync, contrast control sync and high speed sync. Four channel wireless control with a range of approx. 13 feet.



The eyelevel viewfinder employs an optical pentaprism developed especially for the *ist DS and shows approx 95% of the captured image with 0.95X magnification (with 50mm F1.4 at infinity). There is a -2.5 - +1.5 diopter adjustment. Around the viewfinder is a soft rubber eyepiece that fits comfortably against your face or eyeglasses.
The focusing screen is interchangeable, a Natural-Bright-Matte screen is included as standard and AF Frame Matte, AF Split-Image Matte and AF Scale Matte screens are available as optional accessories.

The 11 focusing points are superimposed in the viewfinder, the active focus points are illuminated in red so you know exactly which AF area(s) have been selected.

Viewfinder indicators includes: Flash information; Picture mode; In-focus; Shutter speed; Aperture value; Exposure compensation factor; Manual white balance; Manual focus; ISO sensitivity warning; Auto exposure lock signal. AF frame with superimposed AF sensor point, spot AF frame.



Here is the layout of the 16-segment multi-pattern metering system. User-selectable Multi-Segment, Spot and Center-weighted options.


Visitors of Steves can visit the stores below for real-time pricing and availability. You can also find hot, soon to expire online offers on a variety of cameras and accessories at our very own Camera Deals page.