Panasonic Lumix DMC-FZ20 Review
Panasonic Lumix DMC-FZ20 Review
Features & Controls
The all-glass aspherical Leica DC-VARIO ELMARIT 12x zoom lens is equivalent to a 36-432mm zoom on a 35mm camera. This is the most powerful zoom lens available on any 5-megapixel digital camera. It maintains a fast and bright F2.8 aperture throughout the entire zoom range. The Leica lens is constructed of 13 elements in 8 Groups (3 Aspherical Lenses/3 Aspherical Surfaces and 1 ED Lens.)
The TTL contrast-detect auto focus system covers from 11.8 in (W) / 6.56 ft (T) to infinity in normal mode and from 1.97 in (W) / 6.56 ft (T) in macro mode. Auto focus options include normal Single AF, Continuous AF and Spot AF. There is a focus-assist illuminator to aid in low-light conditions.



The lens can be manually focused with the ring on the lens barrel. During manual focus the center portion of the screen can be magnified to aid in critical focusing.
The DMC-FZ20 is equipped with an optical image stabilization system to minimize camera shake at long focal lengths. You learn to really appreciate image stabilization when you get past 5x telephoto focal lengths when not using a tripod.





This is what you can do with a 12X zoom!


To minimize the occurrence of flares or ghosting when shooting outdoors or in any bright environment you can attach the supplied lens shade. It only takes a moment to unscrew the dress ring and attach the lens shade.
The lens shade is actually two parts, the adapter ring and the petal-shaped shade itself. The adapter ring can be used separately to mount 72mm filters on the lens.


The eye level viewfinder is a miniature color LCD monitor with a magnifying eyepiece. It has a diopter adjustment and can be used with eyeglasses. This electronic viewfinder (EVF) gives you true TTL (through the lens) viewing and overlays important camera and exposure data on top of the live display. It can also be used to review images and access the menu system which is handy outdoors where it can often be difficult to see the LCD monitor.



The pop-up speedlight features Auto, Auto Red-eye reduction, Slow-sync Red-eye, Fill and Forced Off modes. The flash range (at ISO Auto) is 0.98 - 22.97 feet.



The flash hot shoe allows you to easily attach any non-dedicated automatic type of clipon flash unit.



Controls on the back: The OPEN button pops up the builtin flash. The EVF/LCD button switches between the EVF and LCD monitor, the DISPLAY button controls the amount of data displayed. The EXPOSURE button is used to enable the 4-way controller to change shutter speed or aperture values. The ON/OFF switch turns the camera on and off. The MENU button calls up and dismisses the menu system.
The 4-way selector in Record mode toggles the flash mode when pressed "Right." When pressed "Up" it toggles exposure or flash compensation, AE Bracketing or white balance adjustment. Press "Left" to activate the Self-timer and press "Down" to use the Quick Review mode to examine the last image captured. In Playback mode the 4-way selector is used to select images and of course in both record and play modes it is used to navigate the menu screens, press "Down" to accept (SET) menu selections. The Trashcan button is for deleting images.



Controls on the top include the combination shutter release and zoom control ring. The zoom ring is used in playback to enlarge the image or display an index page. The button toggles the drive mode between Single frame, High Speed or Low Speed Continuous.
The Mode Dial has positions for:
Play - Play back of still images, movie or audio notes

P - Program AE which is a point-n-shoot simple mode

A - Aperture priority mode

S - Shutter-speed priority mode

M - Manual mode

Macro - Macro focus mode for closeup photography

Movie - Capture motion JPEG with audio, length is limited only to available memory

SCN1 - Scene 1: Settable for Portrait, Sports, Scenery, Night Scenery, Night Portrait, Panning, Fireworks, Party or Snow

SCN2 - Scene 1: Settable for Portrait, Sports, Scenery, Night Scenery, Night Portrait, Panning, Fireworks, Party or Snow

The REMOTE port is for connected a wired remote shutter release
The A/V Out port sends the audio and video to a television set, the video format is user selectable for NTSC or PAL standard. This is also the USB 1.1 data I/O port, it is Mass Storage compliant and also supports the PictBridge direct-print standard.
An optional AC power adapter or external battery pack can be connected to the DC IN port.



Still images, movie clips and audio files are stored on removable Secure Digital or MultiMedia Card flash memory cards. Panasonic supplies a 16MB size SD card so the first thing you need to buy is a bigger one. We had no problems using a fast and spacious Sandisk Ultra II 512MB card and there are now 1GB capacity SD cards available.

Approximate Picture Storage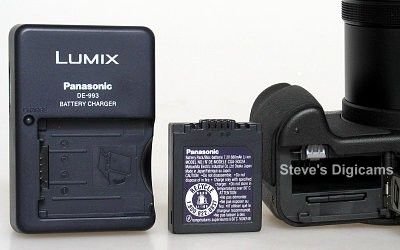 Power is supplied by a Panasonic 7.2v 680mAh Li-ion battery pack. The battery is good for approx. 240 pictures (CIPA standard testing, 50% with LCD on) and when using the electronic viewfinder (approx. 270 pictures). It has a playback time of 240 minutes.
The battery charger can replenish a fully depleted pack in 120 minutes or less. Batteries are charged out of the camera so you can be charging one and using another.
Visitors of Steves can visit the stores below for real-time pricing and availability. You can also find hot, soon to expire online offers on a variety of cameras and accessories at our very own Camera Deals page.