Konica Minolta DiMAGE X31 Review
Konica Minolta DiMAGE X31 Review
Review posted 8/16/2004

Click on the DiMAGE X31 to take a QuickTime VR tour



The DiMAGE X31 is the newest member of Konica Minolta's X-series of DiMAGE digital cameras. This 3.2 megapixel digital camera combines a fast startup speed, thin and stylish design, and intuitive operation in a very affordable entry-level digital camera model. The X31 is a user-friendly, compact digital camera equipped with a non-protruding 3x optical zoom with the ability to take photos as close as 3.9 inches to the subject without having to switch to a separate macro mode.
When users turn the DiMAGE X31 on, the camera is responsive and ready to take pictures in approximately 1.0 second -- one of the fastest in the 3-megapixel digital camera category. And with only a 0.1 second shutter release time lag, photographers will never miss a photo opportunity. The camera's Graphical User Interface (GUI) icon-based menu has a launcher type quick-reference control panel, providing users with intuitively simple operation. And the camera's independent playback button lets users preview their pictures instantly.
Additional in-camera features include versatile image editing functions for adding frames (Framing Features) or combining two photos (Side by Side). The DiMAGE X31 will do more than just take photographs. XR (Extended Recording) movie processing allows digital video to be captured and played back. The length of the XR movie is only limited by the memory card capacity and image size. Two image sizes can be selected: 160 x 120 pixels and 320 x 240 pixels. Unique to the Minolta DiMAGE X31 is a self-portrait mode. While holding the camera at arm's length, the use of the specially curved mirror on the front of the DiMAGE X31 allows users to correctly compose a picture of themselves and a friend without having to hand the camera off to a stranger.
Weighing only 4.1 ounces, the stylish and compact DiMAGE X31 digital camera fits right into a jacket or shirt pocket so users can bring the camera with them wherever they go.


DiMAGE X31 Major Features:
Incredibly compact and lightweight camera
Unique "folded" 3x 37-111mm optical zoom lens
Macro close-up focusing as close as 3.9 inches
3-megapixel imager for images up to 2048 x 1536 pixels
Motion video 320 x 240 w/out audio at 15fps, unlimited length
15-second audio notes can be attached to images
1.5-inch TFT color LCD monitor/viewfinder
Self-portrait mirror on the front
Color toning: B&W, sepia, red, blue or green filters
9-shot multi-frame capture mode at 3fps
Unique image pasting function for picture-in-a-picture montages
Date and time stamping on the image
Minolta's CxProcess image processing provides clear and natural images
12-bit A/D conversion provides a finer tonal gradation
Built in flash with Auto, Red-eye reduction, Night portrait and Fill modes
Removable flash memory cards (SD or MMC type)
PictBridge and Epson PRINT Image Matching II compliant
Powered by two standard AA type batteries
USB 1.1 Mass Storage Compliant device
Physical Views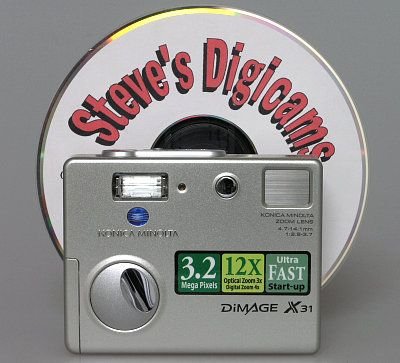 The DiMAGE X31 compared in size to a standard CD.
The DiMAGE X31 and the DiMAGE X50.
DiMAGE X31 Specifications
CCD
1/3.2-type interline primary-color CCD
Total pixels: 3.3 million (2140 x 1560)
Effective pixels: 3.2 million (2088 x 1550)
Interlaced
Pixel cell size: 2.225 µm x 2.225 µm
Lens
3x 4.7 - 14.1 mm (equivalent to 36-108 mm in 35mm format)
f/ 2.8 - f/ 3.7; 10 elements in 9 groups
(includes 1 one-sided and 2 double-sided aspheric elements)
Digital zoom
4X (Max.)
File format
JPEG, Motion JPEG (MOV) without audio, DCF1.0 compliant, DPOF (ver.1.1), Exif2.2
No. of recorded pixels
2048 x 1536 Fine, 2048 x 1536 Standard,
1600 x 1200 Standard,
1280 x 960 Standard, 640 x 480 Standard
Movie: 320 x 240, 160 x 120
Recording media
SD Memory Card / MultiMediaCard
Storage capacity*
(using 16 MB card)
(640 x 480) Standard: 94
(1280 x 960) Standard: 37
(1600 x 1200) Standard: 25
(2048 x 1536) Fine: 9
(2048 x 1536) Standard: 16
Movie: (320 x 240) 47 seconds
(160 x 120) 189 seconds
* Numbers above are approx., and may vary depending on the subject and the media used
Autofocus system
Video AF, Focus lock available
Autofocus area
Center focus
Focusing range
0.10 m to infinity (from the front of the lens)
Exposure control
Programmed AE, AE lock available
Exposure compensation
±2Ev in 1/3 increments
Metering
Multi-segment metering (256)
Camera sensitivity
Auto (between ISO 50-200 equivalent)
Shutter speeds
4 - 1/500 seconds
Continuous advance
Approx. 0.8 frames per second
Self-timer
Approx. 10 second delay
Movie recording
Recording time depends on memory card capacity (without audio)
White-balance control
Automatic, Preset (Daylight, Cloudy, Tungsten, Fluorescent)
Flash mode
Autoflash, Autoflash with red-eye reduction, Fill-flash, Flash cancel,
Night portrait (with red-eye reduction)
LCD monitor
1.5 inch (38 mm) TFT color monitor
Printing output control
Exif Print, PictBridge, PRINT Image Matching II
PC interface
USB 1.1
The data will be transferred at 12 Mb/s when connected to USB 2.0 compatible computers
Battery
Two AA batteries (Ni-MH, alkaline)
Battery performance
Continuous playback time: approx. 80 minutes, based on Konica Minolta measurements when using standard batteries (AA alkaline)
Number of recordings: approx. 90 frames, based on CIPA (Camera & Imaging Products Association) measurements when using standard batteries (AA alkaline) and a memory card
Operating time (approx.)
Start-up time: approx. 1.0 seconds
Shutter-release time-lag: approx. 0.1 seconds
External power source
3V DC (with specified AC)
Additional functions
Portrait mode, Self portrait (with circular mirror), Multi-frame, Special effects (Frame / Border / Side by side) PictBridge direct printing, E-mail copy, Date imprinting
Dimensions
(W x H x D)
86 x 67 x 24.5 mm* / 3.4 x 2.6 x 1.0 inches
* 21.5 mm excluding the thickness of the LCD monitor
Weight
Approx. 115 g / 4.1 ounces (without batteries and recording media)
Standard accessories
Two AA alkaline batteries, Hand Strap (HS-DG120), USB Cable (USB-500), SD Memory Card (16MB), DiMAGE Viewer CD-ROM
Optional accessories
AC adapter (Taiwan: AC-12, UK: AC-12GB, Europe except UK: AC-12E)

Specifications as represented by the manufacturer
Visitors of Steves can visit the stores below for real-time pricing and availability. You can also find hot, soon to expire online offers on a variety of cameras and accessories at our very own Camera Deals page.