Canon EOS 20D SLR Review
First Look posted 08/19/04
Full review posted 10/13/04

Click on the 20D to take a QuickTime VR tour



Designed for advanced amateurs, photojournalists, wedding photographers and professionals, the EOS 20D digital SLR combines speed, image quality and ruggedness with compact size and light weight to deliver the highest performance in its class. The EOS 20D has a new APS-C (15.0 x 22.5 mm) 8.2 megapixel CMOS image sensor designed and manufactured by Canon. It is the first mid-range digital SLR to offer high-speed continuous shooting of five frames-per-second with a burst of 23 frames at highest JPEG resolution. Very robust - the camera starts up in 0.2-second and has a shutter release time lag of only 65 milliseconds.
The all-new 9-point AF unit with high-precision cross-type sensor raises the bar on speed, accuracy and precision in mid-range SLRs. The new AF system has one full stop better low- light performance than its EOS 10D predecessor. The new E-TTL II autoflash metering system, inherited from Canon's EOS-1D Mark II professional model, takes into account the distance, reflectance and position of the subject for highly stable, accurate and intelligent exposure calculations.
The EOS 20D digital SLR is both smaller and lighter than the 10D model. The 20D camera is about 3.6 ounces lighter and Canon reduced the width, height and depth by 5.7, 2 and 3.5 mm, respectively. The shutter unit, mirror box, main mirror, pentaprism, focusing screen and viewfinder optical unit have all become smaller as they were optimized for the APS-C sensor. The 20D digital SLR has nearly 100 fewer parts than the 10D model. The new camera retains the rugged stainless steel chassis and magnesium alloy body covers of its predecessor for outstanding durability.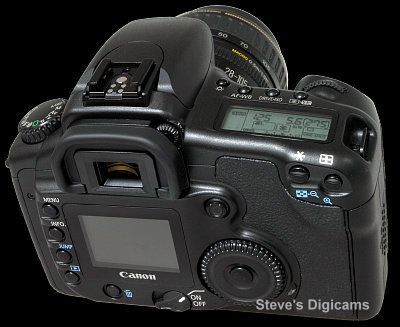 The new camera's combination of speed and available light shooting capability make it especially appealing to newspaper photographers. Aside from the five frames-per-second burst rate, the EOS 20D digital SLR delivers superb low light performance and exceptionally low noise, even at high ISOs. In fact, images taken at ISO 1600 are approximately equal in noise to those taken with the EOS 10D model at ISO 400.
The Canon designed and manufactured CMOS sensor has a maximum resolution of 3504 x 2336 pixels, which is sufficient for very large prints (up to 16 x 24 inches) with fine detail. Like its big brother, the Canon EOS-1D Mark II, the EOS 20D digital SLR satisfies the wedding photographer's benchmark: facial details in group-shots. With the speed and large buffer of the EOS 20D digital SLR, wedding and portrait photographers have a cost effective solution for capturing both posed and candid event photographs.

EOS 20D Major Features
Lightweight and durable magnesium alloy body
Canon EOS (EF/EF-S) lens mount, 1.6x focal magnifier
New 8-megapixel, CMOS image sensor, low-noise / wide dynamic range
Recording choice of 6 levels of JPEG, CR2 RAW, or RAW plus JPEG (choice of 6 different levels of JPEG)
All-new 9-point AF unit with high precision cross-type center sensor has one full stop better low-light performance than the EOS 10D
Ultra-fast start-up time of 0.2 seconds, only 65ms shutter lag time
Adobe RGB and sRGB color space selection
New high-speed mirror drive normally found only in pro-level models allows a major reduction in viewfinder blackout time
Processing parameters include 2 presets, 3 custom sets, adjustable for contrast, sharpness, saturation and color tone, and the new monochrome mode which includes built-in digital filtration for yellow, orange, red and green, and print toning in sepia, blue, purple and green.
12 shooting modes, seven Basic Zone modes (Full Auto, Portrait, Landscape, Close-Up, Sports, Night Portrait and Flash Off) and five Creative Zone modes (Standard Program AE, Shutter-Priority AE, Aperture-Priority AE, Manual and Depth-Of-Field AE)
35-zone TTL metering, Evaluative (linked to all focusing points), Center-weighted average, or 9.5% central-area spot metering
White Balance: Auto, six presets and Manual color temperature (2800-10,000°K in 100° increments) and can be corrected for blue, amber, magenta or green.
Continuous mode capture: 5fps up to 23 frames (6 frames in RAW mode)
Shutter speeds: 30 to 1/8,000 seconds, 1/250 sec. flash sync
Eye level TTL viewfinder with diopter adjustment, illuminated AF points, depth-of-field preview and detailed information display.
AE bracketing and White balance bracketing
1.8 inch, color TFT LCD, 118,000 pixels, 5 levels of brightness
Playback histogram and up to 10x image zoom
ISO Range: 100, 200, 400, 800, and 1,600 (3200 with ISO speed extension)
18 Custom Functions with 50 settings available
Built-in E-TTL II popup flash with red-eye reduction.
Hot shoe for Canon EX Speedlites and standard PC flash sync connector
CompactFlash Type II card slot, Microdrive and FAT32 compatible
High-speed USB 2.0 interface for fast image downloads
Video Out with selectable NTSC or PAL timing
Powered by new BP-511A Li-ion battery pack with 25% more capacity. CG-580 rapid charger included
PictBridge, CP Direct and Bubblejet Direct printing
Optional BG-E2 Battery Grip doubles battery power and adds vertical grip, shutter release and controls
DIWA Platinum Medal Award

DIWA members from Europe and USA have chosen the Canon EOS 20D as the best "Digital System Camera" in 2004, for which it receives the DIWA Platinum Award in its category. The EOS 20D took a giant leap in the never-ending process of technological development, improvement and perfection, elevating image quality and camera performance to a new standard. The robust camera body has the same renowned ergonomic EOS design as its professional siblings, perfected by Canon over decades of camera development. Canon's own 8 Megapixel CMOS image sensor delivers low-noise images over a large range of sensitivities. Sparked by an ultra-fast DIGIC II image processor, the EOS 20D overtakes many of its rivals in terms of shooting speed, processing speed, storing speed and camera response. Professionals and serious photo enthusiasts alike embrace the camera for its outstanding value for money.

Physical Views
Canon EOS 20D Specifications
Camera Section

Type
Eye-level single lens reflex (SLR) digital camera, 36-bit full color RGB capture (12bits per channel), one-shot type
Lens mount
Canon EF mount (full electronic control type)
Lenses used
Canon EF lenses (focal length conversion factor is approx 1.6X compared to full-frame 35mm film format)
Viewfinder
Full-frame reflex type, coverage approximately 95% horizontal and vertical, 0.8X magnification and 20mm eye point. Dioptric adjustment range: -3.0 - +1.0 diopter. Focusing screen: Fixed, new Laser Matte screen

Viewfinder information: AF points, AE lock, FE lock, AEB in progress, flash ready, improper FE lock warning, high-speed sync, flash exposure compensation, shutter speed, bulb, FE lock, processing data, aperture, exposure level (exposure compensation, manual exposure level, AEB level, flash exposure compensation, red-eye reduction lamp-on indicator), Max. burst during continuous shooting, AF/MF focus confirmation, CF card full, CF card error, no CF card.

AF Type
TTL-CT-SIR with a CMOS sensor. TTL secondary image-registration, phase detection.
Focusing modes
One-shot AF, AI Servo AF with focus prediction, AI Focus AF, and manual focus
Focusing points
9 selectable focusing points
AF Point Selection
Automatic, Manual, Home position
Active AF Point indicator
Superimposed in viewfinder and indicated on LCD panel
AF-assist beam
Stroboscopic flash. Effective range: approx. 4.0m/13.1ft. at center, approx. 3.5m/11.5ft off-center
AF working range
EV (0.5-18) (ISO 100, standard chart)
Metering modes
TTL full aperture metering with a 35-zone silicon photocell.

Evaluative metering (linkable to any AF point)
Center-weighted average metering
9% central-area partial metering

Metering range
EV 1-20 (at 20°C, EF 50mm f/1.4 USM, ISO100)
Shutter type
Electronically-controlled focal-plane shutter
Shutter speed
1/8000 sec. to 30 sec.(1/2 or 1/3 stop increments) plus Bulb
X-sync at 1/200 sec.
Shutter release
Soft-touch electromagnetic release
Drive modes
Single frame, continuous, self timer
Continuous shooting speed
Approximately 5 frames per second (at 1/250 sec or faster)
Maximum burst depth during continuous shooting is 23 JPEG/6 RAW frames
Exposure control system
Program AE (shiftable), Shutter-priority AE, Aperture-priority AE, Auto Depth-of-field AE, Full Auto, Programmed Image Control modes (Portrait, Landscape, Close-up, Sports, Night Portrait, and Flash OFF), E-TTL II Autoflash Program AE, and Manual.
Built-in flash
Type: Auto pop-up, retractable, built-in flash in the pentaprism. Guide No: 13/43 (at ISO 100 in meters/feet), Recycling time: Approx. 3 sec., Flash ready indicator: Flash-ready icon lights on in viewfinder.
17mm lens angle coverage
Flash range
using EF 24-85mm f/3.5-4.5 USM lens
1 - 3.7m (3.3 - 12.1 ft) ISO 100 24mm
1 - 2.9m (3.3 - 9.5 ft) ISO 100 85mm
Flash contact
Accessory shoe for EX-series Speedlites (E-TTL II auto flash)
PC socket built-in on left side of camera body
Flash metering
E-TTL II auto flash (linked to all AF points), FEL and FP flash (high-speed synchro) with built-in flash and EX-series Speedlites
Flash exposure compensation
+/- 2 stops in 1/2- and 1/3-step increments
Digital Section

Image sensor
High-sensitivity, high-resolution, single-plate CMOS sensor
8.20-million effective pixels
8.50-million total pixels
Sensor size
15.0 X 22.5 mm, 6.4µm x 6.4µm pixel pitch
Aspect ratio
3:2
Color filter system
RGB bayer pattern primary color filter
Low-pass filter
Located in front of image sensor, non-removable
Resolution/
Compression
settings

Large/Fine ~3.6MB (3504 x 2336)
Large/Normal ~1.8MB (3504 x 2336)
Middle/Fine ~2.2MB (2544 x 1696)
Middle/Normal ~1.1MB (2544 x 1696
Small/Fine ~1.2MB (1728 x 1152)
Small/Normal ~0.6MB (1728 x 1152)
RAW .CR2 format ~8.7MB (3504 x 2336)

RAW + Small/Normal
RAW + Small/Fine
RAW + Medium/Normal
RAW + Medium/Fine
RAW + Large/Normal
RAW + Large/Fine

Sensitivity
Equivalent to ISO 100, 200, 400, 800, 1600 (and 3200 with ISO speed extension)
White balance
TTL type

Presets for: Auto (3000-7000°K), Daylight (5200°K), Shade (7000°K), Cloudy (6000°K), Tungsten (3200°K), Fluorescent (4000°K), Flash (5600°K)

Manual color temperature (2800 to 10,000° Kelvin in 100° increments)

White balance can be corrected for blue, amber, magenta or green

Custom white balance, read from partial metering circle (2000-10000°K)

White balance bracketing up to +/- 3 whole stops for magenta-green as well as blue-amber

Color temperature compensation: +/- 3 stops in whole-stop increments

Recording media
CompactFlash card, Type I or II, single slot
Microdrive and FAT12/16/32 compatible
File format
Design Rule for Camera Format (DCF) 2.0
Recording methods
JPEG and Canon RAW (12 bit)
Color space
sRGB, Adobe sRGB
Processing parameters
Three sets of custom processing parameters with contrast, sharpness, saturation and color tone with 5 settings -2 to +2

Monochrome set with digital filtration for yellow, orange, red and green, and print toning in sepia, blue, purple and green

Burst rate
Approximately 5 frames per second up to approx. 23 JPEG (any size) or 6 RAW frames
LCD color monitor
1.8-inch low-temperature TFT type, approx. 118,000 pixels; 100% image coverage, 5-level adjustable brightness
Menu languages
12 languages: English, German, French, Dutch, Danish, Finnish, Italian, Norwegian, Swedish, Spanish, Simplified Chinese and Japanese
Custom functions
18 custom functions with 50 settings
Playback features
Single frame, single frame (info), magnified view (1.5x - 10x in 15 steps), 9-image index, autoplay, image rotation, jump. Highlight alert in single frame and single frame (info) modes, overexposed areas will blink. Single images can be protected or cancelled. Single image or all images can be erased from CF card (except protected images.)
Direct printing
Compatible with PictBridge, Canon CP Card Printers and BubbleJet Printers for JPEG images. Settings: Print quantity, style and trimming.
Interface
Digital: USB 2.0 high speed; Video Out: NTSC/PAL (switchable)

Camera: N3 remote control socket, PC terminal for studio flash, dedicated accessory shoe for EX-series Speedlites
Power source

BP-511A Li-ion supplied, BP-511/BP-512 may be used
AC operation via optional ACK-E2 kit with DC Coupler DR-400
Two BP-511A batteries via optional Battery Grip BG-E2

Battery life
Approx. 1000 shots, no flash
Approx. 700 shots, 50% flash use
Recharging time
Approx. 100 minutes with CG-580 charger
Kit configuration
EOS 20D camera, BP-511A lithium-ion battery pack, Battery Charger CG-580, USB Cable IFC-400PCU, Video Cable VC-100, a wide neckstrap, 3 software CDs (includes Canon's new Digital Photo Professional, EOS Viewer Utility and Adobe Photoshop Elements), printed instruction manuals, and a 1-year Canon U.S.A. limited warranty.
Dimensions
144(W) x 105.5(H) x 71.5(D) mm
5.7(W) x 4.2(W) x 2.8(D) inches
Weight
685g/24.2oz. w/o battery or CF card
Driver software
Comes with USB TWAIN driver for PC and Adobe Photoshop plug-in for Mac OS
System
requirements
Windows:
Type of computer: IBM PC/AT compatible mach w/ USB port
CPU: Pentium 150 MHz or above for OS: Windows 98 SE, Windows Me, Windows 2000
300MHz Pentium or above w/OS: Windows XP
RAM: 64MB or more (128MB rec'd) for Windows 98SE/Windows ME/Windows 2000
128MB (256 or more Rec'd.) Windows XP

Macintosh:
Type of computer: Macintosh w/ USB standard ( 1st generation. iMacs require firmware update -9.2 CPU: Power PC
OS: MacOS 8.6 to 9.2, Mac OS 9.0 or later recommended
RAM: 64MB or more applications memory, 128MB or more recommended
Specifications as represented by the manufacturer





Visitors of Steves can visit the stores below for real-time pricing and availability. You can also find hot, soon to expire online offers on a variety of cameras and accessories at our very own Camera Deals page.