Olympus Stylus Digital 300 Review
Olympus Stylus Digital 300 Review
Review Posted 2/17/2003
Introduction

Click on the Stylus 300 to take a QuickTime VR tour


For 2003 Olympus takes their best-selling 35mm point-and-shoot film camera series and adapts them for today's digital consumers. The new Stylus Digital line of cameras are stylish, ultra-compact, weather resistant and very easy to use. The first members of this new line are the 3.2 Megapixel Stylus 300 Digital which is available now and the 4.0 Megapixel Stylus 400 Digital, available starting in April.
The Stylus 300 Digital has a sliding lens barrier accented in silver and the Stylus 400 Digital is accented in gold. Measuring an ultra-compact 3.8" long x 2.2" high x 1.3" wide, and weighing just 5.8 ounces, the Stylus Digital delivers maximum portability and durability for an active, on-the-go lifestyle. These cameras are not only attractive, they're also weather resistant for great shots come rain or shine. The lightweight and ergonomic aluminum body provides all-weather protection from the elements and can even survive a downpour. To learn more about the Stylus Digital's weatherproof body click here.
The Stylus Digital cameras offer basic point-and-shoot simplicity for flawless picture taking. For photographers who want optimum results in a wide variety of settings, the easy-to-use Creative Scene Modes provide fully automatic exposure adjustments for Portrait, Self-Portrait, Landscape-Portrait, and Sports or Action photography. Other controls include Digital ESP multi-pattern and spot metering; auto white balance; multiple flash settings including slow sync flash; and auto bracketing and exposure compensation. The camera comes with a built-in flash that offers 6 settings to provide the widest range of options.
The cameras have an optical viewfinder as well as an easy-to-view 1.5" color LCD display on the back of the body for composing and reviewing shots. Menu navigation is easy to control with the push of arrow buttons. Transferring images to the computer is easy with the Auto-Connect USB (that does not require software drivers) for hassle-free image downloads. Images may also be viewed on a television with the video cable.

Stylus 300 Features at a Glance:
3.2-megapixel effective CCD for images up to 2048 x 1536 pixels
3x optical zoom lens, equivalent to a 35-105mm zoom on a 35mm camera
Durable all-metal body lets you shoot in almost any weather condition
5 Scene program modes for various shooting situations
1.5-inch TFT color monitor with 134,000 pixels
Movies up to 16 secs at 320x240 (up to 40 secs at 160x120)
Shutter speeds from 1/1000 to 1/2 second (up to 4 secs in night mode)
Built-in flash with auto, fill and red-eye reduction modes
ISO sensitivity; Automatic (80 - 320 equivalent)
xD-Picture Card media, 16MB card included
Auto-Connect USB for quick and easy image transfer to computer
Epson Print Image Matching II compatible
Lithium rechargeable battery and charger included

The Stylus Digital 300 is available now and ships with a 16MB xD-Picture Card, a Li-Ion rechargeable battery and charger, wireless shutter release, wrist strap, manuals and Camedia Master software for a street price of $399.00

Physical Views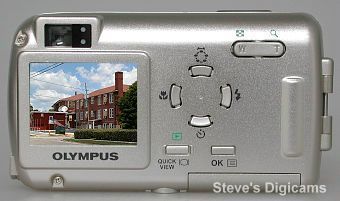 The Stylus Digital 300 compared in size to a CD disc.


The Stylus Digital 300 and the Stylus Digital 400
Stylus 300 Specifications
CCD Imager
3.24 megapixel effective
3.34 megapixel gross
1/2.5" (.40") CCD
Lens
Lens Olympus aspherical glass 3x zoom lens 5.8 - 17.4mm (35 - 105mm equivalent in 35mm photography), 5 lenses in 3 groups
Seamless Digital Zoom
12x (3x optical and 4x digital combined [5x at VGA])
Aperture Range
F3.1 W / F5.2 T
Shutter Speeds
Automatic: 1/1000 sec. - 1/2 sec. (up to 4 secs in Night Mode)
ISO
Automatic: 80 - 320 equivalent
Recording Mode(s)
Still Image: EXIF 2.2 JPEG, DCF (Design rule for Camera File system), PRINT Image Matching II
Adjustable Resolutions
2048 x 1536 SHQ, JPEG
2048 x 1536 HQ, JPEG
1600 x 1200 SQ1, JPEG
1280 x 960 SQ2, JPEG
1024 x 768 SQ2, JPEG
640 x 480 SQ2, JPEG
320 x 240 @ 15fps QuickTime Motion JPEG
160 x 120 @ 15fps QuickTime Motion JPEG

DPOF (Digital Print Order Format)
Print Reserve, All print reservation, Display Date information
Optical Image Enlargement
n/a
Image Adjustment Modes
n/a
Image Effects
Black and white, Sepia, Resize
Panorama
Up to 10 frames stitchable with CAMEDIA Master software when using Olympus brand xD-Picture CardTM
Sequence
1 frames per second, more than 4 frames in HQ mode.
Viewfinder
Optical real-image viewfinder with autofocus/backlight mark
LCD
1.5" (3.8cm) color TFT LCD (134,000 pixels) used for viewing, reviewing or editing images
Focusing System
TTL system (contrast detection)
Focusing Ranges
Standard AF 20" - Infinity (0.5m - Infinity)
Macro Mode 8" - 20" (0.2m-0.5m)
Exposure Control
Program Auto F3.1-5.2
Metering System
Digital ESP Multi-Pattern with Spot option
White Balance System
iESP Multi-pattern Auto TTL
Pre-set manual settings: Daylight, Overcast, Tungsten & Fluorescent
Flash
Built-in Flash
Flash Modes
Auto Flash for low and backlight
"Red-eye" Reduction Flash
Fill-in Flash
Flash Off (built-in or external flash)
Flash Working Range
Wide: 8" - 8.5' (.2 m - 2.5 m), Tele: 8" - 6.0' (.2 m - 1.8 m)
Flash Charging Time
Less than 6 seconds (at normal temperature with new batteries)
Removable Media Card
xD-Picture Card (16, 32, 128 & 256 MB) 16MB included
Selftimer/Remote
12-sec. delay with built in self-timer
Setting Memorization
Reset or Hold certain camera settings after power on/power off
Outer Connectors
USB Connector (Auto-Connect), Video Out, DC input
Auto-connect USB
Compatible with Windows 98 rev2/ME/2000 Pro/XP
MacOS 8.6-9.22/OSX
Image Playback
Index display, up to 4x enlargement, Slide show, Scene rotation
Operating Environment
Operation: 32°F - 104°F (0°C- 40°C) 30-90% Humidity
Storage: -4°F - 104°F (-20°C - 60°C) 10-90% Humidity
Power Supply
Main Power Source
(1) B-10L Lithium Battery (included with charger)
AC Power Source
D-7AU 4.8 Volt AC adapter (optional)
Date/Time Calendar
Simultaneous recording into image data
Calendar
Automatic up to the year 2099
Size
Size 3.8" W x 2.2" H x 1.3" D (99 x 56 x 33.5 mm) excluding protrusions
Weight
5.8 oz. (165 g) without battery and media card
Number of Storable Photos
With 16MB xD-Picture Card:
SHQ, HQ: 2048 x 1536: 6, 20 shots
SQ1: 1600 x 1200: 24 shots
SQ2: 1280 x 960: 38 shots
SQ2: 1024 x 768: 58 shots
SQ2: 640 x 480: 99 shots
HQ Movie: 320 x 240 15 fps: 16 sec. max per movie
SQ Movie: 160 x 120 15 fps: 40 sec. max per movie
(Specifications as represented by the manufacturer)
STYLUS DIGITAL Weatherproofing
The Olympus STYLUS DIGITAL is the first metal-bodied digital camera in the world to feature protection equivalent to IEC standard publication 529 IPX4 (protection against water splashed from any direction). Behind this achievement stand three exclusive Olympus technologies.
Double Chassis Protection
Inside the STYLUS DIGITAL's contoured metal body is a separate plastic chassis. It is this double-chassis protection that forms the basis of the camera's all-weather performance.
All-Weather Seals
Specially coated ultra-durable rubber materials are used to seal the gaps between individual components, and to prevent moisture from entering the camera. A very large number of parts are treated, and a particularly high level of technology is required for moving parts such as zoom lens components.
Years of research in "compact bodies" and "all-weather functions" are utilized to achieve the desired results without changing the body's compact size.
Airflow Control
When a camera body is tightly sealed against the elements, the zoom lens assembly and other moving components can generate considerable air pressure as they move. It is therefore important to control the flow of air in and out of the camera to ensure active airflow control technology also plays an important smooth zooming action. In addition, proper air flow plays an effective role in preventing and dissipating heat buildup in the electronic components.
Visitors of Steves can visit the stores below for real-time pricing and availability. You can also find hot, soon to expire online offers on a variety of cameras and accessories at our very own Camera Deals page.