Canon Powershot G5 Review
Canon Powershot G5 Review
First Look posted 6/7/03
Full review posted 6/27/03

Click to take a QTVR tour of the G5



The Powershot G5 is basically a higher resolution version of Canon's popular, four-megapixel Powershot G3 camera. Housed in a rugged black enclosure, the PowerShot G5 features a 1/1.8" five megapixel CCD sensor that captures 2592 x 1944 pixel images with exceptional detail and color fidelity. Canon's DIGIC processor increases image-processing speeds and the F2.0 all-glass 4X optical zoom lens provides shooters with a 35mm equivalent coverage of 35 -140mm.
Advanced features include 12 EOS System-based shooting modes for customizing the camera to the user's shooting style; a new Wide-Area FlexiZone AF/AE system which allow users to focus on off-center subjects without repositioning the camera; Spot Metering; and Zoom Playback up to 10X. An Intelligent Orientation Sensor automatically rotates images for proper viewing during playback. And the G5 has a Direct Print function that is compatible with Canon's CP-10 and CP-100 dye-sublimation printers as well as Bubble Jet Direct photo printers for fast, high-quality photos without a computer.
A Neutral Density (ND) filter has been built into the Powershot G5 allowing numerous shooting opportunities never before possible with a point-and-shoot digital camera. When using the ND filter, for example, a wider aperture can be used in bright light conditions to blur a distracting background or simply create a properly exposed photograph when simple adjustments to aperture and shutter speeds aren't enough. Furthermore, flash photography becomes possible at macro distances, normally difficult due to overexposure.
Three light metering modes can be selected; Evaluative, Center-Weighted Average, and Spot. When Spot metering is selected, the light metering point can be linked either to the AF frame or fixed to the center of the photo frame. With the G5, an arbitrary subject in the photo frame can be focused without changing the framing of the shot, regardless of where the subject is located in the frame.
Even when the camera is set to record images in one of the JPEG settings, the Powershot G5 now allows the captured image to be saved as a RAW file before it's recorded. This feature can be accessed at any time during the Review period immediately after the image is captured, and is particularly useful when the white balance or other planned effects were not obtained, or when resolution, contrast, saturation or sharpening needs to be modified in the execution of the final image. RAW images can be processed after storage by means of the bundled software.
The Powershot G5 offers numerous other camera features including a maximum shutter speed of 1/2000 second; built-in flash with five settings including Auto, Auto with Red-Eye Reduction, Forced Red-Eye Reduction, Forced Flash (fill flash) and Off; ISO flash hot shoe with TTL contacts for Canon EOS Speedlights; an On/Off AF-Assist Beam for proper autofocus in low-light conditions; magnified playback of images up to 10x; and full support for DPOF-format slideshows and image transfers. Two new Custom mode settings on the Command Dial allow the storage of user-selected shooting parameters for personalized camera control.

Powershot G5 Features:
5-megapixel CCD with RGB primary color filters
Still images up to 2592 x 1944 pixels
3 JPEG compression modes (Superfine, Fine and Normal) and Canon raw image format
Canon 4x optical f/2.0-3.0 zoom lens (35-140mm in 35mm format)
1.8-inch 270° Vari-Angle color LCD viewfinder/monitor
ISO 50, 100, 200 or 400
Shutter speeds from 15 secs to 1/1250 (1/2000 @ f4 and higher)
Noise reduction for 1.3 sec or longer time exposures
Fast Canon DIGIC 12-bit signal processor
Program AE (with Program Shift), Shutter-priority, Aperture-priority and Manual.
Image Zone modes: Auto, Pan Focus, Portrait, Landscape, Night Scene, Color Effect, Stitch Assist, and Movie.
Movie mode with sound: 320x240 and 160x120 up to 180 sec.
Metering: Center-Weighted Average, Spot, and Evaluative
Canon iSAPS scene-analysis for more accurate exposures
Manual focus with numerical scale on the LCD and the portion of the image covered by the active focusing point is digitally enlarged while focusing.
FlexiZone AF system lets user select the AF point almost anywhere in frame
AF assist focusing illuminator for dim to dark environments
Auto Focus bracketing, takes 3 shots with minor variations in the focal distance.
Exposure compensation, flash exposure compensation, auto exposure bracketing
White balance modes; six preset plus 2 custom settings
Playback histogram function with over-exposure warning
CompactFlash Type II slot compatible with Microdrives
High-capacity BP-511 lithium rechargeable battery pack
Hot Shoe flash for Canon Speedlites
Direct print to Canon CP-10, CP-100, S830D and S530D photo printers
Exif 2.2 compatible for optimal print quality
Optional wide angle, telephoto and closeup lens converters

The PowerShot G5 kit includes: 32MB CompactFlash Card, BP-511 Lithium-Ion rechargeable battery, Compact Power Adapter CA-560 with A/C Cable, USB Interface Cable, AV Cable, Wireless Remote Controller, Neck Strap, Lens Cap, ArcSoft Camera Suite CD-ROM and Digital Camera Solution CD-ROM. The PowerShot G5 digital camera will be available in June 2003 for a suggested retail price of $899.
Physical Views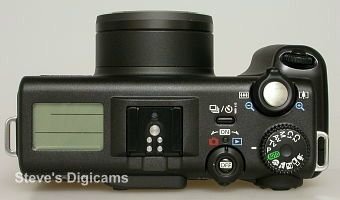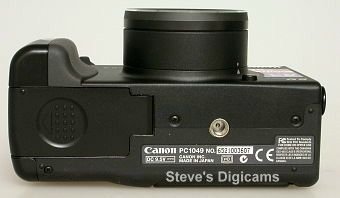 The Powershot G5 compared in size to a CD


The 5-Megapixel 4x zoom Trio: Nikon 5400, Sony V1 and Canon G5
Powershot G5 Specifications
Effective pixels:
Approx. 5 million
Image sensor:
1/1.8 inch CCD (Total number of pixels: approx. 5.3 million)
Lens:
7.2 (W) - 28.8 (T) mm (35mm film equivalent: 35 - 140mm)
F 2.0 (W) - 3.0 (T)
Digital zoom:
Up to approx. 4.1x (Up to approx. 16 times in combination with the optical zoom)
Optical viewfinder:
Real-image zoom viewfinder
Field of view approx. 83%
Dioptric adjustment -3 to +1m -1 (dpt equivalent)
LCD monitor:
1.8 inch, low-temperature polycrystalline silicon TFT color LCD/ Picture coverage 100%
Autofocus method:
TTL autofocus (continuous or single)
Focus lock and Manual focus are available
Focusing point:
1 focusing point (Any position is available)
Shooting distance:
(from tip of the lens barrel)

Normal AF:
50 cm (1.6 ft.) - infinity
Macro AF:
5 cm (W) / 15 cm (T) - 50 cm
(2.0 in. (W) / 5.9 in. (T) - 1.6 ft.)
Manual focus:
5 cm (W) / 15 cm (T) -infinity
(2.0 in. (W) / 5.9 in. (T) -infinity)

Shutter:
Mechanical shutter + electronic shutter
Shutter speeds:
15 - 1/2000 sec.
1.3 sec. or slower shutter speeds are available in Shutter-Priority mode or Manual mode
Slow shutter speeds of 1.3 sec. or more operates with noise reduction
Light metering system:
Evaluative, Center-Weighted Averaging or Spot (Center or AF Point)
Exposure control method:
Program AE, Shutter-priority AE, Aperture-priority AE or Manual exposure control
AE lock is available
Exposure compensation:
± 2.0 stops (in 1/3-stop increments)
Auto exposure bracketing (AEB) is available
Sensitivity
(equivalent film speed):
Auto, ISO 50, ISO 100, ISO 200 and ISO 400 equivalent
White balance:
TTL auto white balance, pre-set white balance (available settings: Daylight, Cloudy, Tungsten, Fluorescent, Fluorescent H or Flash) or Custom white balance (Custom1/ Custom2)
Built-in flash:
Auto, On, Off, Red-eye reduction, 1st or 2nd Curtain Sync.
Flash range:
70 cm - 5.0 m (2.3 - 16.5 ft.) (W), 70 cm - 4.0 m (2.3 - 13.1 ft.) (T)
(When sensitivity is set to ISO 100 equivalent)
Terminals for external flash :
Sync-terminals at accessory shoe
Use of following external flashes is recommended:
Canon Speedlite 220EX, 380EX, 420EX, 550EX, Macro Ring Lite MR-14EX and Macro Twin Lite MT-24EX
Flash exposure compensation :
±2.0 stops (in 1/3-stop increments), FE lock, Slow-sync and 1st-curtain / 2nd curtain flash are available
Shooting modes:

| | |
| --- | --- |
| Auto | |
| Creative zone: | Program, Shutter-speed priority, Aperture-priority, Manual, Custom1 and Custom2 |
| Image zone: | Portrait, Landscape, Night scene, Stitch Assist and Movie |

Continuous shooting:

| | |
| --- | --- |
| High-speed continuous shooting: | Approx. 2.0 image/sec. |
| Standard continuous shooting: | Approx. 1.5 image/sec. |

(Large / Fine mode with LCD viewfinder off)
Self-timer:
Activates shutter after a 2-sec. / 10-sec. delay
Interval shooting:
Shooting interval: approx. 1 - 60 min. (1 min. increments)
Number of shots: 2 - 100 shots (Maximum number of shots varies according to CF card capacity)
Wireless control:
Shooting and playback are available (wireless controller is included in the camera kit)
When shooting, image is captured ontime / 2-sec. / 10-sec. after shutter button pressed
PC-connected shooting:
Canon RemoteCapture software is included in the camera kit
Recording media:
CompactFlashTM (CF) card (Type I and Type II) or Microdrive
File format:
Design rule for Camera File system, DPOF-compliant
Image recording format:

| | |
| --- | --- |
| Still images: | JPEG (Exif 2.2)*1 or RAW |
| Movies: | AVI (Image data: Motion JPEG, Audio data: WAVE [monaural]) |

JPEG compression mode:
Super Fine, Fine or Normal
Number of recording pixels :

Still images:

| | |
| --- | --- |
| Large: | 2592 x 1944 pixels |
| Medium 1: | 1600 x 1200 pixels |
| Medium 2: | 1024 x 768 pixels |
| Small: | 640 x 480 pixels |

Movies:

320 x 240 pixels (approx. 3 min.)*
160 x 120 pixels (approx. 3 min.)*

Approx. 15 frames/second


* The data in parentheses refer to the maximum movie length per shooting.
Replay modes:
Single (Histogram displayable), Index (9 thumbnail images), Magnified (approx. 10x (max.) in LCD monitor), Sound memos (up to 60 sec.), Slide Show or Image output to direct printer (CP-300/ CP-200/ CP-100 / CP-10 and Bubble Jet printer with the direct print function)
My Camera Settings (customizing) :
The Start-up Image, Start-up Sound, Shutter Sound, Operation Sound and Selftimer Sound can be customized using the following methods.

Using the images and sounds recorded on the camera.
Using downloaded data from your computer using the supplied software.

Interface:
USB (mini-B, PTP [Picture Transfer Protocol]), Audio/Video Output (NTSC or PAL selectable, monaural audio)
Power Source:

Rechargeable Lithium-ion battery (type: BP-511 included)
Rechargeable Lithium-ion battery (type: BP-512) (sold separately)
Compact Power Adapter (CA-560) (included in the camera kit)
Car battery adapter (separately sold Charge Adapter/Car Battery Cable Kit CR-560 is required)

Operating temperatures:
0 - 40° C (32 - 104° F)
Operating humidity:
10 - 90 %
Dimensions (WHD):
121.0 x 73.9 x 69.9 mm
(4.8 x 2.9 x 2.8 in.) excluding protrusions
Weight:
Approx. 410 g (14.5 oz.) (camera body only)
* 1 This digital camera supports Exif 2.2 (also called "Exif Print"). Exif Print is a standard for enhancing the communication between digital cameras and printers. By connecting to an Exif Print-compliant printer, the camera's image data at the time of shooting is used and optimized, yielding extremely high quality prints.


The Canon Powershot G5 kit includes:
Digital Camera
Lens Cap
Neck Strap NS-DC1
Compact Power Adapter CA-560
AC Cable (for CA-560)
Battery Pack BP-511
Terminal Cover (for Battery Pack BP-511)
CompactFlash™ Card FC-32M
Case for CompactFlash Card
Canon Digital Camera Solution CD-ROM
ArcSoft Camera Suite Disk CD-ROM
USB Interface Cable IFC-300PCU
AV Cable AVC-DC100
Wireless Controller WL-DC100
Lithium Battery CR2025 (for Wireless Controller WL-DC100)
User Guides
Warranty Card
Visitors of Steves can visit the stores below for real-time pricing and availability. You can also find hot, soon to expire online offers on a variety of cameras and accessories at our very own Camera Deals page.