Fujifilm FinePix S5000 Zoom Review
Fujifilm FinePix S5000 Zoom Review
Review posted 09/3/03

Click on the FinePix S5000 to take a QuickTime VR tour



The FinePix S5000 features Fujifilm's 4th generation Super CCD HR (High Resolution) sensor, with 3.1 million effective pixels for crisp, vivid images. Coupled with a powerful 10x optical zoom (equivalent to a 37-370mm on a 35mm camera) it allows photo enthusiasts to easily capture images of distant subjects. It's styled after and handles like a SLR camera and offers a full range of exposure control including Automatic, Program AE, Shutter speed and Aperture priority, Manual and pre-programmed scene modes.
The FinePix S5000 offers 3.1 million effective pixels, which can produce images of 2,816 x 2,120 (6 million) recorded pixels for high-quality prints up to 16 x 20 inches in size. In addition to powering the camera's resolution, the Super CCD HR sensor provides rich color reproduction and life-like detail in captured images. Recorded images can be saved in standard JPEG format or for the ultimate in picture quality use the CCD-RAW mode. The camera also offers an amazing 10x optical and 2.2x digital zoom and optional wide and telephoto lens adapters.
The FinePix S5000's traditional body and large lens provide a familiar feel to photo enthusiasts. The FinePix S5000 measures 4.4 (W) x 3.2 (H) x 3.1 (D) inches, and weighs 11.9 ounces without batteries and media.
Maximum image control is realized with the FinePix S5000's advanced features such as a range of focus systems including TTL contrast multi-zone auto, center point auto, focus lock, continuous auto focus (C-AF), manual focus, and AF-assist illuminator. In addition, shutter speed, aperture, white balance, sharpness and color can be manipulated.
The camera can also capture QVGA digital video at 30 frames per second, with sound, to create movies that can be replayed for friends and family at later dates. Movies can be burned onto CD-ROMs using the ImageMixer VCD for FinePix software included with the camera. The FinePix S5000 can record 320 x 240 pixel movies up to the limit of your available memory (26 seconds on a 16MB card).


FinePix S5000 Zoom Features:
1/2.7" 3-Million pixel Super CCD HR
10x zoom (37-370mm equiv) plus 2.2x digital zoom
Single or Continuous AF and Manual focus
Focus assist illuminator for low-light
Electronic color viewfinder w/110K pixels
Standard JPEG format or CCD-RAW
Movie Mode; 30fps @ 320 x 240 with audio
40-frame burst at 1M continuous
Voice memos can be attached to still images
Top-5 or Final-5 frames @ 5fps at 6M resolution
Auto, Program AE, Shutter speed or Aperture priority and Manual
Scene Programs: Portrait, Sports, Landscape, Night
ISO speeds: Auto (160-400/200-400), 200, 400, 800 (1M only)
Metering: Multi, Center-weighted, Spot
Builtin popup multi-mode flash
2 - 1/2000 sec Shutter Speeds
1.5" LCD Color Monitor
Uses removable xD-Picture cards (16MB included)
Compact (4.4 x 3.2 x 3.1 inch) and stylish body
Lightweight at just 11.9 oz. (excluding batteries)
Powered by four AA type batteries
USB plug-n-play connectivity

The FinePix S5000 comes bundled with four AA alkaline batteries, a 16MB xD-Picture Card™, USB cable, AV cable, shoulder strap, FinePix Viewer, and ImageMixer VCD for FinePix. The camera is available for purchase now at the suggested list price of $499.95.
Physical Views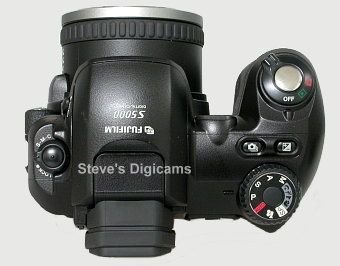 The Fujifilm FinePix S5000 and a standard CD for size comparison.
The 3-Mpixel 10X zoom FinePix S5000 and Toshiba PDR-M700.
FinePix S5000 Zoom Specifications
Number of Effective Pixels
3.1 million pixels
CCD Sensor
1/2.7-inch 4th Generation Super CCD HR System (Number of Total Pixels: 3.14 million pixels)
Number of Recorded Pixels
2,816 x 2,120 (6.0 million)
2048 x 1536 (3.0 million)
1600 x 1200 (2.0 million)
1280 x 960 (1.0 million) pixels
File formats
Still image: JPEG (Exif Ver 2.2), CCD RAW
Movie: AVI (Motion JPEG), WAV
*Design rule for Camera File system compliant / DPOF-compatible
Storage media
xD-Picture Card (3.3V, 16MB to 512MB)
Recording capacity with one 16MB xD-Picture Card (included)
Still images
Movie
6MP 3M 1M
320x240
10 19 33
Approx. 26 sec.
Lens focal Length
Equivalent to 37-370mm on a 35mm camera
Optical zoom
10x
Digital zoom
2.2x (at 1280 x 960 pixels mode)
Focus
TTL contrast multi-zone auto, center point auto, focus lock, continuous auto focus (C-AF), manual focus, AF assist illuminator
Focus Range
Normal: 3.0ft to infinity (W), 6.6ft to infinity (T)
Macro: 0.3-6.6ft (W), 3.0-6.6ft (T)
Aperture
F 2.8-F8 (W), F3.2-F9 (T)
10 segments in 1/3 increments
Viewfinder
Electronic viewfinder (0.33inch with 110,000 pixels)
Exposure control
Auto/manual EV/scene position
S/A/M modes
Exposure modes
TTL-64 zone multi, average, spot
Sensitivity
Auto: equivalent to ISO 160-400 with flash off and 200-400 with flash on
Manual: equivalent to ISO 200 400 800*
*only in 1M mode
Shutter speed
2 sec. -- 1/2000 sec.
White balance
Automatic, Manual (Fine, Shade, Fluorescent light (Daylight), Fluorescent light (Warm White), Fluorescent light (Cool White), Incandescent light)
Flash
Auto flash using flash control sensor
Flash mode: Auto, Red-eye Reduction, Forced Flash, Suppressed Flash, Slow Synchro, Red-eye Reduction + Slow Synchro
Effective range (at ISO 200): 1.0ft-19.7ft (W)/2.6ft-18.0ft (T)
LCD monitor
1.5-inch TFT (110,000 pixels)
Camera terminal
USB interface, power-input socket
Power source
4 AA alkaline batteries or AC-5V AC Adapter (optional)
Dimensions
4.4(W) x 3.2(H) x 3.1(D) inch
Weight
11.9 oz. (excluding batteries and media)
Shooting modes
Auto, Exposure Combination, Macro, Movie
Movie recording
320 x 240 pixels up to 26 sec. on 16MB xD-Picture Card, stored directly to media
30 fps, QVGA (Motion JPEG) with sound
Video out
NTSC and PAL switchable
Voice memo
30 seconds
Playback
Single frame (with max. 18x playback zoom), 9 multi-frame
Special shooting modes
Programmed auto, aperture-priority AE, shutter-priority AE and manual EV control, scene modes, continuous auto focusing, auto bracketing, photo mode control -- ISO/resolution/color
Continuous shooting modes
Continuous top or final 5 frame 6MP shooting (5 frames/second)
40 frame 1MP continuous shooting (1.8 frames/second)
Accessories included
16MB xD-Picture Card
4 AA alkaline batteries
Shoulder Strap
USB Cable
AV Cable
FinePix Viewer 4.1
ImageMixer VCD 2.0 for FinePix
Lens adapter ring
Lens cap
Optional lens adapters
0.79x Wide
1.5x Tele
(Cannot use built-in flash when using lens attachments)
Optional accessories
AC-5V AC Adapter
PC Card Adapter DPC-AD
Compact Flash™ Card Adapter DPC-CF
Image Memory Card Reader DPC-R1
Battery Charger with Battery BK-NH/BK-NH2
Rechargeable Battery 2HR-3UF (2 AA-type Ni-MH)
Tele Conversion Lens TL-FX9/FX 9B
Wide Conversion Lens WL-FX9/FX 9B
Soft Case SC-FX S5
(Specifications as provided by the manufacturer)

Visitors of Steves can visit the stores below for real-time pricing and availability. You can also find hot, soon to expire online offers on a variety of cameras and accessories at our very own Camera Deals page.