Fujifilm FinePix A310 Review
Fujifilm FinePix A310 Review
Review posted 09/12/03

Click on the FinePix A310 to take a QuickTime VR tour



The FinePix A310 is the first affordable point-and-shoot camera with Fuji's fourth- generation Super CCD HR (High Resolution) sensor technology. The FinePix A310 offers 3.1 million effective pixels for image capture. The camera marries this high resolution offering with Fujifilm's reknowned color reproduction and sharpness, setting new standards in entry-level digital camera image quality.
The Super CCD HR in the FinePix A310 maximizes the camera's 3.1 million effective pixels, and produces a truer-to-life 2,816 x 2,120 (6.0 million) pixel output file. The camera also offers a 3x optical and 2.9x digital zoom (at 640 x 480 pixel mode).
Special shooting modes - The FinePix A310 offers consumers the opportunity to select exposure modes from landscape, night scene, sport and portrait offerings, as well as top- and final-frame continuous shooting at 3 frames per second. Photo mode controls allow consumers to quickly change color mode to standard, chrome (high color) or black and white.
Stylish and compact - The FinePix A310's streamlined body design fits comfortably into hands - as well as pockets, making it perfect for capturing everyday memories. The camera measures 3.8 (W) x 2.5 (H) x 1.3 (D) inches, and weighs a mere 5.5 ounces without batteries and media.
Movie recording - The camera can capture AVI digital video with sound for short clips that can be replayed for friends and family at later dates on a TV, or recorded with a VCR. The camera can record 98-second 320 x 240 pixel movies and 5.6 minute 160 x 120 pixel movies.
The A310 offers low battery consumption, requiring only two AA alkaline batteries and can be powered with the Fujifilm NH-10 Ni-MH rechargeable battery included with the CP-FXA10 cradle.
Fujifilm's new FinePix Viewer 4.0 automatically launches when the camera is connected to the computer via the USB cable or optional CP-FXA10 cradle. Simple application wizards step consumers through storing, printing and sharing options. In addition, consumers can link their FinePix cameras via PC-CAM video conferences - making it easy to stay in touch with far-away friends and relatives.


FinePix A310 Zoom Features:
1/2.7-inch 3.1 million pixel 4th Generation Super CCD HR
2048 x 1536 native image size, 2816 x 2120 6MP interpolated
3x zoom (38-114mm equiv) plus 2.9x digital zoom
Movie Mode; 10fps @ 320 x 240 or 160 x 120
1/2 - 1/2000 sec Shutter Speeds
1.5" LCD Color Monitor
Uses removable xD-Picture cards (16MB included)
Compact (3.8 x 2.5 x 1.3 inch) and stylish body
Very lightweight at just 5.5 oz. (excluding batteries)
Powered by two AA type batteries
Picture Cradle & rechargeable battery pack (sold separately)

The FinePix A310 comes bundled with a 16MB xD-Picture Card™, two AA alkaline batteries, USB cable, video cable, wrist strap, cradle adapter, Apple QuickTime™ 5.0, FinePix Viewer, and ImageMixer VCD for FinePix. The camera is available now at the suggested list price of $299.95.


Universal cradle compatibility - the A310 is compatible with Fujifilm's new CP-FXA10 Picture Cradle, which provides a stable platform for PC-Cam mode, as well as easy downloading and rapid battery recharging of the included NH-10 Ni-MH battery pack.
Physical Views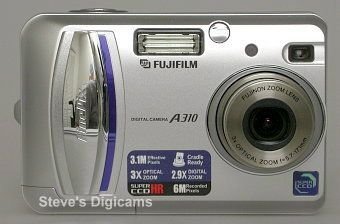 The FinePix A310 and a standard CD for size comparison.
The 3-megapixel 3x zoom FinePix A310 and Panasonic LC33.
FinePix A310 Zoom Specifications
Number of Effective Pixels
3.1 million pixels
CCD Sensor
1/2.7-inch 4th Generation Super CCD HR System (Number of Total Pixels: 3.14 million pixels)
Number of Recorded Pixels
2,816 x 2,120 (6.0 million), 2048 x 1536 (3.0 million), 1600 x 1200 (2.0 million), 1280 x 960 (1.0 million) pixels
File formats
Still image: JPEG (Exif Ver 2.2), Movie: AVI (Motion JPEG)*Design rule for Camera File system compliant / DPOF-compatible
Storage Media
xD-Picture Card (16MB to 512MB)
Recording capacity with one 16MB xD-Picture Card (included)
Still images
Movie
6MP 3M 1M
320x240
10 19 33
Approx. 26 sec.
Lens Focal Length
Equivalent to 38-114mm on a 35mm camera
Optical Zoom
3x
Digital Zoom
2.9x (at 1280 x 960 pixels mode)
Focus
Auto focus
Focus Range
Normal: 2.0ft to infinity, Macro: 0.3ft. - 2.6ft.
Aperture Range
F2.8/F4.8 (W) F7.0/F11.6 (T)
Viewfinder
Real-image optical viewfinder
Exposure control
Auto / Manual EV / Scene Position Modes
Sensitivity
Auto: equivalent to ISO 160-400 with flash off and 200-400-800 with flash on
Shutter speed
2 sec - 1/2000 sec.
White balance
Automatic, Manual (Fine, Shade, Fluorescent light (Daylight), Fluorescent light (Warm White), Fluorescent light (Cool White), Incandescent light)
Flash
Auto flash using flash control sensor
Flash mode: Auto, Red-eye Reduction, Forced Flash, Suppressed Flash, Slow Synchro, Red-eye Reduction + Slow Synchro
Effective range (at ISO 200): 1.0ft-19.7ft (W)/2.6ft-18.0ft (T)
LCD monitor
1.5-inch amorphous silicon TFT (60,000 pixels)
Camera Terminal
USB interface, power-input socket
Power source
2 AA alkaline batteries or NH-10 Ni-MH rechargeable battery packAC-3V AC adapter (optional)
Dimensions
3.8(W) x 2.5(H) x 1.3(D) inches
Weight
5.5 oz. (excluding battery and media)
Shooting modes
Auto, Exposure Combination, Macro, Movie
Movie Recording
320 x 240 pixels up to 120sec. / 160 x 120 pixels up to 480sec.:
10 fps, AVI (Motion JPEG) without sound
Video Out
NTSC and PAL Switchable
Playback
Single frame (13x playback zoom), 9 multi frame
Special shooting modes
Exposure Modes: landscape, Night Scene, Sport, and Portrait, 4 frame Continuous Shooting, Manual EV, Photo Mode Control -ISO/Color/Res
Continuous shooting modes
Top 4 Continuous and Final 4 Continuous
40 frame 1MP continuous shooting (1.8 frames/second)
Accessories included
16MB xD-Picture Card
2 AA Alkaline Batteries
Cradle Adapter for FinePix A310
Wrist Strap
USB Cable
Video Cable
FinePix Viewer 4.1
ImageMixer VCD for FinePix 2.0
(Specifications as provided by the manufacturer)

Visitors of Steves can visit the stores below for real-time pricing and availability. You can also find hot, soon to expire online offers on a variety of cameras and accessories at our very own Camera Deals page.