Minolta DiMAGE G400 Review
Minolta DiMAGE G400 Review
Review posted 12/31/03

Click to take a QTVR tour of the G400



The high-performance and compact four-megapixel Konica Minolta DiMAGE G400 features 3x optical zoom lens, sleek metal exterior, autofocusing, autoexposure, auto white-balance, and is ready to go at a moment's notice thanks to an impressive 0.7-second startup time.
The DiMAGE G400 features a 4.2 megapixel CCD for sharp, clear pictures as well as a 3x GT Hexanon optical zoom lens incorporating seven elements in six groups to provide sharp, high-contrast images. The lens is designed to minimize flare and unwanted aberrations so that the tonal range and detail in the scene are apparent in the final image. A newly designed signal-processing engine makes this compact camera twice as fast as the DiMAGE G500. In fact, the Konica Minolta DiMAGE G400's rapid startup (0.7 seconds) and fully- automatic picture taking and shut down cycles in only 1.5 seconds. This allows users to take a properly exposed and in focus picture in the blink of an eye.
The DiMAGE G400 has the technology needed to capture any photographic moment. The camera can automatically focus and determine the exposure in approximately 0.2 seconds and the shutter-release time lag is approximately 0.03 seconds. Konica Minolta's Hybrid Adaptive A*IPS (Image Processing Software) system optimizes autofocus, autoexposure, and auto white-balance processing for fast response. The DiMAGE G400 also employs Rapid Autofocus (AF) to ensure sharp images quickly. Rapid AF uses a passive AF sensor to instantly estimate the distance to the subject and the camera's CCD to determine the precise focus point.
Despite its small size, the DiMAGE G400 is packed with features. The Super Continuous mode takes a series of three images at a rate of 2.5 frames per second. Six scene-select modes allow a user to quickly optimize camera operation for specific subjects. Auto bracketing makes a three-frame exposure or focus bracket of a scene to ensure the best results. Exposures can also be set manually if desired. The camera can store and recall two sets of frequently used camera settings.
Advanced amateur photographers will also appreciate the DiMAGE G400's creative image-making features. Color, sharpness, and contrast can be controlled to create the desired image. And the camera's color-balance function allows users to change the relative proportions of the red, green, and blue to shift the overall color of an image.
The DiMAGE G400 has a convenient dual card-slot system for flexible image storage. Both Memory Sticks and Secure Digital (SD) Memory Cards can be used alone or in combination. When both memory card types are used with the camera at the same time, up 640MB of data can be saved depending on the capacity of the cards. This eliminates the worries of running out of memory during important photographic events.
The DiMAGE G400 is not restricted to only taking still photographs. 320 x 240 XR (Extended Recording) movies with audio can also be made. The length of the movie clip is only limited by the storage capacity of the memory cards in use. Likewise, audio can be recorded by itself or attached to a recorded still image.



DiMAGE G400 Features
4 Megapixel CCD for images up to 2272 x 1702 pixels.
3x (34-101mm) optical zoom lens, 2x digital zoom
1.5-inch TFT color LCD, approx. 120,000 pixels
Very fast 0.7-second startup time
Rapid 0.2 sec. autofocus, passive AF with CCD video AF
Motion video w/audio 320x240, limited only by memory
Attach 15-sec audio memos to still images
White balance options: Auto, daylight, cloudy, tungsten, fluorescent
Program AE, Aperture priority, Slow Shutter, Manual exposure modes
Automatic noise reduction for shutter speeds longer than 1/2 sec.
Scene modes: Portrait, Scenery, Night, Angel, Snap, Sports
AE Bracketing and +/-2.0EV Exposure Compensation
2.5fps Continuous shooting up to 3 frames
TTL Evaluative and Spot Metering
Flash with Auto, Red-eye reduction, Fill, Forced off and Night Portrait
12x enlarged playback function with scrolling
Secure Digital and/or Memory Stick flash media
USB 1.1 connectivity
Rechargeable Li-ion battery with external charger
Small, lightweight and durable stainless steel case
The DiMAGE G400 is available now and includes rechargeable NP-600 Li-ion battery and BC-600 charger, 16MB SD card, wrist strap, USB cable, DiMAGE Viewer CD, Instruction Manual CD, warranty and registration cards.
Physical Views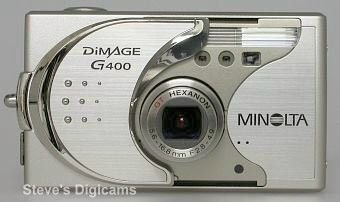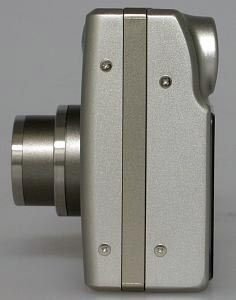 The DiMAGE G400 and a standard CD for size comparison.
The DiMAGE G400 and the Casio QV-R40 for comparison.
DiMAGE G400 Specifications
Effective pixels
4.0 megapixels
Recording media
SD Memory Card, Multimedia Card, Memory Stick
Storage capacity
(16 MB SD Memory Card)
4M Fine 2272x1704 (approx. 8 images)
4M Normal (approx. 16 images)
2M Normal 1600x1200 (approx. 33 images)
VGA Normal 640x480 (approx. 133 images)
Recording format
Still images: JPEG (Exif ver. 2.2, DCF compliant), DPOF support
Still image audio / audio only: WAV format
Movies: AVI format Motion JPEG
Image sensor
1/2.5-inch CCD, 2408 x 1758 pixels, (total approx. 4.23 megapixels),
primary color filter
Lens
F2.8 - 4.9, f=5.6 - 16.8 mm (6 groups, 7 elements)
(equivalent to 34 - 101 mm in 35mm film camera)
Focus system
Video signals + external passive, center-weighted metering
(fixed focal lengths 0.8 m, 1.2 m, 2.5 m, infinity)
Exposure metering
TTL center - weighted metering by CCD
Focus range
Normal: Wide angle 0.5 m to infinity
Telephoto: 0.8 m to infinity
Macro: Wide angle 0.05 m to infinity, telephoto 0.5 m to infinity
Super macro: 0.2 m to 0.4 m (telephoto only)
Aperture
Wide angle: F2.8 / F4.7 Telephoto: F4.9 / F8.2
Shutter speed
Still images: Approx 1 second to 1/2000 seconds
Manual exposure: Approx 15 seconds to 1/1000 seconds (noise reduction available from 1/2 seconds)
Exposure control
Program AE (ISO100, 3 EV to 15.0 EV), Aperture priority, manual
Exposure compensation
±2.0 EV (0.3 EV steps)
Sensitivity
Selectable sensitivity (AUTO / ISO50 / 100 / 200 / 400)
White balance
Auto, Daylight, Cloudy, Incandescent, Fluorescent
Finder
True image zoom finder
Flash
Built in flash, flash interval approx. 4 seconds
Range (ISO 100): Wide angle approx. 0.5 m to 2.1 m, Telephoto approx. 0.8 m to 1.2 m
Green LED lights in finder during charging
Exposure modes
Single / continuous / super continuous / Flash ON / Flash OFF / Macro / Self-timer (10 seconds, 3 seconds) / Portrait / Scenery / Night / Snap / Sports / Angel

Movie (320 x 240 with sound) / B&W / Sepia / Red-eye Reduction / Digital Zoom (2x) / Program / Aperture Priority / Manual exposure / Bracket

LCD monitor
1.5-inch low-temperature polysilicon TFT color LCD monitor with backlight, brightness and colors (Red, Green, Blue) adjustable
Playback
Single image, index playback, slide show, digital zoom playback
Deletion
Single image, specified image, all images, format
LED indicators
Startup LED, Self-timer LED, Finder LED
Auto date
Recording in year / month / date, or hour / minute until year 2050
Power
NP-600 Lithium-ion battery (3.7V), dedicated AC adapter (optional)
I/O connector
USB connector
Operating temperature
0°C to 50°C (humidity 20% to 80%)
Dimensions (W × H × D)
93.5 x 55.5 x 23 mm
3.7 x 2.2 x 0.9 inches (excluding protrusions)
Weight
Approx. 145g / 5.1 ounces (without batteries and recording media)
Supplied Accessories
NP-600 Lithium-ion Battery, Recharger, Power Code, USB Cable, CD-ROM, Strap, SD Memory Card
PC operating environment
Microsoft Windows 98, Windows 98SE, Windows 2000 Professional, Windows XP preinstalled
Memory: 16 MB or higher (32 MB or higher recommended)
Monitor: 32,000 colors, 640 x 480 pixels or higher
Others: CD-ROM drive, USB port.

Mac OS 9.0-9.2.2 / X (Ver. 10.0.4-10.2)
CPU: PowerPC.
Memory: 16 MB or higher (32 MB or higher recommended)
Monitor: 32,000 colors, 640 x 480 pixels or higher
Others: CD-ROM drive, USB port

Specifications are as represented by the manufacturer.
































Visitors of Steves can visit the stores below for real-time pricing and availability. You can also find hot, soon to expire online offers on a variety of cameras and accessories at our very own Camera Deals page.