Kodak CX6330 Review
Review posted 8/22/2003


Click on the CX6330 Zoom for a QTVR tour



The EasyShare CX6330 zoom digital camera is ideal for taking pictures that can be made into crisp, sharp prints up to 11 x 14 inches. Multiple scene modes such as a sport, night, landscape and close-up make it simple to shoot under various conditions. It provides 3.1MP resolution, a 3X optical Kodak Retinar aspheric all-glass zoom lens, 3.3X Advanced Digital Zoom, exclusive Kodak Color Science technology for outstanding image fidelity, multi-zone auto focus, and auto picture rotation. The camera also captures continuous digital video with audio, and incorporates the popular sharing features common across EasyShare products.
A press of the CX6330 camera's red-jeweled "Share" button allows a person to immediately select printing, e-mailing, and mark as favorite options for each picture, and on-camera sharing is made simple with a 1.6-inch, high-resolution LCD screen. In addition, the camera's new album feature, when used in conjunction with Kodak EasyShare software v3.0, allows categorization of pictures right on the camera.

CX6330 Zoom Features
3.1 megapixel CCD for prints up to 11 x 14"
3X Kodak zoom 37 - 111 mm (35mm equivalent)
3.3X Advanced Digital Zoom
Multi-zone auto-focus
TTL Multi-pattern matrix metering
Color modes for black and white, sepia, color
Exposure modes: Auto, sport, night, landscape, close-up
Burst mode captures up to 4 pictures at 3 fps
320x240 movies w/sound up to 80 minutes in length
1.6 in. TFT color LCD, indoor/outdoor type
16MB internal memory, SD/MMC card slot
Powered by 2 AA size lithium, NiMH or CRV3 lithium
Audio-Video Out (NTSC or PAL selectable)
Optional EasyShare camera dock w/rechargeable battery pack
Optional EasyShare printer dock 6000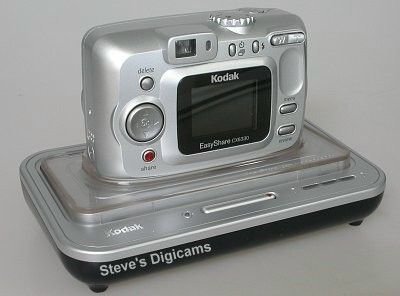 The optional Kodak EasyShare 6000 camera dock addresses two of the biggest objections to digital cameras: easy connection and battery charging.

Once the camera is placed in the dock, pictures are automatically uploaded to the computer and the dock recharges the camera's battery pack. The system also includes software that allows users to connect to the Internet to e-mail or print their pictures. EasyShare makes picture sharing as easy as picture taking: one-button simple.






Physical Views


The Kodak CX6330 and the 4.1-megapixel DX6440.
Kodak EasyShare CX6330 Zoom Specifications
CCD resolution
3.3 megapixel
(2041x1560 pixels)
image resolution
3.1 megapixel
image quality modes
3.1MP Best (print enlargement)
2.8MP Best (3:2 optimized for 4x6" prints)
2.1MP - Better (small print)
1.1MP - Good (e-mail)
optical zoom lens
Kodak 3X Retinar aspheric all-glass optical zoom
37 - 111 mm (equivalent in 35mm format)
f/2.7-5.2 wide; f/4.6-8.7 tele
zoom
3.3X Advanced Digital Zoom
auto focus
Multi-zone AF with improved low-light performance
focus distance
normal: 0.6m (2 ft.) to infinity
macro: 13-70cm (5.1-27.6") at wide
exposure control
automatic with matrix metering, multi-pattern TTL-AE
shutter speed
1/2 - 1/1400 seconds
flash range
wide - 0.6-3.6m (2-11.8 ft.); tele - 0.6-2.1m (2-6.9 ft.)
flash mode
automatic, fill, red-eye, off
exposure modes
automatic, sport, night, landscape, close-up
movie mode
Continuous digital video with audio capture, 320 x 240 pixels at 15fps up to 80 minutes (limited by capacity of memory card).
ISO equivalent
automatic (100-200)
white balance
automatic
color mode
black and white, sepia, color
burst
maximum 4 pictures with 3 frames/sec.
auto-orientation
auto picture rotation with sensor
file format
JPEG/EXIF V2.1


viewfinder
real-image optical viewfinder
LCD
4 cm (1.6 in.) TFT color, Indoor/Outdoor type
software
KODAK EasyShare Software


storage
16MB internal memory, optional SD/MMC flash cards
digital still print marking
DPOF printing
interface
USB, KODAK EasyShare 6000 Camera Dock compatible
video out
NTSC, PAL (user-selectable)


Other Specifications
tripod mount
1/4 in.
auto time out
8 minutes
self timer
10 seconds
power options
optional camera dock with Ni-MH rechargeable battery pack (in-camera charging); 2AA Lithium or Ni-MH batteries or 1 CRV3 Lithium battery
weight
without batteries: 175 g (6.2 oz.)
dimensions
WxHxD: 102.5 x 65 x 38 mm
(4.0 x 2.6 x 1.5 in.)
warranty


one year
System Requirements
Windows:

WINDOWS 98, 2000, Millennium Edition, or XP
Personal computer with 200 MHz processor or greater
32MB RAM available
70MB hard drive disk space available
CD-ROM drive
Available USB port
16-bit or higher color monitor



Macintosh:

POWERMAC System
MACINTOSH OS 8.6-X
64MB RAM available
100MB hard drive disk space available
CD-ROM drive
Available USB port
16-bit or higher color monitor



KODAK EasyShare CX6330 Zoom Digital Camera


(Camera only, Dock sold separately)

KODAK EasyShare CX6330 Zoom Digital Camera
CRV3 Lithium battery
Audio-Video out cable
USB cable
Wrist strap
KODAK EasyShare Software CD
Welcome kit and User Guide
Insert for optional KODAK 6000 EASYSHARE Camera Dock


Visitors of Steves can visit the stores below for real-time pricing and availability. You can also find hot, soon to expire online offers on a variety of cameras and accessories at our very own Camera Deals page.