Sigma SD9 SLR Review
First Look posted 11/6/02
Full review posted 11/29/02
Sample photos updated 6/2003

Click to take a QuickTime tour of the SD9



The Sigma SD9 is the first digital camera to use Foveon's revolutionary new X3 image sensor that features three layers of embedded photo detectors. They take advantage of the fact that red, green and blue light penetrate silicon to different depths and this allows full-color to be measured at every pixel. These layers are positioned to absorb different colors of light at different depths, so one layer records red, another layer records green and the other layer records blue. This means that for every pixel on a Foveon X3 image sensor, there's actually a stack of three photo detectors, forming the first and only full-color capture system.
Conventional CCD and CMOS image sensors use only one layer of photo detectors, with just one photo detector per pixel. To capture color, pixels are organized in a grid, or mosaic, resembling a three-color checkerboard. Each pixel captures just one color-red, green or blue. Filters let only one wavelength of light (red, green or blue) pass through to any given pixel, allowing it to record only one color. As a result, mosaic sensors capture only 25% of the red and blue light, and just 50% of the green.
That approach has inherent drawbacks, no matter how many pixels a mosaic-based image sensor might contain. Since they only capture one third of the color, mosaic-based image sensors must rely on complex processing to interpolate the two-thirds they miss. Interpolation leads to color artifacts and a loss of image detail. In fact, some digital cameras intentionally blur pictures to reduce color artifacts. That's why the SIGMA SD9 powered by Foveon X3 technology delivers better color detail, sharpness and greater resistance to unpredictable color artifacts.
To further insure the best possible image quality the SD9 stores its image data in Lossless compressed RAW format. In addition to preserving the image quality, this RAW format also helps minimize storage requirements because of its compact file size. The RAW data is easily converted into high-quality TIFF and JPEG format with the supplied Sigma Photo Pro software. According to the requirements of the photographer, the characteristics of the image (white balance, color, brightness, contrast, sharpness, etc.) are highly modifiable before the conversion process. And there's no loss of image quality because the adjustments are performed on the RAW data.


Sigma SD9 Features:
Foveon X3 Technology CMOS sensor yields 2263 x 1512 images
Compact and lightweight digital SLR camera
Images stored as lossless compressed RAW, 3:2 aspect ratio
Sigma SA-mount lenses (1.7x multiplier)
Program AE w/shift, Shutter priority, Aperture priority and Manual
AE Bracketing, 3 frames +/-3EV in 1/2 steps
8-segment Evaluative, Average or Center area metering
Single AF or Continuous AF w/Predictive AF
1.8-inch color LCD with 130,000 pixels
Onscreen menu for Shooting and Setup
Review with zoomed-playback & pan, histogram and highlights
ISO sensitivity 100, 200, 400
Shutter speeds from 1/6000 to 15 sec, Bulb, X sync 1/180
TTL white balance, 7 presets and custom set
CompactFlash Type II storage, Microdrive compatible
Selectable video output, NTSC or PAL format
Both FireWire and USB 1.1 data interfaces


The Sigma SD9 SLR will be available by the end of November 2002. At the time of this review it is the lowest cost, interchangeable lens digital SLR camera with an MSRP of just $1799.









Physical Views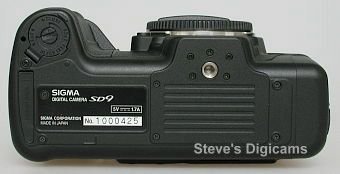 Compare the Sigma SD9 and Nikon D100
Sigma SD9 Specifications
Camera type
Interchangeable Lens SLR Type Digital Camera
Storage media
CompactFlashTM (CF) (Type I/II), MicroDrive
Image sensor size
13.8 x 20.7mm
Usable lenses
Sigma SA Series
Angle of view
Equivalent to 1.7x the focal length of a lens when used on a 35mm SLR camera.
Image sensor
FOVEON X3 Pro 10M (CMOS)
Total pixels: 3.54 Megapixels x3
Effective: 3.43 Megapixels x3
Aspect ratio
3 : 2
Image recording format
Lossless compression RAW data
Resolution
HI: 2268x1512 x3
MED: 1134x756 x3
LOW: 756x504 x3
Interfaces
IEEE1394, USB 1.1, Video out
White balance
8 types
Viewfinder type
Pentaprism SLR viewfinder
Viewfinder frame coverage
98%
Continuous shooting
HI - 1.9fps up to 6 frames
MED - 2.4fps up to 14 frames
LOW - 2.5fps up to 30 frames
Viewfinder magnification
0.75x
Eye point
22mm
Diopter adjust range
-2dpt ~ +1dpt
Focusing screen
Fixed, Full matte screen
Auto focus type
TTL phase difference detection system
AF operating range
Ev-1 ~ +18 (ISO100)
Focus mode
Single AF, Continuous AF (AF predict function)
Metering systems
8 segment evaluative metering, Average metering, Center area metering
Metering range
Ev1-20 (with 50mm f1.4 at ISO 100)
Exposure mode
P: Program AE (with program shift function),
S: Shutter speed priority AE, A: Aperture priority AE M: Manual exposure
ISO sensitivity
ISO 100, 200, 400
Exposure compensation
+/-3Ev (in 1/2 steps)
AE Lock
AE Lock (Exposure settings are locked while the shutter button in depressed.)
Auto bracketing
Three different exposure levels: Appropriate, Under and Over exposure: Maximum variation of +/-3Ev
in 1/2 steps.
Shutter type
Vertical traveled metal focal plane shutter, electronically controlled through entire speed range.
Shutter speed
1/6000 to 15 sec., Bulb, X=1/180 sec.

The range of available slow shutter speeds varies according to the ISO sensitivity selected. At ISO 100 shutter speeds up to 15 seconds are available. At ISO 200 and 400 shutter speeds up to 1 second can be used.

External flash synchronization
Hot shoe (contact X synchronized at 1/180sec or less with dedicated flash linking contact)
LCD monitor display
1.8" Color TFT LCD with 130,000 dot low-temp polysilicon
Reviewing images
Single-image display, Zoom-in display, 9 segments simultaneous display, slide show
Language
Japanese/English/French/Germany
Power source
Battery
Lithium CR123A x 2 pcs
Lithium CR-V3 x 2 pcs. or "AA" alkaline dry cell x 4 pcs or Ni-Mh x 4 pcs. or AC adapter
Dimensions and weight
152mm/6" (W) x 120mm/4.72"(H) x 79mm/3.1" (D)
Weight: 803g/28.4oz
*The appearance and specifications are subject to change without notice.
Optional accessories for SD9
Remote controller
RS-21
Dedicated flash
Sigma EF500 Super SD
Battery grip
Power pack SD
eight AA cells or
four CR-V3 type

Specifications are as represented by the manufacturer.




























Visitors of Steves can visit the stores below for real-time pricing and availability. You can also find hot, soon to expire online offers on a variety of cameras and accessories at our very own Camera Deals page.