Fujifilm FinePix S2 Pro SLR Review
Fujifilm FinePix S2 Pro SLR Review
First Look posted 7/25/02
full review posted 8/12/02


Click to take a QuickTime tour of the S2 Pro



The FinePix S2 Pro employs Fujifilm's third generation 6.17 million pixel Super CCD and is capable of producing an image file with 4,256 x 2,848 (12.1 million) recorded pixels. The S2 Pro can store its high resolution images in compressed JPEG, uncompressed TIFF-RGB and Fuji's proprietary CCD Raw mode. Images can be stored on a wide variety of media via the dual card slots for SmartMedia and CompactFlash (Type I or II and Microdrive compatible.) To get that image data into your computer you can choose from the USB 1.1 or the fast IEEE 1394 (FireWire) interface.
The FinePix S2 Pro is built on the popular Nikon N80 chassis and offers the same handling characteristics that photographers expect from an SLR camera. It has a Nikon F mount and accepts every AF Nikkor and most manual AI or AI-S Nikkor lenses. It offers a shutter speed range of 30 secs. to 1/4000 second with a continuous shooting rate of approximately 2 frames/second up to a maximum of seven frames. To cover any possible lighting situation the S2 Pro has a wide range of ISO equivalents ranging from 100 up to 1600.

The S2 Pro is fully featured with four shooting modes (single frame, continuous, preview and multiple exposure) and four exposure modes (multi programmed AE, shutter- priority AE, aperture-priority AE and manual exposure.) In addition, there are nine modes for white balance (auto, fine, shade, incandescent light, two custom settings and three for fluorescent light).
The FinePix S2 Pro can record images at four resolutions (4,256 x 2,848, 3,024 x 2,016, 2,304 x 1,536 and 1,440 x 960 pixels) and in three file formats (TIFF-RGB, CCD-Raw and JPEG). There are two compression modes (fine and normal) within the JPEG file format, and captured images can be viewed on the camera's 1.8-inch color TFT display. The voice annotation feature allows the attachment of 30-second voice notes to each photo, which enables you to easily keep track of important image data.

FinePix S2 Pro Features:
6.17-Megapixel Fujifilm Super CCD
Compact and lightweight digital SLR camera
Nikon F-mount lenses (with 1.5x focal multiplier)
Program AE w/Shift, Shutter priority, Aperture priority and full Manual
Auto Bracketing of exposure
3D Matrix, center-weighted or spot metering
TTL auto white balance, presets and custom set
Shutter speeds from 1/4,000 to 30 seconds plus Bulb
Continuous drive at 2fps up to 7 frames
1.8-inch color TFT LCD
Onscreen menus for Record, Play, Custom settings and Setup
Review with thumbnails, histogram and zoom
ISO sensitivity from 100 to 1600
In-camera finished JPEG in two quality levels and sizes
Uncompressed TIFF and CCD-raw formats
SmartMedia and CompactFlash Type II storage, Microdrive compatible
Selectable video output with NTSC or PAL format
IEEE 1394 FireWire and USB 1.1 data interface
Powered by standard AA type batteries
The S2 Pro package contains: FinePix S2 Camera Body, Shoulder Strap, 4 AA and 2 CR123 Batteries, AC Power Adapter, USB, FireWire and Video Cables, Eyepiece, Body and LCD Screen Caps, CD-ROM Application and Drive Software, USB Driver, FinePix Viewer, Video Impression, Adobe PhotoShop Elements, Apple QuickTime 5.0, Raw File Converter LE, 16 Bit Raw File Converter Software, FinePix S2 Camera Shooting Software.

Physical Views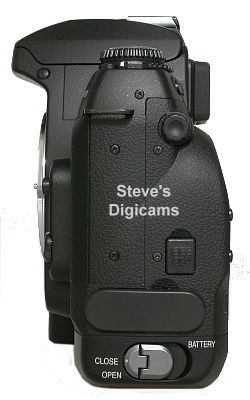 Compare the FinePix S2 Pro and the Nikon D100 SLRs.
FinePix S2 Pro Specifications
Type of camera
Interchangeable-Lens SLR-type digital camera
Lens mount
Nikon F mount (with AF coupling, AF contacts)
Number of effective pixels
6.17 million pixels
CCD sensor
23.0 x 15.5mm Super CCD
Number of total pixels: 6.49 million pixels in an interwoven pattern
Number of recorded pixels
4,256 x 2,848 pixels (12.1 million)
3,024 x 2,016 pixels
2,304 x 1,536 pixels
1,440 x 960 pixels
File format
JPEG (DCF compatible)
TIFF-RGB (8bit)
CCD-Raw (12bit)
Storage media
Slot No.1: SmartMedia (4MB to 128MB/3.3V)
Slot No.2: CompactFlash Type II (Microdrive compatible)
Number of images (4,256 X 2,848 pixels)
Mode
16MB
32MB
64MB
128MB
1GB Microdrive
TIFF-RGB
0
0
1
3
29
CCD-Raw
1
2
5
10
84
JPEG (FINE)
3
6
13
26
220
JPEG (NORMAL)
6
13
28
56
469
Usable lenses
D Type AF Nikkor lenses: All functions possible
AF Nikkor other than D type: All functions except 3D Matrix Metering possible
Non-CPU: Usable in Manual exposure mode (exposure meter cannot be used)
IX-Nikkor: Cannot be used
View finder
Fixed-eyelevel pentaprism, built-in diopter adjustment (-1.8m-1to+0.8m-1)
Picture angle
Approx. 1.5x focal length in 35mm[135] format equivalent
Sensitivity
Equivalent to ISO 100, 160, 200, 400, 800, 1600
Shutter
Electronically controlled vertical-travel focal-plane shutter
Shutter speed
30 to 1/4000 sec, Bulb
Shooting modes
Single frame shooting
Continuous shooting: approx. 2 frames/ sec up to 7 frames
Preview mode
Multiple exposure
Exposure modes
P: Multi-programed AE (Flexible program possible)
S: Shutter-priority AE
A: Aperture-priority AE
M: Manual
White balance
Auto / Fine / Shade (fine weather) / Incandescent light / 3 modes for Fluorescent light / Custom setting (Custom 1,Custom 2)
Metering range
3D Matrix Metering: EV 0-21
Center-Weighted Metering: EV 0-21
Spot Metering: EV 3-21
Exposure compensation
±3 EV range, in 1/2 steps
Built-in flash
Guide No.12 (ISO 100・m), flash coverage: 28mm or longer lens
Accessory shoe
Standard ISO-type with hot-shoe contact (Sync contact, Ready-light contact, TTL auto flash contact, Monitor contact, GND), Safety lock provided
Self timer
Electronically controlled: timer duration: 20sec, 10sec, 5sec, 2 sec
LCD monitor
1.8-inch, Low-temperature polysilicon TFT (approx. 117,600 pixels)
Playback function
1 frame
Thumbnails in 4 segments
Thumbnails in 9 segments
Playback zoom
Histogram indication
Standard chart
Video output
NTSC (USA/Canada model)
Interface
USB for data storage
IEEE1394 for data storage & shooting
Power source
4 x AA type Alkaline or NiMH batteries
AC power adapter AC-5VHS
2 x 3V Lithium batteries: CR123A or DL123A
Dimensions
5.6"(W) x 5.2"(H) x 3.1"(D)
Weight
Approx. 27 ounces (without batteries and lens)

Specifications are as represented by the manufacturer.




























Visitors of Steves can visit the stores below for real-time pricing and availability. You can also find hot, soon to expire online offers on a variety of cameras and accessories at our very own Camera Deals page.