Sony DSC-F717 Review
First Look posted 09/02/2002
Full Review Posted 09/20/2002
Introduction & Physical Views

Click on the F717 to take a QuickTime VR tour



This new Sony Cyber-shot DSC-F717 combines point-and-shoot convenience with a host of manual photographic controls, sure to inspire digital photographers to expand creativity and get better results from their efforts. Armed with high-quality Carl Zeiss optics, ISO sensitivities of 100/200/400/800 and shutter speeds of up to 1/2000 second (Program AE only,) the DSC-F717 produces impressive results, even in the most demanding of shooting situations. Additionally, Sony's DSC-F717 offers a fast start time - just over 1 second to powerup the camera - as well as rapid capture and processing times.
The DSC-F717's new features and controls include its new five-area multi-point focusing system enables photographers to focus left, center, right, up or down of their framed shot, providing more accuracy when focusing on the subject. The camera has a live histogram display, accessible both in capture and playback modes, helping to ensure more accurate exposure. Additionally, the camera's multi-burst mode can snap up to 16 frames at 320 x 240 resolution that adds up to a single 1280 x 960 image - perfect for capturing every detail of subjects in motion, like a golf swing or high dive.
For better organization and easier access to image files, the DSC-F717 features a file folder option that allows photographers to create and select specific folders for customized photo-indexing. Lastly, when using the camera's zoom capabilities, the DSC-F717 has a new rotating zoom-control ring, for more intuitive precision handling, offering the photographer an alternative to the camera's standard toggle switch.
Resolution - Sony's 5.02-megapixel effective CCD image sensor (5.24 MP gross) provides the Cyber-shot DSC-F717 camera with a maximum image size of 2560 x 1920, ensuring high-quality results with clear, vibrant, true-to-life color.
Optics - To catch high-resolution images from afar, the camera has a pivoting Carl Zeiss Vario Sonnar 5X optical zoom lens (38-190mm equivalent) with F2.0 aperture, giving it extraordinary light gathering capability.
Two LCDs - Photographers can compose shots with either the 1.8-inch LCD screen or a through-the-lens electronic viewfinder they can hold up to their eye.
USB Connectivity - Sony's DSC-F717 is the first Sony digital still camera to offer high-speed camera-to-compatible-computer transfer via USB 2.0, as well as USB 1.0.
Hologram AF - Ideal for photographing a smooth beach on a moonless night, the Hologram AF feature is a Sony-exclusive laser focusing system designed to achieve accurate focus on subjects with little contrast in dark conditions. It projects a safe, visible laser hologram pattern directly onto the subject so the camera can detect the contrast between the edge of the laser pattern and the subject itself.

NightShot® - Taking pictures in low- and no-light situations is easier than ever with Sony's NightShot feature. With the flip of a switch, the infrared NightShot mode is activated, which defeats the flash and an infrared picture is captured with no visible light at all. NightShot mode makes it possible to take pictures or MPEG movies of sleeping children and nocturnal wildlife in a way that is impossible with all other digital still cameras.

NightFraming - In order to compose pictures in a dimly lit restaurant or other settings with challenging light, NightFraming, another Sony exclusive feature, integrates NightShot technology, Hologram AF laser focusing system and TTL pre-flash metering. This seamless system enables the photographer to properly frame the subject, attain accurate focus and achieve correct flash exposure for consistently excellent flash shots.

Multi-Pattern Metering - In addition to spot metering and center-weighted averaging, the DSC-F717 also offers multi-pattern metering. To get accurate exposure in uneven lighting, the multi-pattern metering option divides the scene into a matrix of separate cells. Each cell can be metered independently to accurately calculate exposure when highlights and shadows exist outside the center of the frame.

Pre-flash Metering - To get the best shots with the flash, the DSC-F717 incorporates Sony's advanced pre-flash metering system, which actually measures the light from the flash as it passes through the lens to calculate correct exposure. At the time of exposure, the flash fires twice: once to illuminate the subject and calculate correct exposure, then a second time to record the image with the best exposure possible.

Sony's new Cyber-shot DSC-F717 camera captures the moment in a variety of still image formats including JPEG and TIFF. It also has MPEG-HQX video recording capability with with full frame playback, up to the limit of the memory card. The camera ships with a 32MB Memory Stick media, an InfoLithium M battery, an AC adapter/in-camera charger, an A/V output cable, a USB cable, a shoulder strap and a lens cap.

The Cyber-shot DSC-F717 will be available in October for about $999.





Cyber-shot F717 features:
2/3-inch 5.24-megapixel CCD imager
Still image sizes: 2560x1920, 2048x1536, 1280x960, 640x480
5x (38-190mm) all-glass Carl Zeiss F2-2.4 zoom lens
TTL autofocus with hologram laser AF assist
5-zone Auto Focus area, auto or manual selection
Manual focus with ring on lens and magnified LCD view
1.8" 123,000 pixel color LCD monitor
High-resolution eyelevel TTL color viewfinder
Program AE and four Scene modes
Shutter speed priority (30 secs. to 1/1000 sec. in 30 steps)
Aperture priority (F2 to F8 in 13 steps) with 6-blade iris diaphram
Manual exposure with EV indicator
Exclusive NightShot and NightFrame exposure modes
Auto Exposure Bracketing with +/- 0.3, 0.7 or 1.0 steps
Three shot burst mode at 2fps
Multi-pattern, Center-weighted or Spot metering
Five white balance presets and one-push custom;
Selectable ISO sensitivity (Auto, 100, 200, 400, 800)
In-camera sharpening (+/- 1, 2)
Picture Effects: Negative Art, Solarize, Sepia
14-bit A/D conversion for wider dynamic range from highlight to shadow
Adjustable TTL flash with Red Eye reduction
Hot shoe and connector for optional external flash
3:2 image ratio for making "perfect" 4x6 prints
MPEG-HQX 320x240 video at 15fps w/audio; limited only by memory
TIFF uncompressed and JPEG in Fine or Normal quality
Voice Memo Mode to add narration to still images
Clip Motion 10-Shot GIF Animation
MultiBurst mode captures sixteen 320x240 @ 7.5/15/30fps
A/V output for displaying images and movies on TV sets
USB 2.0 connectivity for fast downloading to PC
Sony InfoLITHIUM NP-FM50 battery with longer runtime
Exif 2.2 compatible
Physical Views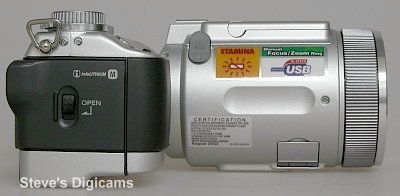 The 5-megapixel Cyber-shot DSC-F717 and the Minolta DiMAGE 7i.
Cyber-shot F717 Specifications
Sensor Resolution (Pixels)
2/3-inch 5.24 megapixels (gross)
5.02 megapixel (effective)
Image Dimensions
2560 x 1920, 2560(3:2), 2048 x 1536, 1280 x 960, 640 x 480
Recording Formats
JPEG (exif 2.2), TIFF, MPEG, GIF (text mode only)
Sensitivity - ISO equivalent rating
Auto, 100, 200, 400, 800
Lens Type
5x Carl Zeiss all-glass Vario Sonnar
10x precision digital zoom
Lens - Focal Length
f=9.7 - 48.5 mm
38-190mm (35mm equivalent)
Lens - Aperture Range
f2-f/2.4 to f/8.0 (13 steps)
using a 6-blade iris diaphram
Filter Threads
58mm
Shutter Speed Range
30 secs to 1/1000 sec (30 steps)
Noise Reduction
Automatic 1/25 to 30 secs.
White Balance
Auto, Daylight, Cloudy, Fluorescent, Tungsten, One-Push manual
Exposure Modes
Program AE, Shutter speed priority, Aperture priority, full Manual, Scene and Movie. Sony exclusive NightShot and NightFrame modes.
Drive Modes
Single frame
Burst (3 frames @ 2fps)
MultiBurst (16 - 320x240 saved as 1280x960 image) 7.5/15/30fps selectable
Metering Modes
Multi-Pattern, Center-weighted averaging or Spot
Exposure Compensation
+/- 2EV, 1/3EV steps
Self-Timer
10 seconds
Focus
TTL Automatic, or manual with focusing ring
Hologram AF assist up to 4.5m
Multi-Point AF
Auto/Manual, 5 Area
Focus Range
19.7 in. to infinity
Macro Range
0.8 to 19.7 inches
Storage
Sony Memory Stick or Memory Stick Pro, 32MB included
Data I/O
USB 2.0 connectivity
Flash Range
11.6 in. - 14.7 ft. (ISO set to Auto)
0.3 - 4.5m
Flash Modes
Auto, On, Red-eye, Off
hot shoe for optional HVL-F1000 or other external flash
Viewfinder (EVF)
Eyelevel color LCD w/diopter adjustment
LCD Monitor
1.8" 123,200 pixels (560x220) TFT color
Audio Out
Monoraul
Video Out
NTSC or PAL switchable
Special Features
MPEG video recording, 320 x 240HQX (video length limited only by memory), hologram AF system, unusually sharp 5x lens, unique NightShot and NightFrame exposure modes, 14-bit A/D, manual white balance, spot metering
Power
Sony InfoLITHIUM battery, included charger/AC adapter
Useable Battery Types
NP-FM50 7.2v InfoLITHIUM only
Recording Battery Life
approx. 205 minutes with EVF or LCD
approx. 410 still images (2560x1920 Fine mode, shooting one every 30 secs, zoom is switched alternately from W to T, flash fired on every 2nd shot, power turned off and back on after every 10 shots).
Size
4-3/4 x 2-3/4 x 6 inches
119.5 x 68.9 x 151 mm (w/h/d)
Weight
1 lb 8 oz (696g) including battery and MS
Optional Accessories
Soft leather case, add'l batteries, accessory lenses, 8, 16, 32, 64, 128 meg Memory Sticks (strongly recommend purchase of at least one larger memory card!), LSF-H58 lens shade, RM-DR1 wired remote control
Visitors of Steves can visit the stores below for real-time pricing and availability. You can also find hot, soon to expire online offers on a variety of cameras and accessories at our very own Camera Deals page.