Casio EX-S2 Review
Features and Controls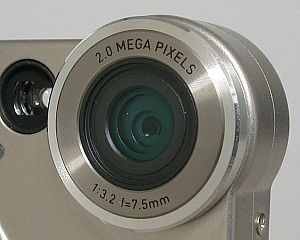 Casio has integrated a spherical lens and a high-sensitivity CCD into a single component. The lens has a maximum aperture of F3.2 and a fixed focal length of equivalent to a 36mm lens on a 35mm cameras. It is a fixed focus lens with a range of one meter to infinity.



The optical viewfinder is large and bright, it shows approximately 85% of the captured image. There is no diopter adjustment. The LED indicates camera power (green), flash charging (yellow), memory error / memory full / battery low (red.)



The built-in flash has modes for auto, fill, red-eye reduction and off. The working range is approx. one to two meters.




Located on the top are the power on/off and shutter release buttons.



The controls on the back are minimal but effective. All camera settings are changed via an onscreen menu system with the tiny 4-way controller. The operating mode is selected with the Play - Record switch.



And speaking of that "tiny" 4-way controller... The best way that I have found to operate it is with my thumbnail, by catching one of those little dimples. All too often I go "right" when I want to go "up" or "left" when I want "down." It is very frustrating to say the least - even people with little fingers will have problems with this mechanical mistake.



The EX-S2 has 12 megabytes of internal memory for saving images and movie clips. Optionally, any size Secure Digital or MultiMedia Card can be used via the expansion slot on the bottom. Image data can be copied to/from internal memory and a flash card via the Playback menu.



The camera must be placed in the included cradle to connect with a computer via the built-in USB port to transfer image data. It also charges the battery.



The super-slim NP-20 lithium battery pack is charged whenever the camera is docked in the cradle. This 3.7 volt battery is rated at 630mA and Casio claims it will power the camera for 1 hour and 50 minutes in playback or 1 hour and 5 minutes (approx. 390 shots) in record mode.

Visitors of Steves can visit the stores below for real-time pricing and availability. You can also find hot, soon to expire online offers on a variety of cameras and accessories at our very own Camera Deals page.