Pentax DigiBino DB100 Review
Pentax DigiBino DB100 Review
Review posted 8/06/2002


Click to take a QuickTime tour of the DB100



The PENTAX DigiBino DB100 is the world's first digital camera binocular. It allows you to view distant images clearly with 7X magnification, and gives you the ability to capture what you see with digital precision. Ideal for birdwatchers, outdoorsman, sportsfans or anyone looking to capture images digitally that are normally seen with a pair of binoculars. It achieves fast focus, even when using super telephoto settings, and it equals the precision of conventional binoculars. The DigiBino DB100 provides more options after images have been captured, with the convenience of video output and versatile USB connectivity.
With an 800,000-pixel progressive CCD imager (1024x768 resolution) the DigiBino DB100 captures distant objects with detail. These images can later be enlarged while still retaining impressive clarity. PENTAX technology also allows the DigiBino DB100 to achieve an impressive 7X magnification equivalent to a 280mm lens in 35mm format. The DigiBino DB100 is excellent for viewing and recording distant scenes and action. Its capabilities, however, are appreciated up close as well with the viewing and capture of subjects just two meters away. The progressive CCD and high-speed shutter are advantageous when capturing fast-moving subjects.


The DB100 also comes in a silver finish

With 16MB of built-in flash memory, the DigiBino DB100 is capable of recording and storing up to 100 pictures in Fine mode. Capacity of this kind dose away with the need for external memory. All images are stored as JPEG files - a space-efficient format that retains a high level of image quality and is compatible with a wide range of computer applications.
The DigiBino DB100 is exceptionally useful in a variety of situations. For those wishing to view and record distant scenery or low-light subjects, exposure speeds as slow as 1/30 sec. offer high-level versatility. For those wishing to capture wildlife and other moving subjects, the DigiBino DB100 also has shutter speeds up to 1/8000 sec.
USB compatibility gives the DigiBino DB100 maximum versatility. It allows you to import recorded images with ease into a range of popular computer applications, or even send shots effortlessly via e-mail. Recorded images can be easily viewed at any time on the 1.6 inch LCD screen. For additional versatility, the DB100 can also be connected to a TV.
For additional ease of use, the DigiBino DB100 offers auto exposure. Not only does this achieve combinations of aperture and shutter that fit the subject, it also gives the user the freedom to concentrate on viewing and composition. Fully automatic, through the lens White Balance means that the DigiBino DB100 is not confined to use outdoors. In fact, this additional advantage means that a natural range of colors can be preserved when shooting in various different kinds of light.
The DigiBino DB100 is invaluable for the wildlife enthusiast, the sports spectator, or indeed anyone wishing to capture distant action. It even offers continuous shooting of up to ten frames at five frames per second, allowing you to capture instances of action, frame by frame. MSRP is listed as $392 as of Aug, 2002.


DigiBino DB100 Features:
1/3" progressive CCD with 800,000 pixels
Image sizes: 1024x768 or 640x480
Standard JPEG format w/thre quality levels
37mm f/4.0 lens with 7X magnification (280mm in 35mm format)
1.6" color LCD, polysilicon TFT monitor
Small, compact and lightweight
Fully automatic exposure
Shutter speeds 1/30 to 1/8000 sec
ISO sensitivity is automatic 100 to 1600
One shot or Continuous (10 shots at 5fps)
White balance TTL Auto
Video output for TV viewing (NTSC or PAL depending on model)
16MB of built-in memory
USB 1.1 port for Windows and Macintosh
Powered by two AA batteries or one CR-V3
Physical Views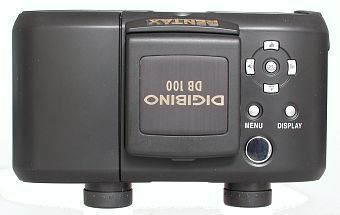 Pentax DigiBino 100 and standard CD disc for size comparison.
Pentax DigiBino 100 Specifications
CCD Sensor
1/3 inch 800,000 pixels (effective)
Image Resolutions
1024 x 768-Low compression, 1024 x 768-High compression or
640 x 480
Lens
PENTAX 37mm (equivalent to 280mm in 35mm format) f/4.0
Magnification: 7X
Auto-Focus
TTL contrast detection
Auto-Focus Range
Binoculars & camera: 6.6 ft. (2m) to infinity
File Format
JPEG (EXIF 2.2), DCF (Design Rule for Camera File System) and DPOF (Digital Print Order Format) compliant
Burst Shot
10 shots at 5 Frames Per Second
Exposure Control
Program Automatic Exposure
Exposure Metering
TTL metering, center-weighted averaging
White Balance
TTL Auto
Sensitivity
Automatic ISO 100 to 1600
Shutter
Mechanical shutter 1/30 to 1/8000 sec
Recording Modes
Single or Continuous
Video Interface
NTSC or PAL (depends on the model)
LCD Monitor
1.6" color LCD monitor. Polysilicon TFT
Storage Media
16MB built-in, non-expandable
Binocular / Viewfinder
Magnification: 7X
Objective Lens Diameter: 17mm x 14mm
Real Field of View: 7.1°
Apparent Field of View: 50°
Field of View at 1000m: 124m
Field of View at 1000 yards: 372 ft.
Exit Pupil: 2.4mm x 2.0mm
Eye Relief: 11mm
Relative Brightness: 5
Diopter Adjustment Range: -5m-1 to +3m-1
Eye Width Adjustment Range: 2.2 in. - 2.8 in. (57mm - 72mm).
Tripod Mount
Built-In
Data Communication Interface
USB 1.1
Power
Accepts two AA sized batteries (lithium or NiMH). Or one CR-V3 type lithium.
Camera Dimensions and Weight
Dimensions (W x D x H)
127mm x 69mm x 44mm
5.0" x 2.7" x 1.7"
System Requirements
Windows: 98/Me/2000/XP. Macintosh: System 9 or higher
Specifications as represented by the manufacturer
Visitors of Steves can visit the stores below for real-time pricing and availability. You can also find hot, soon to expire online offers on a variety of cameras and accessories at our very own Camera Deals page.