Olympus C-730 UltraZoom Review
Olympus C-730 UltraZoom Review
Review posted 10/22/02

Click to take a QTVR tour of the C-730UZ



Based on Olympus' popular C-700 and C-720 Ultra Zoom, the C-730 Ultra Zoom is the world's smallest 3.2-megapixel camera with a 10x optical zoom (38 to 380mm in 35mm photography.) With a fast shutter speed of 1/1000 sec., it's perfect for distant fast action shots such as sporting events, wildlife, school graduations, and performances. A powerful, easy-to- use and affordable camera, the portable C-730 Ultra Zoom has a compact and stylish body weighing only 11.1 ounces and measuring a mere 4.2" wide x 3.0" high.
The C-730UZ has been further improved with the addition of 4 My Modes, QuickTime movie mode w/sound, 4cm Super Macro mode, Hi-Speed 2.4fps burst mode, Optimum Image Enlargement mode, Noise Reduction, Six Scene Program Modes, dual media support - both SmartMedia and xD-Picture Cards. The Electronic Viewfinder (EVF) has been upgraded with more resolution and shows you exactly what the camera will capture on the CCD. The EVF also displays aperture, shutter speed, and image quality settings and can be used in playback as well as the larger 1.5" color LCD display.
The C-730 Ultra Zoom is extremely easy to use. In Programmed Auto mode, the camera offers basic point-and-shoot simplicity for flawless picture taking in typical situations. The easy-to-use Scene Program on the mode dial provides fully automatic exposure adjustments for the photographer who wants optimum results in a wide variety of settings: Portrait, Landscape-Portrait, and Sports shooting. The special "My Mode" feature saves time by letting the user assign a frequently-used function to the mode dial for quick access.

The 3.2 megapixel CCD and Olympus' TruePic™ technology allows users to retain a realistic look to their photographs at all photo sizes e-mailed or printed. The 3.2 Megapixel imager captures the detail need for true photo quality printing even on large print sizes over 8" x 10".
Other controls include Digital ESP multi-pattern and spot metering; adjustable white balance; multiple flash settings including slow sync flash; and auto bracketing and exposure compensation. The digital camera comes with an external 5 pin dedicated flash terminal that enables even more flash control.
Transferring images to the computer has never been easier with the supplied Auto-Connect USB cable for "no software required," hassle-free image downloads with the latest Windows and Macintosh operating systems. Pictures and movies may also be viewed on a television with the supplied audio-video cable.

C-730 Ultra Zoom Features:
Powerful 10x zoom (38-380mm equivalent in 35mm photography)
3.2-Megapixel resolution for 2048x1536 pixel native images and, up to 3200x2400 with Optimum Image Enlargement mode
0.5-inch color EVF viewfinder with 180,000 pixels
1.5-inch color Wide-View TFT LCD monitor
Uncompressed TIFF, JPEG and QuickTime movie formats
Program AE, Shutter-speed priority, Aperture priority and full Manual exposure modes
Six (6) Scene Program Modes including Sports, Portrait, and Landscape
Normal 1.2fps burst to 11 frames in HQ mode
Hi-Speed 2.4fps burst to 3 frames in HQ mode
320x240 QuickTime Movies with sound at 15fps
f2.8 - f8 adjustable aperture in 1/3-step EV
1/1000 to 16 second shutter speeds with Noise Reduction on shutter speeds of 1 second or longer
iESP auto TTL white balance with presets and manual
Digital ESP metering with Spot option
Built-in multimode popup flash
Super Macro focus as close as 1.6", regular Macro from 3.9" to 23.6"
Exposure compensation in 1/3EV steps
ISO auto or fixed at 100, 200 or 400
Adjustable image sharpness, contrast and saturation
TTL connector for external FL40 speedlight
Automatic pixel mapping (map out bad pixels)
SmartMedia or xD-Picture Card storage
USB 1.1 "auto connect" connectivity
Uses four AA or two CR-V3 batteries
The C-730 Ultra Zoom is available now (Oct 2002) with a street price of about $599. It includes an Auto-Connect USB cable, Video Out cable, carrying strap, lens cap with retainer cord, 2 LB-01 CR-V3 Lithium batteries, a 16MB xD-Picture card, Olympus CAMEDIA Master Software 4.0, instruction manual and Quick Start guide.

Physical Views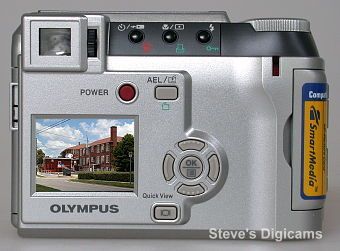 Here's the 10x C-730UZ and its 8x zoom sibling the C-720UZ
C-730 Ultra Zoom Specifications
CCD Imager
3.2 Megapixel Effective
3.3 Megapixel Gross
Size 1 /2.7" (0.37") CCD
Lens
Olympus multivariator 2 aspherical glass 10x zoom lens 5.9-59 mm (38-380mm equivalent in 35mm photography)
Seamless Digital Zoom
30x (10x optical and 3x digital combined)
Aperture Range
F2.8-8 (W) / F3.5-8 (T); adjustable in 1/3 steps EV
Shutter Speeds
Program Auto/Aperture Priority/Shutter Speed Priority: 1/1,000 sec. - 1 sec.
Night Scene: 1/1,000 sec. - 4 sec.
Manual: 1/1,000 sec. - 16 sec.
ISO
Manual: 100, 200, 400 (equivalent)
Recording Mode(s)
Still image: EXIF TIFF (non-compressed), EXIF JPEG, DCF (design rule for Camera File system), QuickTime® Motion JPEG (Movie Mode), Sound: WAV format
Adjustable Resolutions
3,200 x 2,400 SHQ JPEG-OIE/HQ JPEG-OIE
2,048 x 1,360 (3:2) TIFF, SHQ/HQ JPEG
2,048 x 1,536 TIFF, SHQ/HQ JPEG
1,600 x 1,200 TIFF, SQ1 JPEG-High/Normal
1,280 x 960 TIFF, SQ1 JPEG-High/Normal
1,024 x 768 TIFF, SQ2 JPEG-High/Normal
640 x 480 TIFF, SQ2 JPEG-High/Normal
320 x 240 @15fps QuickTime Motion JPEG
160 x 120 @15fps QuickTime Motion JPEG
DPOF (Digital Print Order Format)
Print Reservation (Single, Multiple, All, Number of copy), Date/Time, Cropping
Optical Image Enlargement
Yes
Image Adjustment Modes
Sharpness: +/- 5 in 1 steps; Contrast: +/- 5 in 1 steps; Saturation: +/- 5 in 1 stepsExposure Compensation: +/- 2 EV in 1/3 EV steps
Image Effects
Noise Reduction: available at shutter speeds of 1 second or longer
Panorama
Up to 10 frames stitchable automatically with CAMEDIA Master software when using Olympus brand xD-Picture cardTM or SmartMediaTM
Sequence
Normal: 1.2 frames per second burst up to 11 frames in HQ mode
Hi-Speed: 2.4 frames per second burst up to 3 frames in HQ mode
Viewfinder
0.44" (1.1cm) electric viewfinder, 180,000 pixels with Diopter Adjustment
LCD
1.5" (3.8cm) Color TFT LCD (114,000 pixels)
Focusing System
iESP AF (autofocus) TTL system (contrast detection), x Multi area spot AF, Full Time AF (Movie Mode),
Focusing Ranges
Super Macro Mode: Up to 1.6" (4cm) no optical zoom available
Macro Mode 3.9" - 23.6" (0.1m - 0.6m) (W); 47.2" - 78" (1.2m -2m) (T)
Standard AF 23.6" - Infinity (0.6m - Infinity) (W), 78" - Infinity (2m - Infinity) (T)
Manual Focus: 3.9" - Infinity (0.1m - Infinity) (W); 47.2" - Infinity (1.2m -Infinity) (T)
Exposure Control
Program Auto, Aperture Priority, Shutter Speed Priority, Manual
Exposure compensation: +/- 2EV in 1/3 steps
Auto Exposure Bracketing: Selectable from 1/3 EV, 2/3 EV and 1EV steps, 3 or 5 images
Metering System
Digital ESP Meter, Spot
White Balance System
iESP auto TTL
6 Pre-set manual (Daylight, Overcast, Tungsten and Fluorescent 1, Fluorescent 2 and Fluorescent 3) and Manual White Balance
White balance compensation: +/- 7 in 1 steps
Flash
Built-in Pop Up Flash
Flash Modes
Auto Flash for low and backlight
"Red-eye" Reduction Flash
Fill-in Flash
Slow Shutter Synchronized Flash (1st curtain, 2nd curtain, 1st curtain w/red-eye reduction)
Flash Off
Flash Working Range
Wide: 0.04" - 18.0' (0.1m - 5.5m) @ ISO 100
Tele: 0.5" - 14.4' (1.2m - 4.4m) @ISO 100
Flash Charging Time
Less than 6 seconds (at normal temperature with new batteries)
Removable Media Card
3V (3.3V) SmartMedia card (4, 8, 16, 32, 64, and 128 MB)
xD Picture Card (4, 8, 16, 32, 64, and 128 MB)
Selftimer/Remote
12-second delay Selftimer/2-second delay (Optional Remote control RM-1)
Setting Memorization
On, Default, 4 My Modes
Outer Connectors
USB connector (USB Auto-Connect), Audio/Video Out, DC input, 5 pin external Flash Terminal for optional Olympus FL-40
Auto-connect USB
Compatible with Windows 98 rev2/ME/2000 Pro/XP-MacOS 8.6-9.1/OSX (10.1)
Image Playback
Still: Index display (4/9/16), 4x enlargement by 0.5x steps, Slide-show, Histogram, Scene rotation;
Movie: Normal Playback, Reverse Playback, Frame by Frame
Operating Environment
Operation: 32 F -104F (0C - 40C) 30-90% Humidity
Storage: -4 F - 140F (-20C - 60C) 10-90% Humidity
Power Supply
Main Power Source:
2 x LB-01 (CR-3V) Lithium batteries
4 x AA Ni-MH rechargeable batteries
4 x AA Lithium batteries
4 x AA Alkaline batteries
(Manganese batteries cannot be used)
AC Power: C-7AU AC adapter (optional)
Date/Time Calendar
Simultaneous recording into image date
Calendar
Automatic up to the year 2099
Size
4.2" W x 3.0" H x 3.1" D (107.5m W x 76mm H x 77.5mm D)
Weight
11.1 Oz./310 g without batteries and xD Picture Card
(Specifications as represented by the manufacturer)

Visitors of Steves can visit the stores below for real-time pricing and availability. You can also find hot, soon to expire online offers on a variety of cameras and accessories at our very own Camera Deals page.