Olympus C-5050 Zoom Review
Olympus C-5050 Zoom Review
Pre-prodution First Look posted 10/26/02
Full review posted 12/16/02

Click to take a QTVR tour of the C-5050 Zoom



The C-5050 Zoom is the next generation of Olympus' popular C series family of digital cameras. It's a "state-of-the-art" digital camera for today's photographers that need a full range of real camera controls. Equipped with a fast f1.8 lens and a high resolution 5.0 megapixel imager and housed in a black, all-magnesium body, the C-5050 Zoom is a serious camera that's reasonably priced.
The C-5050 Zoom is versatile. Its built-in hot shoe allows an external flash to be connected without the need for cables. The Olympus FL-40 flash provides full TTL metering for the best possible lighting conditions. The camera has two media slots, one for xD-Picture Card or SmartMedia and one for CompactFlash Type II. You can have an xD-Picture Card or SmartMedia card plus any type of CompactFlash device including a Microdrive in the camera at the same time. A button on the back lets you quickly switch between the different media. And the multi-position LCD allows photographers to shoot from the hip or to grab an over-the-head shot.
The C-5050 Zoom is extremely easy to use with controls ergonomically located on the camera body that can be easily manipulated by thumb. Whether navigating with dials, the arrow controls on the back, or the virtual dial in the LCD, the controls are intuitive and not overly complicated. On top is the mode dial that enables quick settings for an assortment of shooting situations. The Programmed Auto mode offers basic point-n-shoot simplicity for flawless picture taking. The Scene Programs provide automatic exposure adjustments for Night Scenes, Portrait and Landscape photography. The special "My Mode" feature is a time saver as it enables users to assign frequently used functions for quick and easy access.
Advanced settings include controls for aperture priority, shutter priority, and full manual operation. Other controls include Digital ESP multi-pattern and spot metering; adjustable white balance; multiple flash settings including slow sync flash; and auto bracketing and exposure compensation, Noise Reduction, and Optimum Image Enlargement modes. Transferring images to the computer has never been easier with the Auto-Connect USB that does not require software drivers for hassle-free image downloads. Images may also be viewed on a television using the video cable.


Olympus C-5050 Zoom features: 7d3a4e333cdbba02c998b244e8af1e9f

The C-5050 Zoom with an estimated street price of $799 is available now. It includes an Auto-Connect USB cable, Audio/Video Out cable, carrying strap, lens cap with retainer cord, 4 AA NiMH batteries and charger, a 32MB xD-Picture Card, Olympus CAMEDIA Master Software 4.0, RM-1 Remote Controller, user manual and Quick Start guide.

Physical Views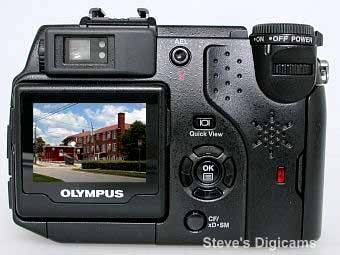 The 5-Megapixel duo, the C-5050 Zoom and the palm-size C-50 Zoom



The C-5050 Zoom compared to the C-4040 Zoom
Olympus C-5050 Zoom Specifications
CCD Imager
5.0 Megapixel Effective
5.2 Megapixel (Gross)
Size (in inch) 1/1.8" (.55") CCD

Lens
Olympus aspherical glass 3x zoom lens 7.1mm-23mm
(35-105mm equivalent in 35mm photography)

Seamless Digital Zoom
Seamless to 10x (3x optical and 3.4x digital combined)

Aperture Range
F1.8 - F10

Shutter Speeds
Auto: 1/1000 sec. - 1/2 sec.

Manual: 1/1000 sec. - 16 sec.

Night Scene: 1/1000 sec. - 8 sec.

ISO
Automatic or 64, 100, 200 or 400 (equivalent)
Recording Mode(s)
Still image: EXIF 2.2 JPEG, TIFF, and Raw file formats
DCF (design rule for Camera File system)
QuickTime® Motion JPEG (Movie Mode)
Adjustable Resolutions
3200 x 2400 (OIE Mode),
2560 x 1920,
2560 x 1696 (3:2 aspect ratio mode),
2288 x 1712
2048 x 1536
1600 x 1200
1280 x 960
1024 x 768
640 x 480
320 x 240 @15fps QuickTime Motion JPEG in HQ mode
160 x 120 @15fps QuickTime Motion JPEG in SQ mode
DPOF (Digital Print Order Format)
Print Reserve, All print reservation, Display Date information
Optical Image Enlargement
Yes
Image Adjustment Modes
Sharpness, Contrast, Saturation, Each adjustable +/- 5 steps
Image Effects
B&W, Sepia, Black board, White board
Panorama
Up to 10 frames stitchable with CAMEDIA Master software when using Olympus brand xD-Picture Card or SmartMedia card
Sequence
1.7fps for max of 11 frames in HQ recording mode
Viewfinder
Optical real-image viewfinder with autofocus/backlight mark
LCD Monitor
1.8" 110,000-pixel, low-temperature poly-silicon color TFT used for viewing, reviewing or editing images.
Focusing System
iESP multi-pattern AF (autofocus) TTL system (contrast detection), Spot AF, Selective Spot AF, Full Time AF, Manual focusing by gauge
Focusing Ranges
Standard AF 31" - Infinity (80cm - Infinity)

Macro Mode 8" to 31" [20cm to 80cm]

Super Macro 1" to 8" (.02m - 0.2m)

Exposure Control
Program auto/Aperture priority/Shutter priority (f1.8 - f10, 1/1000 sec. - 1/2 sec.)

Manual (f1.8 - f10, 1/1000 sec. - 16 sec.)

Exposure compensation: +/- 2 steps EV by 1/3-stop settings

Auto bracketing: 3 or 5 images +/- 2 steps EV by 1/3 stop settings

AE lock (exposure lock)

Metering System
Digital ESP Multi-Pattern Meter, Spot meter, Multi-point spot
White Balance System
iESP Multi-pattern auto TTL
Pre-set manual settings: Daylight, Overcast, Tungsten and 4 Fluorescent settings
Manual "one touch" white balance settings
Flash
Built-in Flash, TTL hot shoe for optional FL-40 TTL flash, or sync to studio strobes with optional hot shoe to PC sync adapter and cables
Flash Modes
Auto Flash for low and backlight
"Red-eye" Reduction Flash
Fill-in Flash
Slow Shutter Synchronized Flash (first curtain)
Slow Shutter Synchronized Flash (first curtain) w/red-eye reduction
Flash Off
External Flash with FL-40 and new flashes
Flash Working Range
15' at wide, 11' at tele
Flash Charging Time
Less than 6 seconds (at normal temperature with new batteries)
Removable Media Card
3V (3.3V) xD-Picture Card card (16, 32, 64, and 128 MB)
32-MB card included

3V (3.3V) SmartMedia card (8, 16, 32, 64, 128 MB)

CompactFlash Type I or Type II
IBM Microdrive 512MB/1GB

Selftimer/Remote
12-second delay with built in self-timer
Setting Memorization
Reset to default settings, Hold changes
Outer Connectors
Mini "B" USB connector (Auto-Connect), Video Out, DC input for optional AC Adapter
Auto-connect USB
Compatible with Windows 98 rev2/ME/2000 Pro/XP-MacOS 8.6-9.01/OSX
Image Playback
Index display, up to 4X enlargement, Slide-show, Scene rotation
Operating Environment
Operation: 32°F -104°F (0°C - 40°C) 30-90% Humidity
Storage: -4°F - 140°F (-20°C - 60°C) 10-90% Humidity
Power Supply
Main Power Source:
4 AA NiMH Batteries with Charger Included
2 LB01 (CR3V) Lithium Batteries
4 AA Alkaline Batteries
C-7AU AC Adapter
Date/Time Calendar
Simultaneous recording into image date
Calendar
Automatic up to the year 2099
Size
4.5" W x 3.0" H x 2.7" D (113.5mm W x 79.5mm H x 69.5mm D)
Weight
13.4 oz (380g.) without batteries and media card
Number of Storable Photos

| | | | |
| --- | --- | --- | --- |
| Quality | Pixel Resolution | 32MB xD-Picture Card (included) | 128MB xD-Picture Card |
| OIE: SHQ, HQ | 3200 x 2400* | 6, 16 shots | 27, 67 shots |
| 3:2 TIFF, SHQ, HQ | 2560 x 1696 | 2, 10, 29 shots | 10, 40, 117 shots |
| TIFF | 2560 x 1920 to 640 x 480 | 2 to 33 shots | 8 to 135 shots |
| RAW | 2560 x 1920 | 6 shots | 26 shots |
| SHQ | 2560 x 1920 | 8 shots | 35 shots |
| HQ | 2560 x 1920 | 26 shots | 105 shots |
| SQ1 (high, normal) | 2288 x 1712 to 1600 x 1200 | 11 to 64 shots | 48 to 257 shots |
| SQ2 (high, normal) | 1280 x 960 to 640 x 480 | 34 to 331 shots | 140 to 1330 shots |
| HQ | 320 x 240 15 fps per movie | 33 seconds (33 sec. max per movie) | 264 seconds (33 sec. max per movie) |
| SQ | 160 x 120 15 fps movie | 148 seconds (148 sec. max per movie) | 1184 seconds (148 sec. max per movie) |

All capacity figures are approximate.
*Optimum Image Enlargement resolutions interpolated from maximum optical resolution of 2560 x 1920.

(Specifications as represented by the manufacturer)
Visitors of Steves can visit the stores below for real-time pricing and availability. You can also find hot, soon to expire online offers on a variety of cameras and accessories at our very own Camera Deals page.