Canon Powershot S110 Review
Canon Powershot S110 Review
Play Mode Screens & Menus

Play mode screen with folder and filename, time and date and index overlay info. You can display this info or clear it off by pressing the Display button.



Press the Display button again and you now get the extended exposure information with the mode, EV comp, white balance and image size/quality details.



Movie clips can be played back in the camera but you cannot hear the sound as there is no speaker in the camera. If connected to a television with the A/V cable both the video and audio will be output.



Flipping the zoom switch while in Play mode brings up the thumbnail index where you can quickly search through the stored images to find one to display or erase.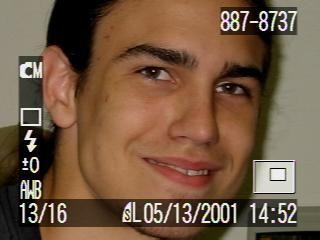 When you have a picture displayed full screen you can toggle the zoom switch to go into magnified playback mode and scroll around the image to check for focus or subject details.



I wish all cameras had this feature to rotate portrait mode shots during playback. How many times have you had to turn your head sideways while watching a slideshow on the TV set?



And it even shows you the effect of rotating the photo just in case you chose to rotate it the wrong way -- oops.



Complete support of DPOF (Digital Print Order Format) so you can mark whatever pictures you want to print later. This feature is now supported by most all of the inkjet printers that are equipped with flash card slots. It is also supported by those photo kiosks you find at the mall or local photo stores.



Here's the full menu of Play mode options:
Single erase - Erase the current image

Erase all - Earse all images on the card

Protect - Protect or unprotect images

Rotate - Rotate portrait mode images for TV display

Auto Play - Begin slideshow playback mode

Print Order - Set DPOF printing information
Steve's Conclusion
I was very impressed when I first saw the PowerShot S100, it's small and extremely durable and produces excellent images. To say it is small is an understatement, it's the same size as a deck of playing cards. The stainless steel body and built in lens cap immediately tells you that this camera is as rugged as they come. All of the capability of a two megapixel camera is "in there" including a bright and readable 1.5- inch color LCD, 2x optical zoom lens and exceptionally fast image processing. The new PowerShot S110 takes all of these features from the S100 and adds improved (faster) image processing electronics, an even better color filter and the ability to capture motion video with sound.
The S110 comes complete with a lithium rechargeable battery and 2-hour rapid charger. (Note that I am refering to the cameras sold in N. America, in Europe and other parts of the world the DK110 battery kit was included.) A small camera means a small battery but surprisingly the new NB-1L 3.7v 680mAh lithium pack powers the S110 for an average of 60 to 80 shots. As with all digicams it is extremely hard to put the battery life into solid numbers. Everyone uses the LCD and zoom and flash differently and these drastically affect the run time per charge. If you use the LCD sparingly the battery will easily handle a day's worth of picture taking. It is always a good idea to have a second battery as you never know when it will run out and you're not going to find one of these at the local 7-11 store.
The PowerShot S110 is being sold under a variety of names. Here in N. America it is known as the Digital ELPH, in Europe it is the Digital IXUS and in Japan it's called the Ixy Digital. No matter where you get it, this is one excellent camera. As soon as you put it in your hand it feels solid. Push the ON/OFF button, the lens extends quickly and in seconds it is ready to take the first shot. This is an advanced point and shoot type of camera that was designed to be easy to use -- and it is.
By default it comes up in automatic exposure mode, the flash is set to automatic and the image size is 1600 x 1200 and the quality is Fine. All other camera settings are also at their defaults which is fine for probably 90% of the pictures that the average user will take. Using the Manual mode allows you to set the white balance, image size and quality (640x480 Fine, 1600x1200 Fine or 1600x1200 SuperFine) or the exposure compensation. From the onscreen menu you can select the Automatic, Manual, StitchAssist (panorama) or Movie modes.
The S110 has a 1.5-inch color LCD on the back that is amazingly bright and readable. Instead of the usual flourescent backlight it uses energy-efficient white LEDs for illumination. It is protected by an anti-glare coating that also makes it highly impervious to fingerprints and nose smears. When you first powerup the camera there is a display of settings on the LCD but after a few seconds it automatically turns off. Pressing the Display button turns the LCD back on again and now it can be used as a realtime viewfinder. And I do mean realtime, it has an extremely fast refresh rate with no jerky or blurry displays. The LCD will come out automatically when you press the Macro button to insure proper framing. The menu displays are quite readable as are the picture reviews which can be magnified and then scrolled around.
The advanced features of the S110 include a new AiAF 3-point autofocus system which aids in keeping your subject in focus even if not centered in the frame. As with all of the Canon digicams, the S110 is equipped with a light-assisted focusing aid if the normal contrast focusing system fails due to low light conditions. If needed it projects a pattern onto whatever is in the center of its field of view and then uses that to determine the proper focus setting. It works very well and allows the camera to focus in complete darkness. You can lock the focus at infinity for landscape shots or switch to macro for closeups down to about 4 inches, this varies depending on the focal length.
The Digital ELPH has a CompactFlash Type I slot and accepts any standard CF card in any size. I was shooting all day and then some with a SanDisk 192MB card which made it like David and Goliath - the biggest CF card in the smallest digicam. The S110 really "pops" the CF card out when you press that ejector button so be ready to catch it or watch it go bouncing across the floor.
One of the features I really liked was the Record/Play switch that lets you quickly go from one mode to another. Going from record to playback is less than 1/2 second. You can snap a shot and then keep the shutter button depressed and the picture will be displayed on the LCD until you let go. You can hold the last image taken even longer by pressing the SET button. Pressing the SET and LEFT buttons allows you to quickly delete the image.
The S110 has a large image buffer, in the Large/Fine 1600x1200 mode you can take up to nine shots before filling it up. Once filled it will take about three seconds before you can snap another shot. When shooting in the highest (Large/SuperFine) resolution the number of shots that can be buffered drops to three. If shooting in Small/Fine mode the number increases to 45. The Drive mode allows you to capture up to nine (Large/Fine) shots at a rate of 1.5fps if the LCD is off or 0.8fps if it's on. All in all there will be very few times that the camera won't be ready to take a shot unless your card is full or your battery is dead. This is one quick, little camera.
As with all digicams the real bottom line is image quality. On a scale of 1-10 I'd rate the S110's image quality as a solid nine. The images may not be as "punchy" as some would like but this can be easily rectified in software later. Images that are extra-contrasty or over-sharpened are difficult to recover even with the best software so I prefer mine to be a little "flat." The color saturation and white balance is good to excellent. And before you ask, yes, it does exhibit some of the "purple fringe" highlighting problems that we've seen with all the 2 and 3 megapixel cameras. The center-weighted averaging metering system performs well under all but the most drastic of lighting conditions.
The Large/SuperFine images are approximately 1MB in size and print excellent 8x10" prints. The Large/Fine images print excellent 5x7" and passable 8x10" prints and come in around 750KB in size. The S110 is fixed at ISO 100 and therefore is not a "low light" camera unless mounted on a tripod and using the selftimer. The flash is small and the range is about what you would expect, 8-9 feet being the maximum.
All in all I like the S110 and I am not really crazy about small cameras for the most part. This is a great camera to slip in your pocket (or purse) and take with you at all times. In automatic mode most anyone should be able to get good to great pictures with no previous digital experience. The S110 will be available by June and selling for just $599.





Canon's all-weather case, model number "AW-PS200", protects the S110 from rain, dust, snow, and ten feet under water.
Visitors of Steves can visit the stores below for real-time pricing and availability. You can also find hot, soon to expire online offers on a variety of cameras and accessories at our very own Camera Deals page.