Pentax Optio 330 Review
Review posted 9/22/01


Click to take a QuickTime tour of the Optio 330



(Note: I just received word that Pentax has announced the Optio 430, identical to the Optio 330 but with a 4-megapixel CCD and an image resolution of 2240x1680 pixels. Here's our Optio 430 review.)

---
The Optio 330 is billed by Pentax as "the world's smallest and lightest 3 megapixel, 3X optical zoom digital camera available on the market (compared to all other 3-megapixel digital cameras with a 3x zoom as of June 28,2001). And indeed it is small, measuring a mere 3.6" wide, 2.3" high, and 1.2" thick and weighing in at 8.5 ounces, including battery and CF card. Such a compact design was achieved by using an ultra-compact zoom lens and integrating the CPU, ASIC, and memory chip into an MCM (Multi Chip Module). The result is a stylish design that is flat and easy to carry, with an attractive and highly durable stainless steel exterior.
The full-featured Optio 330 offers a selection of five shooting modes including Standard, Night Scene, Metered Manual (exposure up to 15 seconds), Movie, and Multiple-exposure as well as options for exposure, focusing, and flash. High-quality images up to 2048 x 1536 pixels is possible thanks to its 3.34 megapixel, primary color filter CCD. The high- performance 3X zoom lens (equivalent to 37-111mm in 35mm format) delivers high image resolution and low image distortion and is further enhanced by a 2X smooth digital zoom. To ensure that images are crisp and clear, seven-point wide autofocus and spot AF are both available. Spot AF can be centered in the frame or the user can select the focus point anywhere within the image area on the LCD monitor.
Accurate exposures are assured with a choice of six-segment metering, center-weighted metering, and spot metering. Exposure compensation is available with a range of +/-2EV in 1/3EV steps. Exposure levels can be viewed in histogram format during shooting and playback. The Optio 330 has six white balance modes, including Auto, Daylight, Shade, Tungsten Light, Fluorescent Light and Manual.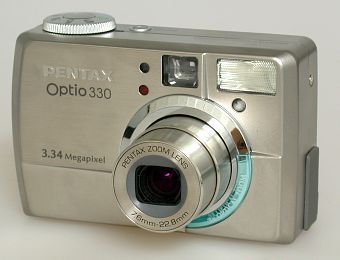 The Optio 330 can also record movies with a duration of up to 30 seconds at 15 frames/sec. (recording pixels: 320 x 240 pixels). Movies are recorded in AVI format and can be easily played back on your PC. When you want to view your recorded images, you can do so with the 1.6-inch LCD monitor. To search for an image, use the nine-image display screen. And, with a 4X magnification, images can be enlarged to check for accurate focus and small details.
The Optio 330 is compatible with CompactFlash Type I memory cards and comes standard with a 16MB card. It is powered by its own rechargeable lithium-ion battery, which is included with the camera along with a charger. It can also be powered by an optional AC adapter. The Optio 330 utilizes Epson's PRINT Image Matching technology, which ensures that the camera and a PIM-enabled printer work perfectly together to produce the best prints possible.

Optio 330 Features:
Very compact (3.6 x 2.3 x 1.2") and lightweight (8.5 oz)
Stylish and durable stainless steel body
3-megapixel CCD for images up to 2048 x 1536
3x optical zoom (37-111mm) with 2x digital zoom
1.6-inch color LCD monitor
Five shooting modes: Standard, Night Scene, Metered Manual (up to 15 seconds), Movie and Multi-exposure
Exposure compensation of +/-2EV in 1/3EV steps.
Six white balance modes, including Auto, Daylight, Shade, Tungsten Light, Fluorescent Light and Manual
Seven-point wide autofocus and spot AF with selectable focus point
Matrix, Center-weighted or Spot metering modes
Histogram display during record and playback
QuickTime 320x240 video @ 15fps up to 30 secs.
Auto or Manual focus with Macro to 5.5 inches
Epson PRINT Image Matching™ compatible
High-speed USB port for image downloading
Includes rechargeable lithium battery and charger
CompactFlash Type I memory cards

Pentax Optio 330 and the Nikon Coolpix 885 for comparison.
Compare the size of the Optio 330 to a pack of non-100 cigarettes.
Pentax Optio 330 Specifications
Type
Compact-type digital still camera with built-in zoom lens, autofocus, auto exposure and auto flash.

Sensor
3.34 megapixel (total pixels)
3.24 megapixel (effective pixels)
1/1.8 inch interline transfer CCD with primary color filter.

Color Depth
10 bits x 3 colours
Recording Pixels
2048 x 1536
1024 x 768
640 x 480
Sensitivity
Auto, fixed (equivalent to ISO 100, 200)
File Formats
Still - JPEG (Exif 2. 1), DCF, DPOF.
Movie - AVI
JPEG Quality Levels
"Good", "Better", "Best"
Storage Media
CompactFlash (CF) card Type 1
Lens
Pentax power zoom 7.6mm-22.8mm
(Equivalent to 37 - 111 mm in 35mm format) F2.6-F4.8
7 elements in 6 groups, (2 dual-sided aspherical elements).
Focusing System
TTL contrast detection autofocus system.
Manual focus/Infinity-landscape mode available.
Focusing Areas
7-point autofocus and spot.
Focusing Range
Autofocus: Normal 0.4m (1.31ft) to infinity.
Macro 0.14m (0.46ft) to 0.5m (1.64ft).
Manual focus: 0.14m (0.46ft) to infinity.
Metering System
Multi-segment metering
Center-weighted metering
or Spot metering.
Exposure Modes
Standard
Night Scene
Metered Manual
Movie
Multiple exposure.
Exposure Compensation

±2 EV (1/3 steps).

Movie
Shooting time: approx. 1 - 30 sec.
Shutter
Programmed AE electronic lens shutter with CCD electronic shutter.
Shutter speed: approx. 1/2000 to 15 sec.
Drive Modes
One shot
Continuous
Self-timer
and Remote control.
Flash
Built-in series-control auto flash. Automatic discharge under low lighting condition in auto modes. Flash-on and flash-off modes. "Red-eye" reduction features employs a single discharge.
White Balance
Auto, Daylight, Shade, Tungsten Light and Fluorescent Light, and Manual setting.
Color Modes
Color, black & white and sepia.
Digital Zoom
Shooting 1x-2x, Playback 1x-4x
Optical Viewfinder
Actual-image zoom viewfinder with diopter adjustment from -3m-1 to +1m-1.

LCD Monitor
1.6 inch, TFT color LCD.
Interfaces
TV output terminal (NTSC/PAL), USB terminal, and DC input terminal
Power Sources
D-L12 3.7v/900mAh lithium-ion battery, rechargeable (supplied)
or AC adapter (optional).
Dimensions
92 (W) x 59 (H) x 31 (D) mm (D; max 34.5mm)
(3.6 x 2.3 x 1.2/1.4 inches).
Weight
205g (7.2 oz.) without batteries and CF card.
Visitors of Steves can visit the stores below for real-time pricing and availability. You can also find hot, soon to expire online offers on a variety of cameras and accessories at our very own Camera Deals page.