Nikon Coolpix 995 Review
First Look posted 4/25/01
Full review posted 4/29/01
Introduction & Physical Views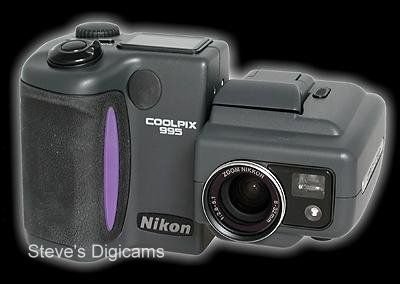 Click on the Coolpix 995 to take a QuickTime VR tour


The Coolpix 995 is Nikon's newest 3.34-megapixel digital camera and the flagship of the Coolpix line. It's available now for the incredible price of just $599. The price includes the camera, Lexar 8x 16MB CF card, Nikon EN-EL1 rechargeable lithium battery pack, MH-51 charger and a host of software titles; NikonView 4, Genuine Fractals 2.0 LE, ArcSoft PhotoStudio 2000, ArcSoft VideoImpression, ArcSoft PhotoPrinter Pro 2000 and ArcSoft Panorama Maker 2000. (Software and accessories may differ by country or area.)
Building on the feature set of its predecessor, the COOLPIX 990, the Coolpix 995 is packed with even more features such as a new 4x optical (38-152mm equiv 35mm) Zoom-Nikkor lens with a stepless 4x digital zoom, a built-in pop-up Speedlight that drastically minimizes red-eye effect, a real 7-bladed lens diaphram for true depth of field control, Nikon's advanced image-processing algorithms provide exceptional color and a new Noise Reduction system for dramatically improved long exposure pictures. The Quick Review function (inhereted from the Coolpix 880) is convenient for confirming captured images at the press of a button.
The Coolpix 995's unique swivel design allows for a wider range of shooting angles, enhancing creative leeway. The photographer can decide on the camera position while rotating the camera body, and view the LCD panel from virtually any angle. This swiveling lens feature makes the Coolpix 950, 990 and 995 cameras an excellent choice for attaching to microscopes, telescopes and other optical devices.
The Coolpix 995 sports a full range of exposure options; Program AE, Flexible Program, Shutter speed priority, Aperture priority, Full Manual, AE Bracketing of both the exposure value and white balance and Best Shot Selector. Shutter speeds from 8 to 1/2300sec plus Bulb (max. 60 seconds) and aperture settings from F2.6 to F10.3. Drive modes include: Single, Continuous, Ultra High Speed Continuous, VGA Sequence, 16-Shot Multi and QVGA 320x240 Movie. User selectable white balance with Auto, Fine, Cloudy, Incandescent, Fluorescent and Speedlight presets as well as a custom manual mode. The ISO sensitivity can be fixed at ISO 100, 200, 400 or 800. Metering options include 256-element matrix, center-weighted averaging, spot or spot AF that follows the exclusive 5-area Multi AF focusing system.
Coolpix 995 Features at a Glance:
Pop-up multimode flash with auto, fill, slow sync, and red-eye reduction.
Swiveling Nikkor 4x optical zoom (38-152mm in 35mm equivalent)
Macro focus with AF as close as 2cm
1.8-inch TFT color monitor
CompactFlash Type II card slot (Microdrives work but use at own risk)
EN-EL1 rechargeable battery and charger included
Quick Review feature from the Coolpix 880
Programmed Auto (with Shift), Shutter-Priority, Aperture-Priority and Full Manual exposure modes
Drive modes: Single, Continuous, Ultra High Speed Continuous, VGA Sequence, 16-Shot Multi and QVGA 320x240 Movie
Coolpix-exclusive Best Shot Selector exposure mode
Shutter speeds from 1/2300 sec. to 8 secs (Bulb to 60 secs)
Aperture settings from F2.6 to F10.3
7-bladed lens diaphram for true depth of field control
Control of color saturation intensity
Five-area multifocus system with 7,123-step AF and Spot-AF
256-segment Matrix Metering, Center-weighted or Spot
Noise Reduction for long exposures
ISO sensitivity of 100, 200, 400 or 800 (even in Shutter speed priority mode)
Matrix Auto White Balance plus Fine, Incandescent, Fluorescent, Cloudy, Speedlight and Preset.
AE Bracketing with white balance as well as exposure value
7,123-step autofocus with 50-step manual focus
Record images in TIFF-RGB (uncompressed) or JPEG Fine (1/4), Normal (1/8), or Basic (1/16).
Lens section lock prevents "drooping" when using heavy lenses
Epson PRINT Image Matching Technology compatible
External sync connector for Nikon Speedlights
High speed USB port for image download
User-upgradeable camera firmware
Compatible with all Nikkor-Coolpix auxilliary lenses
It's important to note that the Coolpix 995 incorporates all of the great features of the Coolpix 990 so you should read my 990 review if you're not already familiar with it.







Mastering Nikon Compact Digital Cameras version 3.0
contains over 325 pages of secrets packed into the world's first high resolution digi-photography eBook. Things you never knew. Things Nikon never knew. Things that will surprise you and things that will help you through every moment as the Nikon 995, 990, 950 and 775 reveal their secrets unto your eyes.
Mastering Nikon Compact Digital Cameras contains a photography course that will unleash your awareness of composition, design, color, form, balance, timing and point of view. iNovaFX Photoshop Action Filters and more for just $49.95, friends of Steve's get FREE USPS shipping or $6.00 off the other shipping options including international.


Physical Views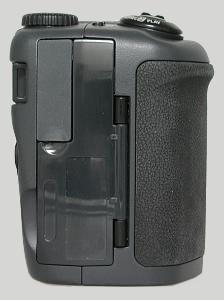 Compare the Coolpix 990 and 995
Coolpix 995 Specifications
CCD
1/1.8-in. high-density CCD; total number of pixels: 3.34 million; 3.20 million effective pixels
Image sizes
FULL (2,048 x 1,536)
UXGA (1,600 x 1,200)
SXGA (1,280 x 960)
XGA (1,024 x 768)
VGA (640 x 480)
3:2 (2,048 x 1,360)
Lens
4x Zoom-Nikkor; f = 8-32mm (equivalent to 38-152mm) F2.6-5.1 with macro; 10 elements in 8 groups; all glass, Nikon Super Integrated Coating (SIC) applied; glass-molded aspherical lens elements included
Digital Zoom
4x stepless digital zoom
Autofocus
Contrast-detect TTL AF
7,123-step autofocus control including macro range
5-area Multi AF or Spot AF selectable
Focus modes
1) Continuous AF mode (when using LCD monitor)
2) Single AF mode (when not using LCD monitor and/or selectable from shooting menu)
3) Manual [50 steps from 0.8 in. to infinity with focus confirmation indication]
Shooting distance
11.8 in. to infinity
0.8 in. to infinity in Macro mode
Optical viewfinder
Real-image zoom viewfinder
magnification: 0.4~1.1x
frame coverage: approx. 85%
diopter adjustment: -2~+1 DP
LCD monitor
1.8-in., 110,000-dot, low-temp. polysilicon TFT LCD
brightness (5 levels)/hue adjustment (11 steps)
frame coverage: approx. 97%
Auto OFF mode
30 sec.; can be set manually (1/5/30 min.)
Image Storage
RBG EXIF, uncompressed TIFF or compressed JPEG compliant with design rule for camera file system (DFC)
Media
CompactFlash (CF) Card Type I or II
(Nikon does not officially approve the use of IBM Microdrives. The newest 512MB and 1GB do work but must be used at your own risk.)
Shooting modes
Fully automatic ([A]-REC) mode
Custom ([M]-REC) mode (three combinations of mode settings can be memorized)
Shooting menu
1) White balance
2) Exposure metering
3) Continuous
4) Best-Shot Selector (BSS)
5) Image Adjustment
6) Saturation Control
7) Auxilliary Lens
8) Exposure Options
9) Focus Options
10) Image Sharpening
11) Auto Bracketing
12) Noise Reduction
Capture modes
1) Single
2) Continuous
3) Multi-Shot 16 (16 frames in 1/16 size)
4) VGA Sequence
5) Ultra High-speed Continuous (approx. 30 fps for 70 QVGA-size images)
6) Movie (40 sec. for QVGA-size images at 15 fps)
Exposure metering
4-mode TTL metering:
1) 256-segment Matrix
2) Center-Weighted
3) Spot and
4) Spot AF Area
Shutter
Mechanical and charge-coupled electronic shutter
Bulb (max 60 secs), 8 sec. to 1/2,300 sec.
Aperture
7-blade iris diaphragm
3 EV range in 1/3 EV steps
Exposure control
1) Programmed Auto with Flexible Program
2) Shutter-Priority Auto (with Sensitivity control)
3) Aperture-Priority Auto
4) Manual; Exposure Compensation (±2 EV in 1/3 EV steps)
5) Auto Bracketing (3 or 5 steps within ±2/3 EV)
Exposure range
EV -2.2~+17 (W), EV -0.3~+18.1 (T) (ISO 100 equivalent)
Best-shot Selector
Camera takes up to 10 shots (at approx 2fps) and records the most detailed image of the 10 using anti-jitter logic which is effective for telephoto and macro shooting. Not available when the speedlight is on.
ISO Sensitivity
100, 200, 400, 800 or Auto;
can be controlled in any exposure mode
White balance
1) Matrix Auto White Balance with TTL control
2) 5-mode Manual with 7-step fine tuning (Fine/Incandescent/Fluorescent/ Cloudy/Speedlight)
3) Preset
4) White balance bracketing
Self-timer
10 sec. or 3 sec. duration
Built-in Speedlight
Pop-up type; Guide number 10 (at ISO 100)
Flash control
Flash modes:
1) Auto Flash
2) Flash Cancel
3) Anytime Flash
4) Slow Sync
5) Red-Eye Reduction
External Speedlight
Multi-flash sync terminal connects to external Nikon Speedlight SB-50/28/28DX/26/25/24/22 through the Multi-Flash Bracket SK-E900; built-in Speedlight can be cancelled when using external Speedlight(s)
Playback menu
1) 1 frame
2) Thumbnail (4/9 segments)
3) Slide show
4) Zoom playback (25 steps up to 6x)
Histogram indication & highlight point display
Peaking indication
Hide and protect attributes can be set to each image
Delete function
Deletes all frames or selected frames
Interface
USB interface
Supported Platforms
Windows 98/98SE/Me
Mac OS 8.6, 9, 9.1
Video output
NTSC or PAL (selectable)
I/O terminal
Power input
Video output
Digital output terminal (USB)
Sync terminal for external Speedlight
Bundled Software
NikonView Version 4, Genuine Fractals 2.0 LE, ArcSoft PhotoStudio 2000, ArcSoft VideoImpression, ArcSoft PhotoPrinter Pro 2000 and ArcSoft Panorama Maker 2000. The Reference CD-ROM includes Adobe Acrobat Reader 4.0, Instructions for Using Nikon View Version 4, and Nikon's "Guide to Digital Photography" (Online Camera Manual for the CoolPix 995).
Power requirements
Nikon EN-EL1 lithium rechargeable (supplied)
or 2CR5 one-use lithium
Battery life
Approx. 110 mins. when using LCD monitor
Dimensions
(W x H x D)
Approx. 5.4 x 3.2 x 1.6 in. (2.5 in. at grip)
Weight
(without battery)
Approx. 13.8 oz.
Visitors of Steves can visit the stores below for real-time pricing and availability. You can also find hot, soon to expire online offers on a variety of cameras and accessories at our very own Camera Deals page.