Toshiba PDR-M61 Review
Toshiba PDR-M61
Review posted 4/26/01

Click to take a 360-degree QTVR tour of the PDR-M61





The entry-level ($399) PDR-M61 offers a 2.3-megapixel CCD that delivers photo-realistic images with vivid color and detail at resolutions as high as 1792 x 1200. It holds several advantages over other cameras in the sub-$400 category, including USB downloading, SmartMedia storage, an all-glass 38mm, 35mm equivalent lens with 3X optical zoom and macro capabilities, plus fast circuitry for quick start-ups and less processing time between shots.

The PDR-M61 has a powerup time of about 5 seconds and a shot to shot recycle time of around 3 seconds. This is basically an automatic point and shoot type of camera but through the Manual mode you can control the white balance and the exposure compensation value. Variable ISO sensitivity of 100, 200 or 400 and macro focusing down to 5cm gives you a versatile yet entry-level priced 2-megapixel digicam.

The PDR-M61 is physically identical to its higher resolution sibbling the PDR-M65 which has a three-megapixel imager and a 3X zoom lens.






On the back is a 1.8-inch active-matrix color LCD which can be used as a realtime viewfinder or to playback your stored images. It's also used to access the menu system. When using the eyelevel viewfinder the LCD can be switched off to conserve battery power.




The PDR-M61 sports a large and bright optical finder but no diopter adjustment.
A tri-color (red/yellow/green) LED indicates autofocus, flash and memory processing status.





The bottom of the PDR-M61 is flat and is well suited to being mounted on a tripod. The only thing on the bottom besides the tripod socket is the battery access door.



On the top is a monochrome data LCD, the Mode Dial, the Shutter Release and control function buttons. When powered down the lens retracts.





The Mode Dial is also the power switch, it turns the camera on by selecting an operating mode: Manual Record (not really Manual but it lets you change the white balance and EV compensation values) or Automatic Record mode, Playback, Connect to PC or Setup mode.





Closeup look at the top data LCD display and control buttons. From left to right the buttons are: Flash mode, Quality / Image Size and Self-Timer.
I was disappointed to see that the data LCD was not illuminated as is the case on most of Toshiba's other cameras.





Controls on the rear:
A 4-way jog switch which is used to navigate the menu system, select images or activate various functions. You push it straight in to accept the selected menu choice.
There are dedicated buttons for displaying the MENU system. Turning the color LCD screen on/off (DISP) and controlling information overlays. Enabling the MACRO mode and Deleting files.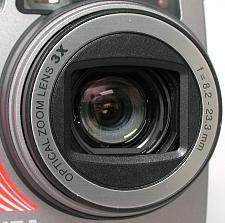 The all-glass aspheric 3x zoom (38-114mm equivalent) has an F3.2 maximum aperture. The focus range is 20 inches to infinity in normal mode or from two to twenty inches in Macro. When the camera is powered down, the lens retracts and is covered by a builtin lens barrier.



The zoom control is a rocker type switch that is located on the back of the camera just below the Mode Dial.
When the LCD is activated you can enable the 2X digital zoom by pressing the 4-way selector switch Up. Digital zoom can be used at any focal length setting.



The PDR-M61 has a five-mode flash system (automatic, red-eye reduction, forced-fill flash, slow synchro and force-off) and a working range of up to 12-feet.






The I/O ports:
The USB port is rated at 12mbps and is capable of transfering a high-res picture in about 1 seconds.

A 5VDC input jack can be found on the lower left side of the camera.
The PDR-M61 does not have a Video Out port




Access to the SmartMedia memory card slot is via a door on the right side.
The card slot employs my favorite "push in - pop out" type of ejector mechanism which makes it a snap to change the tiny cards.
The PDR-M61 accomodates any capacity 3.3v SmartMedia card and comes with a 8MB card.





Unlike many other Toshiba camera we have reviewed, the M61 (and M60, M65) does not use a Toshiba lithium rechargeable battery. They have chosen four AA size batteries as the portable power for the camera. This will be good news to those who dislike proprietary battery packs.
Included with the camera are four alkaline batteries but I would highly recommend the use of NiMH rechargeables instead.



The PDR-M61 has a compact high-impact plastic body with a weight of just over ten ounces (without the batteries), here it is for size comparison with the Canon A20.
Toshiba PDR-M61 Specifications
CCD Sensor
1/2-inch CCD with 2.3 million square pixels
Resolution
Still image: 1792 X 1200 (Full) or
896 X 600 (Half) selectable
Zoom
3X optical, 2X digital
Lens
F3.2-F3.7, f=8.2-23.3mm
(35mm equivalent: 38mm-114mm)
View Finder
Real Image zoom finder
LCD Monitor
1.8-inch TFT color LCD
LCD Play Mode
Normal, 16 image-multi, 3X zoom, slideshow
File Format
JPEG, Still Image: Exif 2.1, DCF
Storage Media
3.3V SmartMedia (2-64MB), upgradeable to 128MB by firmware
5-Mode Flash
Auto, red-eye reduction, fill-in, off, slow synchro
Mode Dial
Set up, PC download, off, auto record, manual record, playback
Control Buttons
Menu, Self timer, picture quality, flash mode, macro, erase/format, LCD display mode, Zoom
Interface
USB, Video output (NTSC or PAL selectable)
Record modes
1 shot
multi-shot (16 images per frame)
bulb exposure (1 or 2 secs.)
Firmware
User upgradeable
Focusing Range
50cm (20 inches) - infinity
Macro: 5cm (2 inches) to 50cm (20 inches)
Power Source
4X AA batteries [Alkaline, Lithium, Ni-MH (nickel metal hydride), Ni-Cad (nickel-cadmium)], AC power adapter (sold separately)
Dimensions
4.76(W) X 2.95 (H) X 2.4 (D)in.
Weight
10.2 oz (excluding batteries)
Included Accessories
4X AA Alkaline batteries, SmartMedia™ card (8MB), Shoulder Strap, Video cable, USB cable, CD-ROM
Visitors of Steves can visit the stores below for real-time pricing and availability. You can also find hot, soon to expire online offers on a variety of cameras and accessories at our very own Camera Deals page.