Fujifilm FinePix 2800 Review
Fujifilm FinePix 2800 Review
Full review posted 11/18/01

Click on the Fujifilm FinePix 2800 Zoom to take a QuickTime VR tour



The FinePix 2800 Zoom is Fujifilm's latest mid-range digital camera. Incorporating a powerful 6x optical zoom lens, the same zooming power as that used on the FinePix 6900 Zoom, the flagship of the FinePix line. The FinePix 2800 Zoom is a highly compact, point-and-shoot model that can make even beginning photographers feel like a pro. The 2-Megapixel CCD imager in concert with Fuji's Advanced Color Technology produces photo-quality 4x6, 5x7 and 8x10-inch prints. The camera's exposure and focusing systems are fully automatic. For those that like to have more control, the Manual mode allows overriding the metering system and using a specific white balance setting.
Audio notes up to 30 seconds in length can be attached to your pictures, you can record up to 60 seconds of motion video with sound, and the FinePix 2800 Zoom can operate as a PC-cam for computer-to-computer video conferencing. Images, movies and sound files transfer to your computer in a flash thanks to the built-in USB connectivity. Picture viewing is simple and fun with the included FinePixViewer software that launches automatically once the pictures are downloaded to the computer.


FinePix 2800 Zoom Features
Easy to use automatic point-n-shoot camera
Ultra-compact and stylish body
Powerful 6X optical zoom (38-228mm 35mm equivalent)
2.1-million pixel RGB color filter CCD imager
Image sizes of 1600 x 1200, 1280 x 960 or 640 x 480
Fujifilm's Advanced Color Technology produces better color with more detail
Records 60 seconds (320 x 240) AVI motion video with audio at 10 frames/sec
30-second audio notes can be attached to pictures
Internet PC-Camera (Webcam) capable
64-Zone TTL metering, Program AE (Exposure comp. available in Manual mode)
Automatic white balance plus 6 presets in Manual
Multi-mode flash (Auto, Red-Eye Reduction, Slow-Synchro, Forced, Off)
1.8 inch color TFT LCD Monitor
Color electronic viewfinder
ISO 100 equivalent sensitivity
Powered by standard AA batteries, NiMH recommended
Even with the big 6x optical zoom lens, the FinePix 2800 Zoom is only 3.7 inches (W) x 3.0 inches (H) x 2.8 inches (D) and weighs a scant 9.5 ounces, without batteries. Bundled accessories include a 16MB SmartMedia storage card, four AA Alkaline batteries, shoulder strap and USB and video cables. In addition to Fujifilm's FinePixViewer, other bundled software includes Fujifilm's DP Editor and Adobe PhotoDeluxe 4.0. The FinePix 2800 Zoom is priced at $399 and available now.

Physical Views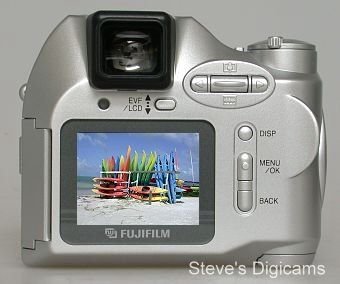 The FinePix 2800 Zoom and the pocket-size Olympus D-40 Zoom.
Fujifilm FinePix 2800 Zoom Specifications
Sensor Type
1/2.7-inch CCD, 2.1 million pixels
Image File Resolution
1600 x 1200, 1280 x 960, 640 x 480
Movie Recording
320 x 240, up to 60 seconds with sound at 10fps
Lens
Fujinon 6x optical zoom 6-36mm
(38-228mm 35mm equivalent)
Aperture Range
F2.8 / F4.8 / F8.2
Focus Range
2.6 feet to infinity
Macro Mode
3.9 inches to 2.6 feet
With flash 11.8 inches to 2.6 feet
Sensitivity (ISO)
Equivalent to ISO 100
Shutter Speed
Automatic (1/2 -1/1500 sec.)
Storage Media
SmartMedia™(3.3V, 2-128MB), 16MB included
File Format
JPEG (Exif 2.1), DPOF compatible
AVI format Motion-JPEG, WAV audio
White Balance
Auto & 7 settings selectable in Manual
Flash
Effective Range: 9.8 ft. (Max.)
Voice Captioning
Record up to 30 secs of audio after capturing an image
Exposure Modes
Program AE, Manual EV Control (11 steps -1.5 to +1.5EV),
Continuous (4 frames at up to 2fps)
Exposure Meter
64-zone TTL metering
Viewfinder
0.55-inch 110,000 pixel color electronic viewfinder
LCD Monitor
1.8-inch color TFT (62,000 pixels)
Auto Power Off Disable
Yes
Self Timer
Yes, 10-sec
Flash Modes
Auto, Red-Eye, Forced Flash, Suppressed, Slow Sync
Playback Modes
Single frame, Multi-frame (9 thumbnails), Zoomed (5x at 1600 x 1200, 4x at 1280 x 960, 2x at 640 x 480)
Interface
USB (PC Card Adapter, Floppy Disk Adapter and USB Card reader are optional)
Power source
4 AA cells, Alkaline, Ni-MH or Ni-Cd (optional DC6VAC adapter)
Dimensions
3.7 (W) x 3.0 (H) x 2.8 (D) in.
Weight
13.8 ounces (incl. batteries, SM card)
PC / Mac Compatible
Yes/Yes
Visitors of Steves can visit the stores below for real-time pricing and availability. You can also find hot, soon to expire online offers on a variety of cameras and accessories at our very own Camera Deals page.