Minolta DiMAGE 7 Review
Pre-production First Look posted 5/23/01
Full review posted 7/16/01

Click on the DiMAGE 7 to take a QuickTime VR tour




The DiMAGE 7 and DiMAGE 5 SLR-type digital cameras feature Minolta's new technological developments designed to provide high-quality images as well as a wide array of digital functions for creative photography. Many advanced features that were found only on high-end professional digicams are now offered at more affordable prices. The DiMAGE 7 with its high-resolution, 5.24 million pixel, 2/3-inch CCD is available now.

These cameras also share the same all-glass 7x optical zoom Minolta GT lens. This 7.2mm - 50.8mm, f/2.8-f/3.5 APO lens uses anomalous dispersion (AD) glass and aspheric elements to provide sharp, bright images at all focal lengths. The DiMAGE 7's focal length equivalent (in 35mm photography) is 28mm - 200mm and on the DiMAGE 5 it's equivalent to a 35mm - 250mm lens. Both cameras also feature a One-Touch 2x digital zoom to significantly increase the zooming range and Super Macro capability, allowing close-up photography of subjects as near as 5 inches from the lens.
The DiMAGE 7 features Minolta's proprietary CxProcess, a new image processing technology that provides clear and natural images. In image processing, too much emphasis on natural color produces flat color pictures. Overemphasizing the color range creates an unnatural color scheme. CxProcess balances both extremes by controlling sharpness, color reproduction, tonal gradation and noise to optimize results.
The 12-bit A/D conversion provides a finer tonal gradation, with deep shadows, brilliant highlights and millions of colors, up to 4,096 levels in each RGB channel. Minolta's 12-bit A/D conversion provides exquisite details in portraiture: smooth complexion, rich shadows, and luminous highlights, as opposed to the standard 10-bit A/D conversion with its limited 1,024 levels per RGB channel.
The Digital Hyper Viewfinder provides photographers with clear images, even under bright light. With its reflective ferroelectric Liquid Crystal Display (LCD) viewfinder and a visual resolution equivalent to almost 220,000 pixels, it's the first time such a sophisticated optical device has been used on a high-resolution consumer SLR-type digital camera. The variable position viewfinder can be tilted up to 90 degrees for added flexibility and creativity in shooting. The Digital Hyper Viewfinder allows the photographer to simultaneously monitor the image and camera settings. And in low-light situations the viewfinder signal is amplified so you won't miss any important shots.
The DiMAGE 7's 4x Electronic Magnification can enlarge the central area of the image in the viewfinder during manual focusing - an important feature when image sharpness is critical, especially with close-up photography.
The photographer can control image quality before the image is written to the CompactFlash card easily with the Digital Effects Control. It can control exposure, contrast and color saturation in the camera and then be viewed immediately on the Digital Hyper Viewfinder.
Using an extra-wide focus area, the cross-hair autofocus (AF) sensor in the center accurately determines subject distance, regardless of horizontal or vertical subject contrast. With Minolta's new Flex Focus Point, a simple press of a button can change the extra-wide focus to a cross-hair spot focus point that can be moved to anywhere within the image. The Flex Focus Point can be used for subjects at the edge of the frame or for singling out a specific subject from a number of objects at varying distances. With very shallow depth-of-field, the Flex Focus Point can eliminate focusing errors with off-centered subjects. The camera does not need to be moved to use the focus-lock function and then recomposed.
The responsive autofocus is a result of a high-speed Large Scale Integration (LSI) chip that rapidly processes image data and signals. The LSI chip incorporates a high-speed 32-bit RISC CPU and is connected to a large capacity SDRAM through a 32-bit data bus. Photographers can also choose between Single-shot AF and Continuous AF.
There are three exposure-metering modes: multi-segment, center-weighted and spot. The multi-segment metering technology in the cameras uses both light values and color information to accurately calculate the exposure. The DiMAGE 7 has 300 segments in the multi-segment metering, and the DiMAGE 5 uses 256 segments. With emphasis on the main subject, the luminance patterns on the CCD and AF information are used to accurately calculate the exposure.
The camera's controls are optimally laid out for ease of use. Frequently used functions are placed in a simple, function-dial system. The Digital Hyper Viewfinder and the LCD monitor offer a graphic-user interface with a full array of shooting information. The pro-auto button allows users to easily reset the camera to fully-automatic operation. The eyepiece sensors detect if the Digital Hyper Viewfinder is being used, and switch the display between the viewfinder and the monitor accordingly.
During playback mode, a histogram of the captured image can be displayed on the LCD, as well as single-frame, index or movie playback. Menus on the LCD are large and clear with superb visibility to input and confirm settings.

Under the stylish metal exterior is a solid alloy frame

DiMAGE 7 Major Features:
7x optical zoom with manual zoom and focus control on the lens
5.2-megapixel imager for images up to 2560 x 1950 pixels
12-bit A/D conversion provides a finer tonal gradation
CCD-RAW and TIFF modes as well as JPEG compressed
Program AE with Shift, Aperture priority, Shutter priority and Manual modes
Shutter speed from 4 sec to 1/2000th sec and Bulb (30 sec max.)
Program selections: portrait, sports, night portrait, sunset and text mode
Flexible white balance: automatic, preset (daylight, tungsten, cloudy and fluorescent) and custom modes
Sensitivity settings: auto, 100, 200, 400 and 800 ISO equivalents
Digital Enhanced Bracketing: exposure, contrast and color saturation
Digital Effects Control for exposure compensation, contrast and color saturation
Flex Focus Point, changes the extra-wide focus to a cross-hair spot focus point that can be moved to anywhere within the image
High Performance flash with Advanced Distance Integration flash metering
Three exposure-metering modes: multi-segment, center-weighted and spot
Variable position, hi-res, TTL color viewfinder with low-light amplification
Playback/QuickView histogram feature
Epson's PRINT Image Matching Technology incorporated
Data imprinting that records date, time and descriptive information on an image.
The DiMAGE Image Viewer Utility Software can display raw image data and allows for corrections and manipulations using built- in functions. The raw data is processed with a 16-bit color depth so that the fine tonal gradations are preserved. Based on the user-friendly graphic interface of Minolta's film scanner driver software, photographers can change tone curve/histogram, brightness/contrast/color pallet, hue/saturation/lightness, and sharpness of the raw data and save the image as a 16-bit TIFF. JPEG and TIFF images can also be viewed and corrected. The Color Correction Job function saves correction settings so they may be applied to different images. In addition, the Variation function allows photographers to choose the best image from a series of automatically bracketed corrections. The unique sharpness correction method is easy and effective. The color matching is compatible with most color spaces for accurate color reproduction with the ICC profiles.
Both cameras are supported by Epson's latest PRINT Image Matching technology which ensures that Minolta's digital cameras and Epson's printers work together perfectly to produce photographs that print truer-to-life than ever before.

Physical Views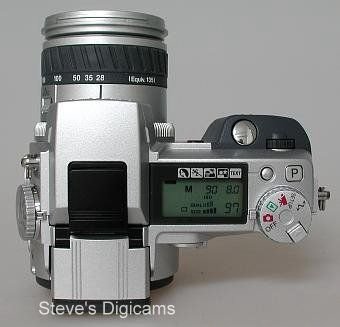 The DiMAGE 7 is one of those cameras that looks bigger in the pictures but is actually very compact. Shown here compared to the Nikon Coolpix 995 and the pocket-sized Fujifilm FinePix 6800 Zoom and Canon PowerShot S110 cameras.
DiMAGE 7 Specifications
CCD Imager
2/3 inch-type interline CCD with a total of 5.24 million pixels and a primary color filter
Number of effective pixels
4.95 million pixels (2568x1928)
Image Sizes
Still images: 2560x1920, 1600x1200, 1280x960, 640x480, Movie: 320x240
Image compression mode
Raw, Super Fine (TIFF uncompressed)
Fine, Standard or Economy JPEG
Storage capacity (16 MB)
Raw: 1, Super Fine: 1, Fine: 6, Standard: 12, Economy: 20, Movie: 90 seconds
File format
Exif 2.1(JPEG, TIFF), Motion JPEG (AVI) and RAW
DCF 1.0-compliant, DPOF-compliant (Supported by printing functions in version 1.1)
Exif tag information
Date and time, Exposure mode, Shutter speed, Aperture value, Exposure compensation value, Metering method, Flash on/off, Camera sensitivity, White balance setting, Focal length, Color space, etc.
Recording medium
CompactFlash card Type I and Type II,
(IBM Microdrive: 340MB, 512MB, 1GB)
A/D conversion
12 bits per color RGB
Sensitivity
Auto, fixed ISO 100, 200, 400 or 800
Aspect ratio
4:3
Lens focal length
7.2mm - 50.8mm (28mm - 200mm in 35mm format)
Lens construction
All glass: 16 elements in 13 groups (including two AD glass elements and two aspheric surfaces)
Maximum aperture
f/2.8 - f/3.5
Focusing range
Normal: 1.6 feet (0.5m) from the CCD to infinity
Minimum Macro focus distance
Approximately 5 inches (13cm) from the front of the lens
Maximum magnification
0.18x
Optical zooming control
Manual zooming ring
Threaded filter diameter
49mm
Viewfinder
EVF (Electronic viewfinder) with ferroelectric 0.19-inch reflective liquid crystal microdisplay with equivalent resolution of 220,000 pixels with automatic monitor amplification and electronic magnification. Magnification of 0.31-2.1x. 90-degree variable position
Liquid Crystal Display (LCD)
46mm (1.8-inch) TFT color LCD monitor with total 122,000 pixels
Display-mode switch
Auto-display, electronic-viewfinder display and external LCD monitor display mode
Field of view
EVF and external LCD monitor: approximately 100%
Diopter control
Continuously variable; -5 to +0.5 diopter
Eye relief
20mm from the eyepiece
Shutter
CCD electronic shutter and mechanical shutter
Shutter speed
4 seconds - 1/2000 second, plus bulb (maximum 30 seconds)
Autofocus
Video AF system
Autofocus areas
Wide focus area, Spot focus point, Flex Focus Point control is available with the spot focus point
Focus modes
Single-shot AF, Continuous AF or Manual
Focus lock
Available with AF/AE-lock button or by pressing the shutter-release button part-way down
Metering
300 multi-segment, center-weighted and spot
Exposure control range
Wide: EV1-17
Telephoto: EV1.6-17.7
Exposure modes
Programmed AE (with program shift)
Aperture priority
Shutter priority
Manual

Digital subject program selection (Portrait, Sports action, Sunset, Night portrait, Text)

Exposure compensation
+/- 2 EV (in 1/3 EV increments)
AE lock
Available with AF/AEL button or by pressing the shutter-release button part-way down
Flash metering
ADI (Advanced Distance Integration), Pre-flash TTL
Built-in flash range
Wide: approximately 1.6 - 12.5 feet (0.5-3.8m), Telephoto: approximately 1.6 - 9.8 feet (0.5-3m) (Camera sensitivity: auto)
Flash mode
Fill-flash, Red-eye reduction, Rear flash sync
Built-in flash recycling time
Approximately 7 seconds
Flash compensation
+/- 2EV (in 1/3 EV increments)
Flash-sync speeds
All shutter speeds
Dedicated external flash
Auto-flash metering with Program Flash 3600HS(D), Program Flash 5600HS(D), Macro Twin Flash 2400*, Macro Ring Flash 1200* (*Macro Flash Controller is necessary.)
Continuous drive advance
1.1 fps (max.)
* Continuous advance speed is approximate and may vary depending upon the subject and shooting conditions.
* Continous advance is not available for images recorded in the super fine or RAW mode
Interval recording
2-99 frames. Interval time: 1-10 minutes, 15 minutes, 20 minutes, 30 minutes, 45 minutes, 60 minutes
Digital Enhanced Bracketing
Exposure, Contrast, Color saturation.
Exposure in full stop, 1/2 stop, and 1/3 EV increments.
Contrast and Color saturation in fixed increments.
Number of brackets: 3 frames
Electronic Self-timer
Approximately 10-second delayed release
Movie recording
Maximum 60 seconds
Operating speed
Start-up time: approximately 2.6 seconds
Shutter-release time lag: approximately 0.13 second
Capturing interval: approximately 0.9 second
Playback loading interval: approximately 0.2 second
Color modes
Color, Black and White
White balance
Preset (Daylight, Tungsten, Fluorescent and Cloudy) plus Custom
Sharpness setting
Three levels (Soft, Normal, Hard)
Digital Effects Control
Exposure, Color saturation, Contrast compensation
Digital zoom
2x
Delete function
Available (single frame, all frames or specified frames)
Format function
Available in the setup mode
Data imprinting
Year/month/day (Format can be changed), Month/day/time, Text, Text and serial numbers, Imprinting can be disabled
Printing output control
PRINT Image Matching
PC interface
USB version 1.1
Video output
NTSC, PAL (can be selected by user)
Power
Four AA Alkaline or four AA Ni-MH batteries (Use of Ni-MH batteries is recommended.)
Battery performance playback
Continuous playback time: approximately 110 minutes
(Based on Minolta's standard test method: Ni-MH batteries, external LCD monitor on, EVF off)
Battery performance recording
Number of recorded images: approximately 200 frames
(Based on Minolta's standard test method: Ni-MH batteries, EVF on, external LCD monitor off, flash used with 50% of the frames, no instant playback)
External power source
6V DC with specified AC adapter (sold separately)
Dimensions (WxHxD)
4.6 x 3.6 x 4.5 inches (116.5 x 90.5 x 112.5 mm)
Weight
Approximately 17 ounces (505g) (without batteries and CompactFlash card)
Accessories
Standard: Neck Strap, Lens Cap, Lens Shade, Accessory Shoe Cap, USB Cable, Video Cable, 16MB CompactFlash Card, AA alkaline batteries, DiMAGE Image Viewer Utility CD-ROM

Optional: Camera Case CS-DG7, External High Power Battery Pack Kit EBP-100, Remote Codes RC-1000S and RC-1000L, AC Adapter AC-1L

System Requirements
IBM PC/AT compatible computer with Windows Me, Windows 2000, Windows 98, or Windows 98 SE and a built-in USB port.

Power Macintosh G4 series, G3 series, iMac series, iBook, PowerBook G3 with Mac OS 8.6 - 9.1 and a built-in USB port
Visitors of Steves can visit the stores below for real-time pricing and availability. You can also find hot, soon to expire online offers on a variety of cameras and accessories at our very own Camera Deals page.