Olympus D-510 Zoom Review
Olympus D-510 Zoom Review
Olympus Camedia D-510 Zoom
Review posted 6/10/01

The Camedia D-510 Zoom is the successor to the popular D-490 Zoom. It features a 2.1-megapixel interlaced CMY CCD with a maximum resolution of 1600 x 1200 pixels and an Auto Focus 3X Optical/7.5X Digital Zoom lens. Offering a sleek metallic silver body, reduced size and unsurpassed ease-of-use, the D-510 Zoom is equipped with both a 1.8-inch color LCD monitor and an optical viewfinder. The Camedia D-510 Zoom will be available in just a few weeks with an MSRP of just $399.00.
Extremely versatile, the D-510 Zoom not only offers a choice of four preset resolution levels, but the ability to record full motion video as well. In addition to the maximum 1600 x 1200 resolution for photo-quality prints up to 8" x 10", users may also select from 1280 x 960, 1024 x 768 and 640 x 480 settings to best match desired image quality and file sizes to the intended application. Even at the lowest resolution setting, the D-510 Zoom delivers superior picture quality for e-mailing photos or posting images on the web. To capture short clips of live action, the D-510 Zoom's standard QuickTime Movie Mode records up to 62 seconds of full motion video without sound at 15 frames per second on a standard 8MB SmartMedia card, making it the perfect choice for users producing webcasts and e-mailing short videos.
At any resolution setting in still image or movie mode, the D-510 Zoom processes all images through its 2.1-megapixel CCD, capturing every detail of every frame. The D-510 Zoom supports industry standard SmartMedia™ cards to capture images in JPEG and TIFF formats. The camera ships with one 8MB card standard, providing ample capacity to store up to 82 pictures in SQ-Normal mode. Additional SmartMedia cards are available in 16, 32, 64 and 128MB sizes.
Once an image or video clip is saved and stored, it may be displayed on the D-510 Zoom's 1.8-inch color LCD monitor. This large display allows for enhanced playback and viewing options, including 4-, 9- or 16-frame Index Display Mode, Single Frame Display with 1.5X, 2.0X, 2.5X and 3.0X Zoom Inspection, plus sequential image scrolling. The LCD monitor also serves as the camera's control panel, with an easy to use jog dial and arrow keys to select modes and settings.
The D-510 Zoom delivers photo-quality images up to 8" x 10" when image data is downloaded to a computer and output on a photo-quality ink jet printer. SmartMedia cards may also be inserted directly into one of Olympus' P Series dye sublimation printers for high quality prints up to 4" x 6". The D-510 Zoom supports the DCF file naming format and the Digital Print Order Format (DPOF) standard for adding data to images and tagging specific photographs to print to DPOF-compatible printers.

Other features of the Camedia D-510 Zoom:
TTL digital iESP metering, plus spot metering.
Automatic ISO setting plus user-selectable 100, 200 and 400 ISO for low light conditions.
Built-in pop-up flash with Auto, Red-eye Reduction, Off, Fill-in, Slow synchronization (1st Curtain) plus Slow synchronization (1st Curtain) with Red-eye Reduction flash modes.
Auto White Balance plus Daylight, Overcast, Tungsten and Fluorescent light settings.
Programmed Auto Exposure, manual compensation possible in +/-2.0 EV in 0.5 EV steps.
Sequential shooting at 1.7 frames per second (max. 16 frames in HQ, 86 frames in SQ mode).
Macro Mode for close-ups with 7.9" minimum distance.
NTSC Video Output terminal for viewing images on a television or recording to a VCR.
Date/Time/Calendar recording onto image data up to the year 2030.
Built-in SelfTimer.
Wide battery compatibility including 2x CR-V3 Lithium batteries, 4x AA Ni-MH batteries, 4x AA Alkaline batteries, and optional AC adapter.
Slim dimensions of 4.6" (W) x 2.6" (H) x 1.9" (D)
Lightweight at 8.4 oz. before batteries and SmartMedia card.
Physical Views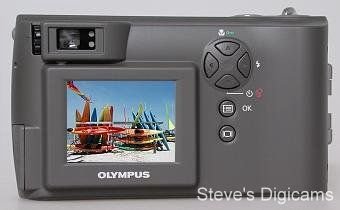 Olympus D-510 Zoom Specifications
Type:
Digital camera with 4.5cm/1.8-inch color TFT LCD monitor
Storage media:
Removable 3V (3.3V) SmartMedia card (4, 8, 16, 32, 64, and 128MB)
One 8MB card including panorama function is supplied with camera
Number of storable frames with 8MB SmartMedia card:
1: TIFF 1,600 x 1,200
2: TIFF 1,280 x 960
3: TIFF 1,024 x 768
8: TIFF 640 x 480
8 or more: SQ 1,280 x 960 (high)
24 or more: SQ 1,280 x 960 (normal)
13 or more: SQ 1,024 x 768 (high)
38 or more: SQ 1,024 x 768 (normal)
5 or more: SHQ 1,600 x 1,200
16 or more: HQ 1,600 x 1,200
32 or more: SQ 640 x 480 (high)
82 or more: SQ 640 x 480 (normal)
Recording system:
Still image: JPEG/TIFF (DCF: "Design rule for Camera File system"), DPOF support
QuickTimeTM movie
Imager:
1/2.7-inch CCD solid-state image pickup, 2.11 million pixels (effective 2.02 million pixels)
White balance:
Full-auto TTL, Pre-set (daylight, overcast, tungsten light, fluorescent light)
Lens:
Olympus 3x zoom lens (5.4 - 16.2mm), F2.8/4.4 (equivalent to 35mm - 105mm on a 35mm camera)
Digital zoom:
smooth zoom 1x ~ 3x
Light metering:
Digital ESP metering system with imager, spot metering
Exposure control:
Programmed auto exposure
Exposure compensation in ±2 EV in ±1/2 EV steps
Programmed auto: F2.8(W)/ - 5.6 F4.4(T)/ - F8, 1/2 ~ 1/1000 sec.
Motion picture: 1/30 ~ 1/10,000 sec.
Focusing:
TTL system auto focus (contrast detection system) with focusing range: 8" (0.2m) ~ infinity
Working range:
Standard mode: 31" (0.8m) ~ infinity; macro mode: 8" (0.2m) ~ 31" (0.8m)
Sensitivity:
Auto, ISO 100, 200, 400
Viewfinder:
Optical, real-image LCD monitor with diopter adjustment
LCD monitor:
1.8-inch/4.5cm color TFT LCD monitor
Flash:
Built-in flash
Flash modes:
Auto (automatic activation in low and backlight), Red-eye reduction, Off (no flash), Fill-in (forced activation), Night Scene mode (first curtain synchronization), Night Scene Mode + Red-Eye reduction
Flash working range:
Wide: approximately 8" (0.2m) ~ 31.1' (4m) Tele end:8" (0.2m) ~ 8.5' (2.6m)
Flash recycle time:
Less than 6 seconds (at normal temperature with new batteries)
Sequence mode:
Up to 5 shots at 1.8 fps (excluding TIFF mode)
Motion picture mode:
320x240: max. 15 sec.
160x120: max. 66 sec.
Image edit:
Rotation, monochrome, sepia, re-size
Self-timer:
Approximate 12-second delay
Setting memorisation:
On/Off
Outer connector:
DC input terminal, USB interface (storage class), Video output terminal (PAL/NTSC)
Operating environment:
Temperature: 32 ~ 104 degrees F (operation); -4 ~ 140 degrees F (storage)
Humidity: 30 ~ 90% (operation); 10 ~ 90% (storage)
Power supply:
4 AA Ni-MH batteries/ 4AA lithium batteries/4 AA alkaline batteries/4 AA Ni-Cd batteries/2 lithium batteries LB-01 (CR-V3)
(Zinc carbon (manganese) batteries cannot be used.)
Optional AC adapter
Date/time/calendar:
Simultaneous recording onto image data
Automatic calendar system:
Up to year 2030
Dimensions:
4.6" (W) x 2.6" (H) x 1.9" (D) - 117.5mm (W) x 66.5mm (H) x 49.5mm (D)
Weight:
8 ounces/226 grams (without batteries and SmartMedia card)
Visitors of Steves can visit the stores below for real-time pricing and availability. You can also find hot, soon to expire online offers on a variety of cameras and accessories at our very own Camera Deals page.