Sony Mavica CD300 Review
Sony MVC-CD300
Introduction & Physical Views
First Look posted 2/28/01
Full review posted 8/10/01

Click on the CD300 to take a QuickTime VR tour



Just when it seemed like we had seen all the new cameras Sony had to offer, they go and announce two more Mavicas. The MVC-CD300 and MVC-CD200 are the latest Sony cameras to employ the spacious and economical CompactDisc storage technology. Last year's MVC-CD1000 was the first digital camera to use a miniature CD- Recorder instead of a floppy disk or a flash memory card. This year's Mavica CD300 and CD200 take that a step further, they're equipped with newly designed CD-Rewritable drives that can take both CD-R and CD-RW discs.
The CD300 and CD200 are very similar on the outside and differ by the resolution of their CCD imager (CD300 uses a 3.3-megapixel and the CD200 uses a 2.1-megapixel sensor), the lens (CD300 employs a Carl Zeiss 3x Vario Sonnar zoom and the CD200 has a Sony 3x aspherical zoom), and the CD300's rapid 3-shot burst mode and AE Bracketing feature.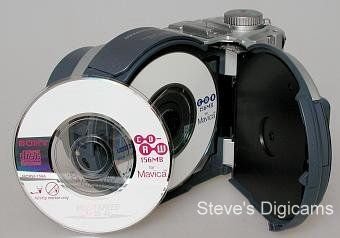 Both cameras use a 14-bit A/D converter allowing for more accurate capture of detail. The focusing system is equipped with an AF illuminator to adjust focus in poor lighting situations. They feature expanded manual controls - Aperture priority lets the photographer decide depth of field, or how much of the scene is in focus. Shutter priority lets the photographer choose shutter speed to freeze action appropriately and, with full-manual control, both aperture and shutter speeds can be adjusted to best fit picture needs. The InfoLithium® "M" series battery allows for up to 3,000 shots on a single charge.
Sony MVC-CD300 Features:
1/1.8" 3.34 Megapixel Super HAD CCD image sensor
2048x1536, 1600x1200, 1280x960, 640x480 resolution images in JPEG Normal or Fine and uncompressed TIFF formats
14-bit DXP A/D converter for improved image detail
Records images to a 8cm Mavica CD-R or RW Disc (156MB capacity)
Carl Zeiss Vario Sonnar 3x optical, 6x digital zoom
High-speed scan AF with AF illuminator light and manual focus modes
2½" 123K pixel precision LCD viewfinder with solar assist window
13-step Aperture priority (F2.1 to F8), 39-step shutter priority (8 to 1/1000 sec), manual exposure modes
ISO 100, 200, 400 and Auto
Center-weighted averaging and Spot metering
Adjustable white balance with four modes, including one-push manual.
3-mode auto pop-up flash w/selectable red-eye reduction, compatible w/HVL-F1000 flash
3-shot burst, AE bracketing, MPEG/MPEG HQ, Voice memo, text modes
JPEG, GIF, uncompressed TIFF or MPEG file formats
UXGA/XGA/VGA, 3:2 UXGA image resolution
USB transfer allows use as an external CD-R/RW drive
InfoLithium® rechargeable battery, AC adapter/charger supplied
The Sony MVC-CD300 has a suggested retail price of $999.




Physical Views

The 3-megapixel Sony MVC-CD300 and the 2-megapixel MVC-CD200.
MVC-CD300 Specifications
Imager
1/1.8" 3.34-megapixel CCD
Image Sizes
Still: 2048x1536, 2048x1360 (3:2), 1600x1200, 1280x960, 640x480
MPEG: 320x240 and 160x120
ClipMotion GIF: 160x120 and 80x72
Recording Formats
Still: JPEG, TIFF, GIF
Movie: MPEG EX (160x112 or 320x240 @ 8fps up to 90 secs)
MPEG HQ (160x112 or 320x240 @ 16fps preset lengths of 5, 10 15sec)
A/D Conversion
14-bit DXP
Lens
Carl Zeiss 3X F2-2.5 7-21mm (34-102mm 35mm equiv)
52mm lens adapter (optional)
Focus
Contrast Detect w/AF illuminator light
Autofocus 19.7" to infinity
Macro AF 1.6" minimum
13-step Manual focus
ISO Sensitivity
Auto, 100, 200, 400
White Balance
Auto, Outdoor, Indoor, One-Push Custom
Exposure Metering
Center-weighted Averaging or Spot
Shutter Priority Range
8 sec to 1/800 sec in 39 steps
Aperture Priority Range
F2.0-8.0 in 13 steps
Manual Exposure
Yes with EV indicator
Program AE
Twilight, Landscape or Portrait
Exposure Compensation
+/- 2.0EV in 1/3EV increments
In-Camera Sharpening
+/- 2 in 1 step increments
Flash Modes
Auto, Forced, Redeye, Off
Flash Level Adjustment
Auto, High, Low
Flash Range
1 to 8.2 feet
External Flash
Optional HVL-F1000 via ACC port and flash shoe
Color LCD
2.5-inch 123,000 pixels TFT w/backlight
and solar-assist window
Playback Zoom
1.1 to 5X in 17 steps
Playback Index
9 frames
Review / Quick Delete
Yes / Yes
Trimming / Resizing
Yes / Yes
MPEG 6X Cue/Review
Yes, EX or HQ
Storage Supplied
8cm (3-in) CD-R and CD-RW disc
Connections
Video, USB, AC power, ACC flash port
Battery Supplied
InfoLITHIUM NP-FM50
w/AC-L10 charger & AC supply
Supplied Software
MGI PhotoSuite 8.1, MGI PhotoSuite SE 1.1 Sony SPVD-004 USB driver
Dimensions
5-5/8 x 3-5/8 x 3-11/16 inches
143 x 92 x 94 mm
Weight (w/out battery)
22.5 oz (650 g)
Visitors of Steves can visit the stores below for real-time pricing and availability. You can also find hot, soon to expire online offers on a variety of cameras and accessories at our very own Camera Deals page.