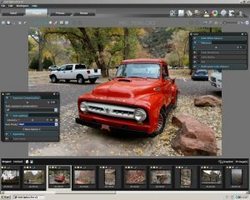 DxO Optics Pro is a program with a very specific function. It's a photo editing tool that assists in corrections and enhancement of photos taken with specific cameras and lenses. Import your photo, select the camera and lens it was taken with and DxO will be able to make optics corrections, as well as let you have control over color, and exposure of the picture.
With the release of their new software - version 6.1.2 for Windows - DxO has added support for several cameras and lenses previously unavailable.
Both the Elite and Standard editions have added new camera support. The Pentax K-7, Sony Alpha DSLR-A500, Sony Alpha DSLR-A550, Panasonic Lumix DMC-LX3 and GH1 have all been added to both editions of the software. They've also added over eighty new optics modules covering Canon, Nikon, Panasonic, Pentax and Sony DSLRs.
The new standard edition is available now at a price of $169, while the elite edition will cost you $299. Mac users will be getting the upgrade to DxO Optics Pro in the next few months. Luckily, if you upgraded to version 5 or higher after June 1st of 2009, you can grab the new update for free.