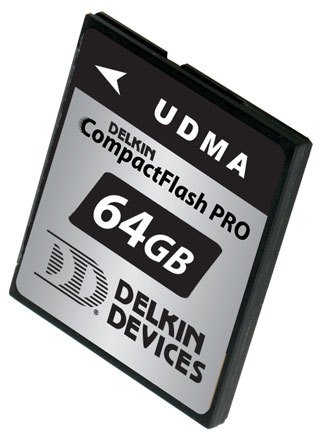 A new series of CF cards featuring a high transfer rate, plenty of storage space and a lifetime warranty was announced yesterday by Delkin. High speeds are essential for the professional photographer, and the UDMA enabled CF cards from Delkin provide it.
The new CompactFlash Pro memory from Delkin has a 420X transfer speed, which equates to about 63MB/sec. The cards are available in 8GB increments from 8GB all the way up to 64GB. They also come with built in Error Correction Code (ECC) that corrects errors that could occur during data transfer.
Delkin promises a lifetime warranty on their cards. As their customer service supervisor Eric Findley puts it "Unless they have blown it up, dissected it, or their dog has chewed on it, we'll take it back."
The company stresses their customer service as being one of their finest features, stating that "genuine human assistance" is available every day from 8am to 5pm PST. "Since we're based out of Southern California it's easy to call us up and talk to a knowledgeable person within minutes."
Delkin's new cards run $129 for 8GB, $179 for 16GB, $229 for 32GB and $399 for 64GB.