Toshiba PDR-3310 Review

When shooting the in the Record mode you can quickly change the flash function from Auto to red-eye Auto, fill-in flash, or flash off(as is displayed in the top left). The top right of the display denotes the quality is set to Superfine and 27 photos can be recorded in the flash card's remaining free space. The flower display mid-screen left shows we have selected the macro focus mode, pressing the scene control toggles it to a mountain icon signifying landscape mode or back to auto. Both Macro and landscape turn the flash off. The lower left icon is the battery charge indicator showing 2/3 battery life remaining.

Pressing the MENU button in Record brings up this screen of options:
Self Timer - 10 or 2 second delay

Quality/Movie - Movie(320x240), SuperFine(2048x1536), Fine(2048x1536-Higher compression), Normal(1024x768)

Exposure Compensation - "+" or "-" 2 stops in 1/3 stop increments

White Balance - Auto, Sun, Incandescent, Cloudy, Fluorescent, Preset

Set Details - See screen below
Pressing the center navigation button when the SET DETAILS is displayed:
Color - Recording Color mode: Color, Black & White or Sepia

White Balance Preset - Set or Cancel

AE Mode - Program, aperture priority: F2.8, or F9.6

Focusing - Auto Focus or Manual Focus

Long Exposure - Off, 2 Sec., 4 Sec., 8 Sec.

Sensitivity - Standard (100), X2 (200), or X4 (400)

Metering - Evaluation(CCD multi-area), Center(weighted), Spot Area

Rec Review - ON / OFF

Digital Zoom - ON / OFF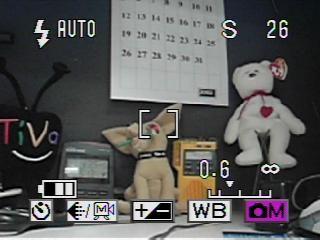 Manual Focus is settable before shooting by adjusting between .6m and infinity. The scale is not defined in between.

Aperture Priority mode is selectable in the SET DETAILS menu and the sub heading of AE Mode where a choice is given of F2.8(as in this screen above) or F9.6 and the meter sets the correct shutter speed.

The PDR-3310 is capable of capturing motion video without audio at 15 fps and a max. of 15 seconds at an image size of 320 x 240.

Turning the Mode Dial to the Setup position gives you access to:
Date - Set the internal clock's time / date / format

Format - Format Media card: Execute / Cancel

Beep - Turn beep sounds On or Off

Power Save - Settable for: No Power off, 1, 2 or 3 minutes

Mode Lock - ON / OFF

Setup page 2 continued in screen below
Continuing to Page 2 in Setup position gives you access to:
Language - Set the menu language

Video Out - Video out format: NTSC or PAL

File No. - Reset number: Execute / Cancel

Mode Reset - Reset Camera to default settings: Execute / Cancel

Color Select - Menu background color: Purple / Red / Yellow / Blue
Visitors of Steves can visit the stores below for real-time pricing and availability. You can also find hot, soon to expire online offers on a variety of cameras and accessories at our very own Camera Deals page.