Sony Mavica FD200 Review
Sony MVC-FD200
Features & Controls
The FD87 features a F3.8-3.9 6.9-19.2mm (41-123mm 35mm equiv) 3x optical zoom lens. It is further enhanced by a 2x digital zoom. Filters and add-on lenses can easily be attached via the 37mm threads.
Autofocus range in normal mode is from 9.8 inches to infinity and it can focus down as close to 1.25 inches in macro mode.

The zoom lens control is on the front of the camera below the shutter release. This also functions as the zoomed view control in playback mode.



To save power when using the camera outdoors in the bright sunlight you can switch off the color LCD's backlight. The ambient light comes in through the solar window on the top (shown here lit up by the backlight) and provides illumination for the LCD display.



Controls on the back: The LCD BACKLIGHT turns the color LCD's backlight on and off. The camera's operational modes are controlled by the Play / Still / Movie selector switch. The POWER switch obviously turns the camera on and off. The lightning bolt button changes the flash mode (Auto, On, Off, Redeye). The FOCUS button cycles between autofocus, macro and manual preset distances. The PROGRAM button cycles through the auto exposure modes (automatic, night, night+, landscape, portrait and spot metering). The DISPLAY button controls the amount of overlay information shown on the LCD. The 4-way selector switch calls up the Menu and allows you to navigate it and make selections. The MS-FD switch selects either the Memory Stick or Floppy Drive for image storage.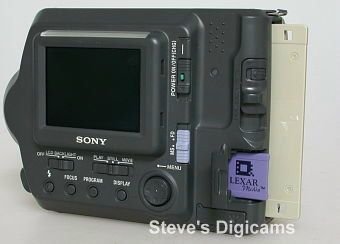 The FD200 has a 3-1/2" floppy disk drive built into it and uses conventional 1.44MB floppy disks for storage. It also has a Memory Stick card slot and can use any Memory Stick up to 128MB for storing a LOT more images.



I/O connectors include the DC IN for the charger/AC power supply. The Video Out for connecting to a television set and the USB 1.1 port for data transfer to the computer.



The FD200 is powered by the Sony InfoLITHIUM rechargeable 7.2v "battery with a brain" -- it tells you on the LCD exactly how many minutes of runtime is left. Supplied with the NP-F330 pack, it can also use the higher capacity NP-F550 battery as well. The NP- F330 is good for approx. 70 minutes of recording (approx. 750 images.) or 80 minutes of continuous playback.
The battery is charged in the camera and comes with a combination battery charger and AC power adapter that plugs into the side of the camera. It takes about 150 minutes to fully charge the NP-F330.
Visitors of Steves can visit the stores below for real-time pricing and availability. You can also find hot, soon to expire online offers on a variety of cameras and accessories at our very own Camera Deals page.