Sharp VE-CG40U Review
Sharp VE-CG40U
Playback Mode Screens & Menus
Playback mode screen showing image size 2448x1632, Fine quality, exposure compensation, shutter speed and aperture. Bottom line has battery condition, DPOF number of prints, folder name and image number.



The Playback Index mode displays six thumbnails per page so you can quickly search through the stored images to display one full screen or delete.



The full screen playback image can be magnified 2x or 4x by pressing the Zoom lens control buttons. Once enlarged you can scroll around the image using the 4-way selector.



Playback menu:
PROTECT - Protect or Unprotect image(s) from deletion
IMAGE EFFECT - Apply Sepia, Cross or Soft Spot filter (see next frame)
SLIDE SHOW - Auto play time delay 5, 10, 15, 30 seconds
PRINT ORDER - Select one or all images for printing
DELETE ALL - Delete all images on SD card except those that are protected
DUBBING - Enable recording of sound annotations On or Off
Here's an animated look at all three of the Image Effects: Sepia Tone, Cross (star points) and Soft Spot.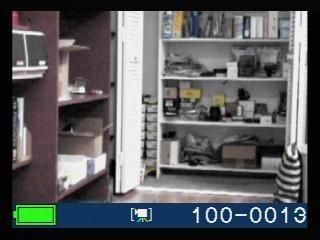 Movie playback screen. You can start or stop the playback, the audio is replayed through the builtin speaker.
Visitors of Steves can visit the stores below for real-time pricing and availability. You can also find hot, soon to expire online offers on a variety of cameras and accessories at our very own Camera Deals page.