Sharp VE-CG40U Review
Sharp VE-CG40U
Record Mode Screens & Menus
(Excuse the quality of these screens, the VE-CG40U does not output video in Record mode so these had to be photographed off of the color LCD.)

A typical AUTO record mode screen showing icons for ISO sensitivity, flash mode, exposure mode, # of pictures remaining, image size 2448x1632, Fine quality, white balance Auto, on the bottom is the battery condition, shutter speed and aperture. You can optionally display the date and time above the bottom status line.



The Program AE screen, not much different from AUTO except you'll notice the exposure compensation on the bottom line. Use the Left and Right buttons to change the value which is reflected in realtime on the LCD.



The Shutter-speed priority screen. On the bottom line is the currently selected shutter speed, use the Up and Down buttons to change it. The Aperture-priority screen is the same except that you change the aperture value.



The SCene position on the Mode Dial gives you access to five pre-programmed exposure modes for: Portrait (shown above), Snap Shot, Landscape, Night View and Black & White.



The VE-CG40U has pretty good macro focus coverage, the range is 3.5 - 28 inches in Wide angle and 8 - 28 inches in Telephoto.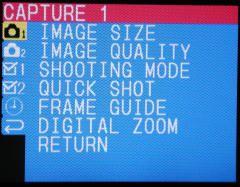 Page 1 of the RECORD options:
IMAGE SIZE - 2448 x 1632, 1824 x 1216, 1200 x 800 or 720 x 480
IMAGE QUALITY - Fine or Standard (JPEG compression)
SHOOTING MODE - Single, Continuous, Selftimer, Bracket, Gamma Bracket
QUICK SHOT - Fixed focus mode ON or OFF
FRAME GUIDE - Enable one of five different screen grid displays
DIGITAL ZOOM - Turn digital zoom option On or Off
Page 2 of the RECORD options:
QUICK VIEW - Preview after capture ON or OFF
WHITE BALANCE - Auto, Daylight, Fluorescent, Tungsten
SENSITIVITY - Auto or 100, 200 or 400
GAMMA - Standard, Highlight, Darkness, Contrast
METERING - Center-weighted or Spot
VOICE REC - Attach 10 sec audio notes to still images ON or OFF
Page 1 of SETTING menu:
DEFAULT - Return all settings to default
FORMAT - Format the SD card
AUTO POWER OFF - Time to auto off: 1, 3 or 5 minutes
FILE NUMBER - Sequential numbering or reset file numbers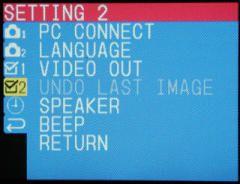 Page 2 of SETTING menu:
PC CONNECT - Enable Quick Link USB download ON or OFF
LANGUAGE - Menu language (English, German, French, Spanish, Japanese)
VIDEO OUT - NTSC or PAL video format
UNDO LAST IMAGE - Undelete the last image you deleted
SPEAKER - Speaker output ON or OFF
BEEP - Button sounds ON or OFF
Date/Time Setup menu:
DISPLAY - Display time and date on LCD in record mode ON or OFF
12H/24H - Select 12 or 24 hour time format
STYLE - MM,DD,YYYY or DD,MM,YYYY or YYYY,MM,DD
SETTING - Set the time and date
Typical movie recording screen. The maximum length of a movie clip is 30 seconds. Audio is recorded with the video. The zoom cannot be used in Movie mode.
Visitors of Steves can visit the stores below for real-time pricing and availability. You can also find hot, soon to expire online offers on a variety of cameras and accessories at our very own Camera Deals page.