SeaLife ReefMaster DC310 Review
SeaLife ReefMaster DC310 Review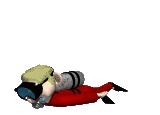 Steve's Conclusion
Used outside of its waterproof case, the Sealife ReefMaster DC 310 is a basic 3.3 megapixel point-n-shoot digicam. Its lens is fixed, both in terms of focus and focal length, and has a Landscape / Seascape (normal) mode, Macro mode and Portrait mode activated by a mechanical lever control on the front of the camera body. LCD and optical viewfinders, a sportsfinder, a built-in auto flash and Movie mode complete the cameras features. The inclusion of a waterproof (to 200 feet!) housing sets the Sealife DC 310 apart from others, providing a go-anywhere, to almost any depth, in-any-weather digicam.
The Sealife DC 310 is designed for the Point-n-Shoot user who wants to bring a camera along without concern for the weather or proximity to water. Its user controls are adequately minimal, well labeled and logical. The mode switch on the back changes between Automatic capture, Movie and Playback modes. The camera is an automatic exposure type, allowing for the adjustment of White Balance, ISO and Exposure Compensation (+/-1.8EV). From power-on to capturing your first frame is about seven seconds. Shutter delay is about 4/10 second; since the lens is fixed-focus, there is no autofocus delay. Frame to frame capture rate is about 8.5 seconds when using Quick View, which displays the just-captured image and gives you an option to delete it, or 6 seconds without Quick View. These times were obtained while using a 256MB SD memory card. The DC 310's shooting performance is not up to the task of capturing unposed moments or moving subjects.
The exposure of outdoor shots was inconsistent, with a tendency to overexpose in bright sunlight. Color saturation was good, but the images were soft, probably a result of compromises in the design of the fixed lens focus range of 6 feet to infinity in landscape mode. Indoor flash shots produced pleasing portraits. In portrait mode, the lens produced images of greater sharpness than it did outdoors in landscape mode, and although the flash has limited range, there is sufficient power for subjects at a distance of between 3 and 6 feet. Interior shots suffered from the limited range of the flash, and a noticeable dropoff in illumination at the corners. Make sure that you remove the camera from its underwater case when using the flash; firing the flash through the plastic case will result in undesirable reflections and glare in your pictures.
The SL118 underwater housing is a fairly impressive piece. It is claimed to be waterproof to a depth of 200 feet and features actuators for every camera control except the focus switch (macro,portrait, landscape/seascape mode selector). Underwater shots at shallow depths (less than 5 feet) and bright sun were well exposed, and you'll enjoy the digital movies shot in similar conditions. Using the DC 310 at greater depths or less ambient light will be less satisfying unless you use the optional Sealife ReefMaster External Flash (SL960). This is a slave flash triggered by the firing of the DC 310's internal flash, and was very effective at illuminating subjects within a range of 4 to 6 feet in conditions of low ambient light. You won't be taking a rapid sequence of flash shots, however; we measured the flash recycle time at about 13 seconds with fresh 2000 mah NiMH AA rechargable batteries. Speaking of batteries, you should use fresh high-capacity batteries in both the camera and the flash because, as I already said, you can't stop at 50 feet and change them.
The Sealife DC 310 is at its best in a water sports environments. Take it to the beach, boating, kayaking, swimming, and snorkeling on bright days; you'll have a waterproof camera capable of bringing home snapshots and digital movies that you would not attempt with a standard camera for fear of damaging it. Or take it on a dive with the optional SL960 external flash and capture still images of sea life. At a street price of about $550 (or $700 as a kit with the SL960 external flash) at the time of this review (October, 2003), only the underwater enthusiast could justify purchasing this camera. As an alternative, I suggest that you consider the Canon PowerShot A70 and its WP-DC700 Waterproof Case; you'll have a camera of far greater quality for land use, and underwater capability to 100 feet for a comparable street price.
Visitors of Steves can visit the stores below for real-time pricing and availability. You can also find hot, soon to expire online offers on a variety of cameras and accessories at our very own Camera Deals page.