SeaLife ReefMaster DC100 Review
SeaLife ReefMaster DC100 Review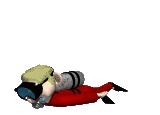 Features and Controls

The DC100's lens is a fixed-focus optic with approx. 35mm focal length (in 35mm photography), with a maximum aperture of f/2.8 and a focus range of 2 feet to infinity in normal position or 1 ft. to 2 ft. in the macro position.
SeaLife add-on Macro and Wide Angle lenses that attach to the exterior lens port of the u/w case are available (see previous page.)



Controls on the top: Mode Dial with positions for Record, Play, Setup, Delete and PC Connect. Flash mode button, Image quality button, monochrome LCD data display, Menu button and Power button. The red button is the Shutter release.



Here we see the optical viewfinder that can be used when the camera is in LAND mode and out of the u/w housing. There's two LEDs to indicate camera and flash status. Buttons along the 1.8" color LCD are used to navigate menus and select images. The top button also enables the self-timer in Record mode. The bottom button controls the color LCD and the information overlayed on the review image.




The DC100's I/O ports are on the side:

USB 1.1 for downloading to computer



Video Out - Selectable NTSC or PAL format - for playback through a TV





DC IN for 6V-3A AC adapter

The DC100 has 8MB of memory built-in and the CompactFlash Type I card slot allows you to greatly expand your picture taking capabilities.

I strongly recommend 1600mAh (or higher) NiMh batteries as they are rechargeable thereby enviromentally friendly and last more than enough for a couple of dives with the LCD on. Sealife tested the following batteries under normal and extreme operating conditions. The following operating times are averages and can vary depending on age of battery, temperature and other factors.
Normal conditions (designed to simulate operating conditions when scuba diving):
Turn camera on, take a test picture. Set to Sea Mode. Put in housing, close housing.
90 minutes later: Turn power on. Take three pictures on land. 10 Minutes later: Take pictures underwater for 45 Minutes, not continuously, but every 2 Minutes, =23 pictures.
Wait for 1 hour, then take 20 underwater pictures in 40 Minutes.
Wait for 2 hours, then repeat step 2 and step 3.
Then repeat 3.
Extreme conditions (designed to test the power consumption in the most extreme operating conditions.)
Turn camera on, Set to External FLASH mode. Put in housing, close housing.
Take picture intervals as quickly as possible (display always ON, FLASH always fires)

Visitors of Steves can visit the stores below for real-time pricing and availability. You can also find hot, soon to expire online offers on a variety of cameras and accessories at our very own Camera Deals page.