Sanyo Xacti VPC-E6 Review
Sanyo Xacti VPC-E6 Review
Features & Controls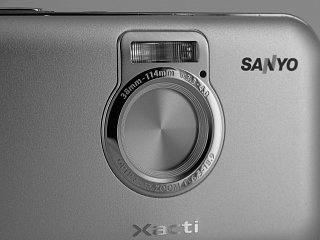 The Xacti E6 features a 3x optical Inner-Zoom 6.3-18.9mm Konica Minolta zoom lens with a 35mm equivalent focal length of 38 - 114mm, the maximum aperture is f3.3 - f4. The lens is all glass and consists of 11 elements in 9 groups with 3 aspherical elements. When the camera is powered down the lens is protected by an automatic shutter.
It has a 9-point AF system with user-selectable Spot AF and a 16-step manual focus. The focusing range is 7.8 in. (20 cm) in Wide and 19.7 in. (50 cm) to Infinity in Tele. Closest focus in Macro mode is 0.4 in. (1 cm) in Wide to 19.7 in. (50 cm) Tele.



The built in flash offers Auto, On, Off, Auto + Red-Eye Reduction, On + Red-Eye Reduction. Flash range is approx. 3.9 in. - 7.9 ft (10 cm - 2.4 m) (Wide at ISO Auto), approx. 19.7 in. - 6.6 ft (50 cm - 2 m) (Tele at ISO Auto).



The Xacti E6 features a 3.0-inch, low-temperature, polysilicon TFT color LCD with 230,000 pixels of resolution and 100% coverage. This screen is large enough that you can share viewing of just-taken images with friends. Also available are a variety of post-shooting functions for checking images. The index function enables simultaneous on-screen viewing of 36 images.

Guide Display mode uses a 2-inch area of the LCD to display the subject and leaves space to display a handy guide. This guide provides information about shooting conditions and makes it easier to get the shots you want.



On the top is the power button and the touch sensor shutter release. A finger touch on the shutter button immediately activates the focus. On other cameras, the auto-focus is activated by pressing the shutter button halfway. Just point the camera and touch the shutter button -- a Touch Sensor signal and a beep let the user know that the subject is in focus. After that, a gentle press of the shutter button captures the scene.




In the upper right hand corner is the zoom control which also functions as the index/magnify control in playback mode.

The Play button (green arrow) allows you to quickly switch to playback mode.
Pressing the MENU button calls up and dismisses the onscreen menu system.
The 4-way controller lets you navigate menus and select images during playback, press SET button in center to accept selections. In record mode you press "Up" for flash mode, "Right" to adjust exposure compensation, "Left" enables the Guide display mode (see above), "Down" for focus mode.



On the bottom is the USB/AV port that handles both the USB connection for download and the audio-video output for TV display. The E6 is PictBridge compatible for direct printing. Not shown is the DC IN jack on the side, it's for the optional AC power adapter.



The Xacti E6 is equipped with 16MB of internal memory and has a Secure Digital (SD) card slot in the battery compartment for optional memory cards. It's compatible with any capacity SD memory card. Data recorded on the internal memory can be copied to SD card.
Still Photo Capacity
10M
6M-H
6M-S
4M
2M
0.3M
Built-in 16 MB Memory
4
5
7
11
23
119
64 MB Memory
18
21

31
47
94
484
128 MB Memory

37

42

64

96

191
979
256 MB Memory

74

85

127

192

380
1,950
512 MB Memory
150
170
247
385
737
3,770
1 GB Memory
290
330
495
746
1,470
7,550
Video-Clip Shooting Times
640H
640S
320H
320
160
Sound Memo
Built-in 16 MB Memory
10 sec.
14 sec.
23 sec.
1 min.
26 sec.
2 min.
32 sec.
33 min.
01 sec.
64 MB Memory
42 sec.

58 sec.
1 min.
36 sec.

5 min.
54 min.
10 min.
19 sec.

2 hr.
14 min.
128 MB Memory

1 min.
26 sec.

1 min.
58 sec.

3 min.
15 sec.

11 min.
55 sec.

20 min.
52 sec.

4 hr.
31 min.
256 MB Memory

2 min.
51 sec.

3 min.
54 sec.
6 min.
28 sec.

23 min.
41 sec.

41 min.
27 sec.

9 hr.
00 min.
512 MB Memory
5 min.
44 sec.
7 min.
51 sec.
13 min.
00 sec.
47 min.
35 sec.
1 hr.
23 min.
18 hr.
04 min.
1 GB Memory
11 min.
07 sec.
15 min.
12 sec.
25 min.
11 sec.
1 hr.
32 min.
2 hr.
41 min.
34 hr.
58 min.
The Xacti E6 is powered by a proprietary DB-L20 3.7V 720mAh rechargeable lithium-ion battery pack. Sanyo claims the battery life is good for approx. 170 shots (flash used 50% of the time), 85 minutes of video capture and continuous playback time of approx. 210 minutes. Charging time is a maximum of 100 minutes.
Visitors of Steves can visit the stores below for real-time pricing and availability. You can also find hot, soon to expire online offers on a variety of cameras and accessories at our very own Camera Deals page.