Steve's Conclusion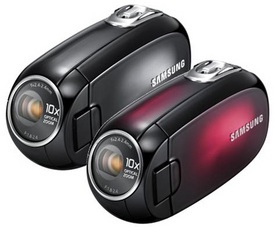 680K CCD image sensor

10x optical zoom lens
2.7-inch, 230K pixel LCD screen
720x480 NTSC video capture; Quick Time H.264 codec

Face Detection
25° Active Angle lens
Smart Capture auto mode
Sharing button
Built-In Editing Software
Li-Ion Rechargeable Battery
SD/SDHC memory card slot
Pros
Nice 10x optical zoom
Comfortable 25° Active Angle lens
H.264 codec produces better file sizes

Tiltable 2.7-inch LCD
Cons
Interlaced videos not the best format for viewing on today's HDTV sets

No HD recording
Very noticeable background noise
Click of the zoom lever can be heard in videos

Bottom Line
The Samsung MemoryCam C20 is an ultra-compact, incredibly versatile camcorder. It features great battery life, a 10x optical zoom lens and the lens is built at a 25° angle for more comfort. It lacks HD recording while the video quality suffers if watched on a HDTV or computer.
Pick This Up If...
You are looking for a compact and affordable camcorder with a comfortable and very versatile 10x optical zoom lens and a long battery life.

The Samsung MemroyCam C20 is an entry-level, ultra-compact camcorder that records its movies directly onto SDHC memory cards. Featuring a 10x optical zoom lens set an a 25° angle, 2.7-inch LCD screen and a one-touch sharing button; this camera has many of the features that we have come look for in a standard digicam. With a maximum resolution of 720x480, the C20 records video at the same resolution of a normal DVD, however it is not a high definition camcorder. It does, however, use Quick Time's H.264 (.MP4) video compression to record high quality videos that take up much less of your SDHC cards storage capacity than the standard Motion JPEG (.AVI) format.
Designed to keep your hand at a healthier, more natural angle, the lens of the C20 sits at a 25° so you don't have to hold your hand, elbow and wrist as high. This is more comfortable and allows you to shoot for a longer period of time, but it does take a little getting used to compared to a lens without this angle. All of the recording functions are very easily accessed with one hand, including the video REC button and still picture button. Its playback functions are easier to operate with two hands. An interactive index mode allows for easier searching as the highlighted thumbnail's video will play. The camcorder's fold-out, 2.7-inch LCD screen is easy to see in all lighting conditions, and if you get reflections or glare, you can easily change its angle to avoid them.
Video quality from the C20 is descent for an entry-level camcorder. Shooting in Auto mode, the camera automatically exposes for the entire scene, which can leave your subject too bright or dark. In the correctly exposed areas, color reproduction is good. The camera's autofocus isn't fast enough to keep up while moving or zooming, which can cause the camera to lose focus briefly.

To help keep the file sizes small, the camcorder captures interlaced videos. Interlaced videos play every other horizontal line, switching with each frame, allowing less (approx. half) of the information to be sent when compared to progressive, which displays the entire image with each frame. Progressive provides a higher quality video, but requires considerably more information at one time. When watching your movies on a computer or some HDTVs you will see black bars around moving areas, which is the result of the interlacing. On a standard definition, CRT television, you will not see this, as interlacing was designed for these TV's. This camcorders built-in mic is very sensitive and will pick up any and all sounds around the camera. In all of our sample videos you are able to hear background noises, along with very noticeable wind noise in our outdoor videos; you can even hear the click from letting go of the zoom lever.
The quality of the C20's still images is terrible. This is not a digicam and was not made for capturing a still image. With a maximum size of just 2-Megapixels, it produces an image similar to that of an older cell phone; today's cell phones have superior image quality compared to this camcorder. The images are very dull and not very sharp at all.
Powering the C20 is a 3.7V rechargeable Li-Ion battery (IA-BH130LB). This battery allows the camera to operate for more than 2 hours and 40 minutes on a single charge. If this is not enough, the camera will also operate while plugged in. If you plan on shooting for long periods of time and you are not sure if there will be an external power source available, you will want to have an extra battery or two. Especially since they have to be recharged inside the camera itself.
Bottom Line - Samsung's MemoryCam C20 is an incredibly compact and easy to use camcorder. Its size allows you to stick it in a purse or pocket and take it just about anywhere. Featuring a 10x optical zoom lens, a long-life battery, SDHC capability and an angled lens for comfort, it provides you with everything you need for recording hours of home movies. It provides good interlaced video quality, which is very pleasing to watch on a SDTV. The camera feature should be avoided if possible. The C20 also does not feature any HD capabilities. With a MSRP of US $199.99, this is a great option if you are looking for something affordable and versatile.
Visitors of Steves can visit the stores below for real-time pricing and availability. You can also find hot, soon to expire online offers on a variety of cameras and accessories at our very own Camera Deals page.