Pentax Optio 230 Review
Playback Screens & Menus
Turning the mode dial to the Play position brings up the last image captured in full screen mode with the exposure data information overlayed. Pressing the Display button will remove the overlay data when you want to watch a slideshow on your TV screen.



Pressing the OK button brings up the thumbnail index mode, here you can quickly search through the stored images and select one for full screen playback.



While an image is displayed full screen you can magnify it by pressing the telephoto side of the zoom lens control. Once magnified you can scroll around inside of it using the 4-way selector.



Movie clips playback fullscreen, the 4-way selector acts as the start, stop and pause control.

You can pause a movie and play it forwards or backwards one frame at a time.



A very limited play mode menu, one option is for initiating an automatic slideshow and the other is for setting the DPOF (Digital Print Order Format) printing information.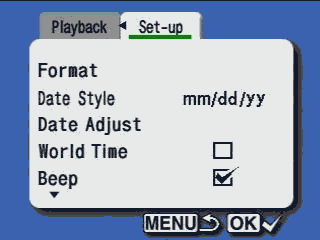 The Setup menu (same in Auto or Full record and play) lets you Format the CF card, set the date style, change the date and or time, set the camera to world time (GMT) and enable or disable the beep sounds when buttons are pushed.
Page two of the Setup menu lets you set the menu language, the video format (NTSC or PAL), set the Sleep timeout value (90s, 1m, 2m), Auto power off (3m, 5m or Off), color LCD brightness or Reset to factory defaults.
Visitors of Steves can visit the stores below for real-time pricing and availability. You can also find hot, soon to expire online offers on a variety of cameras and accessories at our very own Camera Deals page.