Pentax Optio 230 Review
Record Screens & Menus
This is the screen display when in the Auto record mode with the shutter release half- pressed. The green AF target marks in the center indicate a good autofocus lock, they turn red when the auto focus fails. The shutter speed and aperture are displayed as well as the battery level icon.



In Auto record mode there is a brief page of recording options allowing you to change only the image resolution or quality.
Resolution - 1600x1200, 1024x768 or 640x480

Quality Level - TIFF uncompressed or JPEG compressed: Three (Best), Two (Better) or One (Good) "stars"
The FULL record mode screen looks pretty much the same, except we have selected the Spot AF focus mode. The recording menu is now full of option settings as seen in the next frame.



FULL record mode has three pages of recording options, two pages of settings that can be "memorized" and two pages of Setup options:
Resolution - 1600x1200, 1024x768 or 640x480

Quality Level - TIFF uncompressed or JPEG compressed: Three (Best), Two (Better) or One (Good) "stars"

White Balance - Auto, Sunny, Shade, Incandescent, Fluorescent or Manual

Focusing Area - Wide (default) or Spot

Digital Zoom - On or Off

AE Metering - Matrix, Center-weighted or Spot

ISO Speed - Auto or fixed at 100 or 200

Color - Full (normal color), B&W or Sepia

Instant Review - 0.5, 1, 2, 3, 4, 5 secs or Off

Memory - Memorize settings between power on and off

Exp.comp.memory - Remember exposure compensation setting

Continuous shooting - Enable continuous drive mode

Sharpness - Settings for minus, normal, plus

Saturation - Settings for minus, normal, plus

Contrast - Settings for minus, normal, plus
The FULL record mode's "Applied Functions" menu page has options to enable exposure and white balance bracketing or the 3D capture mode.



Auto Bracket takes a sequence of three frames and varies either the exposure value (+/-0.3, 0.7, 1.0, 1.3, 1.7, 2.0 EV increments) or the white balance settings (+/- 1, 2, 3, 4, 5) between each frame.



The 3D capture mode is rather unique. You select either the parallel or cross method and then capture your first image. Similar to a panorama assist mode, the LCD shows a "ghost" image outline of the edge of the first image which you use to line up the camera when you move it right for the second frame.

You take this side-by-side 3D image and print it out (4-5 inches wide) and view it with the supplied 3D stereographic viewing aid.



Press the Focus mode button 4 times to enter the Manual Focus mode. A sliding scale is shown on the LCD but no distance measurement id displayed. The center portion of the display is enlarged (and shown in monochrome) so you can visually "see" the focus change.



You can record up to a maximum of 30 seconds of 320 x 240 motion video at 15 fps. Movie clips are stored as standard Windows AVI format video files. There is no microphone so the movies are silent.



The Optio 230 has a very respectable macro focus range (0.33 to 1.64 ft.), the actual focus range is dependant on the setting of the zoom which is fully useable while in macro mode.



The 3x optical zoom can be further enhanced by a 2.5x digital zoom. This requires you to use the color LCD as the viewfinder which is now quite grainy looking and not all that useable outdoors. As with all digital zooms, it electronically crops the central portion of the image and enlarges it to create the picture. The Optio 230's "enlarged" image is slightly degraded but better quality than most digitally-zoomed images we've seen from other cameras. However, it's still preferable to just get closer to your subject (if possible) and use the optical zoom.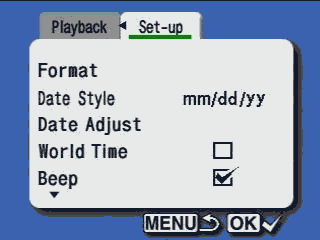 The Setup menu (same in Auto or Full record and play) lets you Format the CF card, set the date style, change the date and or time, set the camera to world time (GMT) and enable or disable the beep sounds when buttons are pushed.
Page two of the Setup menu lets you set the menu language, the video format (NTSC or PAL), set the Sleep timeout value (90s, 1m, 2m), Auto power off (3m, 5m or Off), color LCD brightness or Reset to factory defaults.
Visitors of Steves can visit the stores below for real-time pricing and availability. You can also find hot, soon to expire online offers on a variety of cameras and accessories at our very own Camera Deals page.