Pentax K2000 SLR Review
Pentax Bundled Software
Pentax's Photo Browser 3 is your go-to program for viewing and transfering your images either from the memory card or directly from the camera. This program allows you to view all of the files captured, whether they are RAW (DNG/PEF) or JPEG.

Providing you will all the tools you need to sort through your photos, Photo Browser 3 offers you the ability to preview, sort and select your images. The options at the top let you rotate and filter your images to make image transfers easier. Each thumbnail image can be selected and all of the image information is shown in the window at the bottom along with a larger preview. There is also one click access to Easy Image Transfer and Photo Laboratory 3.


Photo Laboratory 3 is your RAW file adjustment tool. It gives you control over all of the settings that are available on the camera, to allow you to change, adjust or refine your images. Your RAW images allow you to edit your images as many times as you would like without effecting the quality of the original file.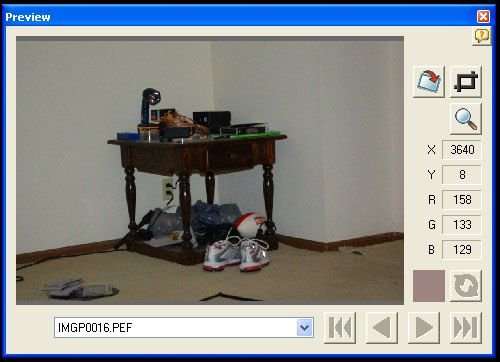 In your preview window, you can zoom, rotate and crop your images to make sure that your composition is just right. You also have the ability to browse through your images with the previous and next arrows at the bottom.





The main tool bar gives you your preset adjustment tools such as the image tone and save mode. These settings are shown above.
Settings not shown above:
Open
Save
Auto or Custom Processing
Recall Adjustment, Save Adjustment
Undo, Redo
Image Tone (Camera Settings)
Save Mode (Image Size and Quality)
Rotate
Options
Help


The next windows are only available in Custom processing mode.


Adjust your settings to correct lens abberations that show up in your images.

Noise reduction and spurious color signal reduction window





The Tone window allows you to adjust your images via the histogram.



The White Balance window gives you the ability to change the change the setting to any of the preset camera white balances or manually adjust it you to your liking.
The Other Settingns gives you the control over the ISO sensitivity as well as Hue, Saturation, Sharpness, Contrast, Toning and the ability to add a filter effect.
Visitors of Steves can visit the stores below for real-time pricing and availability. You can also find hot, soon to expire online offers on a variety of cameras and accessories at our very own Camera Deals page.